Expert Column
Murata exhibits smart solutions at electronica 2016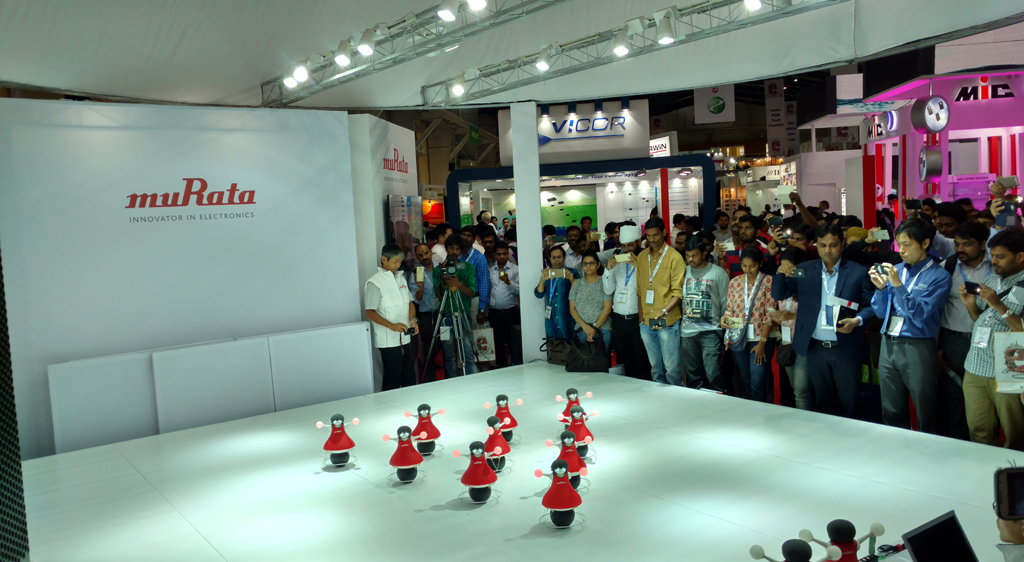 Murata, one of the global leaders in the design, manufacture and sale of ceramic-based passive electronic components and solutions, communication modules and power supply modules, participated in electronica India 2016 – a key international trade fair for electronic components, systems and applications in India.
Murata showcased its sensors, communication modules and power solutions that are leading the advance of IoT technology in the industrial and automotive sectors. The company also displayed use cases in the fields of building and factory management systems, as well as some of their key sensor products and other components.
Murata introduced the world's first team of robot cheerleaders, "The Murata Cheerleaders", for the first time in India. The robots incorporate the latest sensor and communication, as well as highly advanced group control technology, allowing them to perform with amazing stability and execute dance routines in flawless synchronisation. The robot cheerleaders demonstrate the endless possibilities of electronics, including technologies for improved automotive safety and other smart-society applications.
Murata showcased following solutions:
IoT & Industrial Solutions
Murata exhibited products designed for the rapidly evolving IoT world, and solutions for building management and security, including the following five solution concepts:
Building Management System: A smart system allowing integration, automation, and optimisation of all the equipment and services that manage a building environment. Murata will demonstrate how gathering and deploying the right data can add more value for customers.
Smart Parking System: This next generation parking solution optimises parking space usage and improves the efficiency of customers' parking operations. Car park owners and building management companies can benefit from the understanding of customer behaviour this solution provides.
Predictive Maintenance Solution: This solution analyses different aspects of equipment behaviour and is able to predict the need for preventive maintenance before any serious malfunction occurs.
Body Monitoring System: This system monitors and reports on the health of a company's employees, helping to ensure good health and safety at the workplace.
Logistics Monitoring System: This solution monitors the progress, location and status of cargo shipments in a SMART and efficient way, allowing better information sharing with business partners.
Automotive Solutions
Advanced automotive solutions with best-in-class AEC0Q200 qualified components based on new quality and performance standards will be on display. Murata will showcase its latest contributions in the fields of autonomous driving, including its Advanced Driver Assist System (ADAS), Parking Assist System (PAS) and Tire Pressure Monitoring System (TPMS).