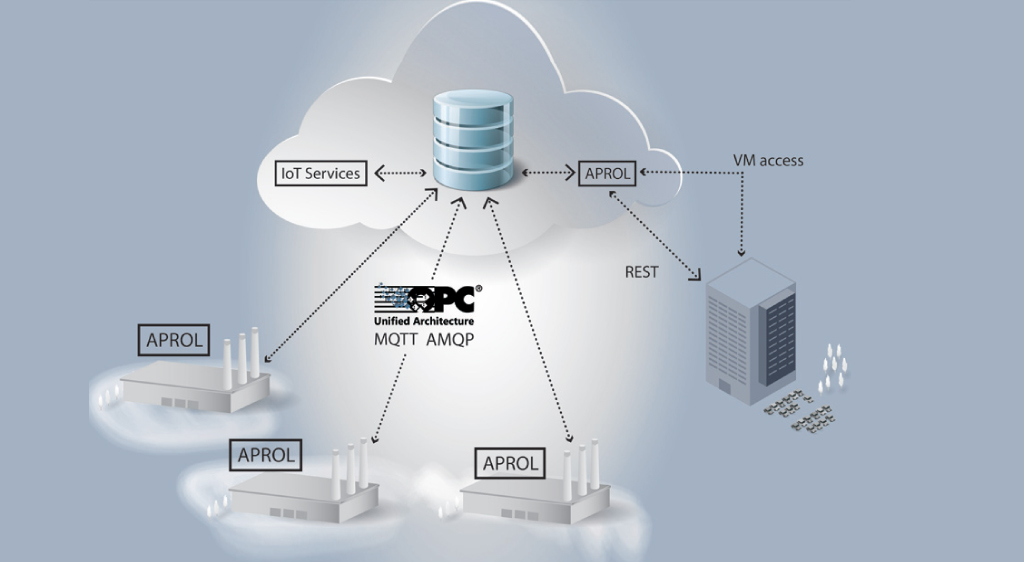 It will soon be possible to install and run APROL in the cloud. With data and reports generated by the process control system available anywhere in the world, geographically dispersed teams can collaborate with remarkable efficiency.
APROL from B&R Industrial Automation can be installed on virtual machines offered by any well-established cloud hosting company. A local APROL installation performs preprocessing and compression, so that only significant data is transmitted to the cloud database. This approach, which is based on the concepts of fog and edge computing, helps keep data transfer costs to a minimum.
APROL supports the MQTT, AMQP and OPC UA protocols. An unlimited number of local APROL nodes can send data to the central cloud-based APROL installation. Reports from the business intelligence solutions in local and cloud-based APROL installations can be opened via a REST API.
Maximum safety
The system architecture with local APROL nodes and one cloud installation ensures maximum plant security while at the same time making all of APROL's analysis, reporting and business intelligence functions available via the cloud.
Centralised data management allows all information to be accessed remotely from anywhere in the world. Database content can be analysed using data mining tools offered by the cloud service provider.
Efficient engineering
Cloud-based APROL solutions provide access to all of APROL's concurrent engineering features, so users with development teams distributed around the world can complete large projects with maximum efficiency.
About B&R
B&R is a privately owned company with headquarters in Austria and offices all around the world. As a major player in industrial automation, B&R combines state-of-the-art technology with advanced engineering to provide customers in virtually every industry with complete solutions for machine and process automation, motion control, HMI and integrated safety technology. With industrial fieldbus communication standards like POWERLINK and openSAFETY as well as the powerful Automation Studio software development environment, B&R is constantly redefining the future of automation engineering.
For more information, visit www.br-automation.com.