Delta shaping future of industries in India
August 1, 2023 5:34 pm
India's manufacturing landscape is experiencing a profound transformation driven by advanced automation technologies. Delta Electronics India, a key player in the automation industry, is leading this change, pioneering the development of smart factories that harness the potential of robotics, IoT, and advanced manufacturing processes.
The world is now here and is embracing India as a potential partner. Demand has grown exponentially in recent times and will continue to grow domestically and internationally. One needs to keep up with it and have the vision to expand appropriately. Most importantly, Indian manufacturers and OEMs must also deliver the best quality possible to stay in the game, says Manish Walia, Head Automation Business, Delta Electronics India
What are some promising new developments in automation that you see?
Automation is undergoing significant changes beyond just hardware. Software, Data Acquisition, and Artificial Intelligence are now shaping automation processes, and everything is constantly evolving. Robotics is also playing a crucial role, helping to address India's labour shortage by handling high-volume, repeatable tasks, and soon, we expect to see them in more collaborative roles. For instance, Delta's SCARA and Articulated Robots have evolved from handling a 22 kg payload to a 120 kg payload.

How diverse is Delta's automation portfolio?
At Delta, we offer comprehensive solutions tailored to the needs of specific industries, focusing on factory, machine, and process automation. Our extensive in-house product lines enable us to collaborate effectively with system integrators. Our AC Drives and motors are highly energy-efficient, and our Robots have been significantly enhanced to perform various tasks, including handling and welding. We also excel in SCADA, providing robust software for conducting processes and collecting data. Our Servo systems support a wide range of applications, and our top-class CNC systems offer metal cutting, metal forming, plastic forming, and aluminium forming. Additionally, our Programmable Logic Controllers improve the process output of the plant, while our Frequency Drives and Inverters contribute to power quality management. With 8% of our revenue invested in Research & Development annually, we continuously develop and expand our product range.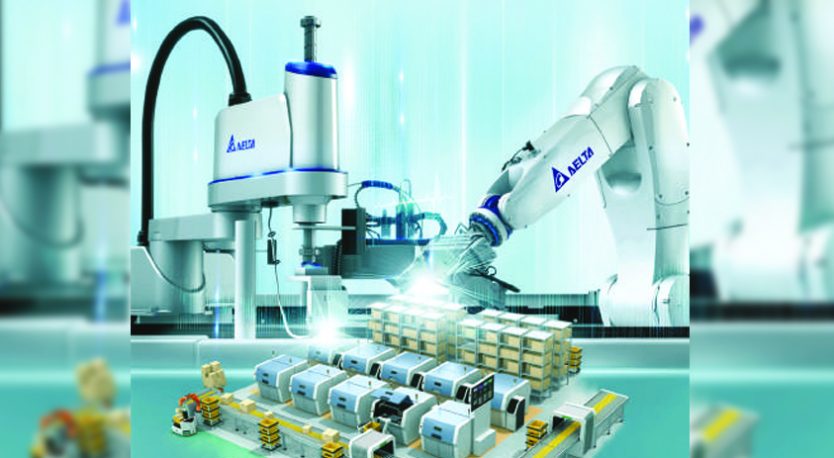 Do you believe the Indian industry is moving in the right direction concerning the Industrial automation business?
The world recognises India as a potential partner, and several factors contribute to this trend. Notably, companies adopting the "China Plus One" policy and various PLI (Production Linked Incentive) schemes introduced by the government bolstered India's manufacturing sector. The country's manufacturing prowess is closely observed, leading to increased interest and investment in Industrial Automation across various industries.
What are the challenges faced by the Indian Industry?
Demand has experienced exponential growth, and it continues to rise. Meeting this demand and expanding operations accordingly requires foresight and vision. At Delta, we have plants in three locations in India, with the Krishnagiri plant being expandable further. Geopolitical factors have caused supply chain disruptions in the recent past, necessitating the development of alternative options. To build a sustainable business, energy-saving and improved productivity must be prioritised. Moreover, Indian manufacturers and OEMs must ensure the delivery of top-notch quality to remain competitive in the market.