YASKAWA India establishes a state-of-the-art Robotic experience centre in Manesar, Gurugram, India
July 26, 2023 11:45 am
The centre is a valuable platform for manufacturers and industry experts to directly witness the revolutionary potential of YASKAWA India's innovative robotic automation technologies.
YASKAWA India, a prominent worldwide supplier of robotic automation solutions, has introduced its advanced Robotic Experience Centre in Manesar, Gurugram, India. This state-of-the-art establishment presents the latest progressions in industrial automation, showcasing six industrial robotic cells incorporating Articulated and collaborative robots, drives, and motion control products. The centre is a valuable platform for manufacturers and industry experts to directly witness the revolutionary potential of YASKAWA India's innovative robotic automation technologies.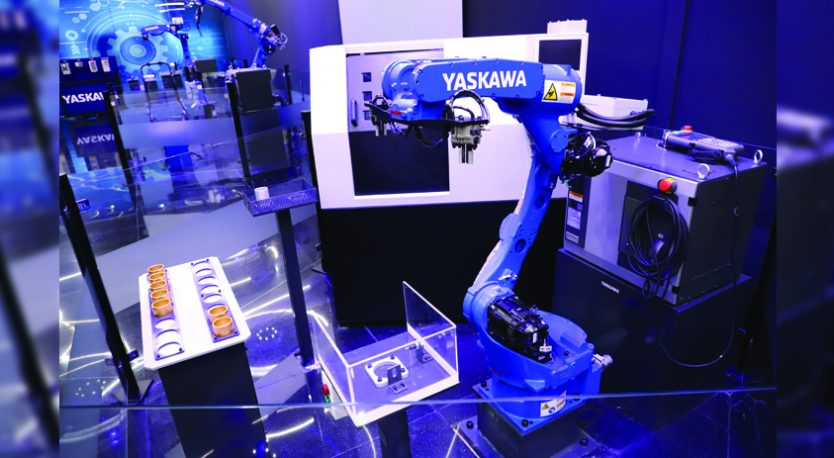 COBOT Palletizing:
At the YASKAWA Robotic Demo Centre, the Cobot Palletizing cell is a standout feature. This Cell allows visitors to observe the impressive stacking abilities of the HC20DTP collaborative robot, which can handle payloads of up to 20 kg. The demonstration exhibits the cobot's stacking height capabilities, enabling manufacturers to evaluate how it can enhance their palletizing operations. Additionally, the cell showcases the advanced functionalities of YASKAWA's intelligent teach pendant and robust pallet-mate software.
Spot Welding:
YASKAWA collaborates with Denyo, a reliable channel partner, to introduce an innovative Spot-Welding cell. In this demonstration, the SP210-spot-welding robot's accuracy and effectiveness are displayed when paired with Denyo's C-type spot-welding gun. The showcased features include:
Tip wear calculation and sheet thickness detection.
Offering valuable insights into how these technologies improve welding processes.
Leading to enhanced quality and productivity.
Machine Tending:
At the Robotic Demo Centre, the Machine Tending cell replicates the process of loading and unloading components using a dummy CNC machine. This demonstration effectively showcases the YASKAWA GP12 robot's ability to manage variant selection and transfer components with efficiency flawlessly. Visitors can witness the robot's precise inspection process and observe how rejected components are accurately placed in the rejection bin.
Arc Welding:
At YASKAWA's Arc Welding cell, the AR2010 Robot is paired with the MDB 250B, a two-axis positioner, to demonstrate the seamless coordination between the two. This showcases the impressive welding efficiency of car seat frames. Adding a laser pointer further emphasizes the precision and accuracy of YASKAWA's robotic welding solutions.
Painting:
In the painting cell, YASKAWA showcases the combination of MotoFeeder and EPX1250 Robot, designed to be explosion-proof for paint product usage. This demonstration offers a fascinating glimpse into automated car painting, highlighting how YASKAWA's robot achieves accurate and consistent paint application. Manufacturers can observe the benefits of adopting robotic painting solutions, including improved efficiency, quality, and worker safety.
The newly established Robotic Experience Centre by YASKAWA India in Manesar, Gurugram, reflects the company's strong dedication to driving innovation and revolutionizing industrial automation. This advanced facility houses various industrial robotic cells, including applications like collaborative robots, spot welding, machine tending, arc welding, assembly, and painting. By offering such a wide range of demonstrations, the centre becomes a valuable resource for manufacturers, providing them with essential insights into the transformative capabilities of YASKAWA's state-of-the-art technologies. As industries increasingly embrace automation, this Robotic Experience Centre is well-positioned to serve as an inspiring hub, fostering collaboration and propelling the Indian manufacturing sector towards a new era of productivity and efficiency.
Assembly:
Within the Robotic Demo Centre, an Assembly Application cell offers visitors the chance to observe the YASKAWA GP25 robot in operation. The demonstration showcases the robot's impressive ability to execute complex assembly tasks with speed, accuracy, and repeatability. By displaying the robot's potential to streamline assembly processes, the cell showcases how YASKAWA's technology can enhance production efficiency and lower operational costs.