B&R revolutionises the automotive industry with breakthrough technologies and solutions
May 2, 2023 1:56 pm
While conversing about technology, Praveen Vaidya from B&R Industrial Automation elaborates that to enable automotive and machine tool sectors, B&R, with its vast portfolio of scalable solutions and innovative technology, is helping manufacturers to implement and integrate new machines in the assembly lines.
How is B&R helping automotive manufacturers to adapt to breakthrough technologies, implement and integrate new machines quickly, and cope with increasing custom feature demands in the industry?
The automotive sector is emerging with new techniques, innovative ideas, and designs to compete in the market. The government is also making several policies to enhance safety and upgrade the ride experience of the consumer, pushing manufacturers to provide more. The Automotive manufacturers and their OEMs have sought to fulfil market demands with innovative ideas and adapting to breakthrough technologies. Manufacturers are changing their production and assembly plants to satisfy the increasing demand for custom-ordered features and options within the same footprint. To enable automotive and machine tool sectors to cope with increasing demands and perform the best, B&R, with its vast portfolio of scalable solutions and innovative technology, is helping manufacturers to implement and integrate new machines in the assembly lines quickly and seamlessly into the existing ones. The increased custom feature demand in the sector has led manufacturers to adapt to robotics, automated machines, and monitoring systems, which are observed as market growth influencers. The real-time connectivity between machines and digital production overview has given rise to smart factories to optimise the machine time and schedule timely maintenance; on the other hand, this provides business intelligence, improves predictive analysis, and helps ease lifecycle management.
What are the advantages of using B&R's integrated motor-drive solution with compact variants and a single hybrid cable for supply and communication in terms of performance, space-saving, and safety?
The pace of change in this sector has always been evolving slowly yet emerging with great trends. As production demands are getting high, we need motors and highly efficient, safe transmission systems that provide more performance in a small footprint. Considering these demands, B&R has added two compact variants to its integrated motordrive solution. The new devices are equipped with powerful processors, perfect for applications where tight synchronisation and positioning precision are paramount. This motor-drive solution using a single hybrid cable for supply and communication, provides significant space-saving, as the drive unit is directly mounted on the motor and helps reduce the cabling that needs to be run to the control cabinet. Also, regarding safety, the integrated motor-drive units come standard with the STO safety function. It is controlled via the hybrid cable, so no extra wiring is necessary.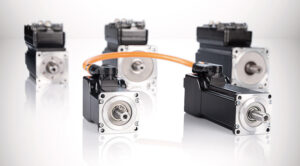 How do you evaluate Industry 5.0 role in improving automotive productivity?
Industry 5.0 is a relatively new concept highlighting the importance of human collaboration and advanced technology in manufacturing operations. Industry 5.0 can significantly improve productivity in the automotive industry by combining human workers' strengths and technology to increase efficiency and productivity. This will be enabled using Cobots, which are also referred to as collaborative robots and are safe to collaborate with humans in the production area. Digitalisation will also provide unprecedented opportunities to improve production processes, especially technologies such as connected machines, artificial intelligence, and machine learning algorithms. These technologies will help analyse data collected from different processes on the assembly line and identify the pattern in real-time to adjust the production process. This will help the automotive industry to increase its production efficiency and reduce waste in terms of material and resources, ultimately leading to cost savings.
How can Condition Monitoring Systems (CMS) be used to implement condition-based and predictive maintenance for machinery and equipment?
Maintaining the health of motor and gear systems is crucial for uninterrupted production processes. While data from the process is already being collected, sensors can now provide valuable information from these mechanical systems, allowing for predictions on the system's life. However, this industry has traditionally struggled to create scheduled solutions due to uncertainties that can disrupt production processes and reduce time-to-market. To achieve long-term improvements in efficiency, new approaches are necessary. Condition Monitoring Systems (CMS) can monitor the health of machinery and equipment, providing a basis for implementing condition-based and predictive maintenance. B&R's APROL ConMon streamlines this process, enabling easy acquisition, processing, and assessment of relevant condition parameters. The system is pre-installed on an industrial PC. It includes engineering and operator software and a high-performance database with an SQL interface for maintaining protective data and facilitating further research and development in maintaining the product life cycle.