STL aims to be a leader in E-Mobility
September 30, 2023 2:38 pm
Atul Aggarwal, the Whole Time Director at Sterling Tools Limited, is committed to spearheading advancements in automotive technologies, especially within E-Mobility. His dedication aims to surpass expectations and significantly contribute to a greener and more sustainable future.
Please talk about STL product portfolio and other business activities, as well as your primary product offering in the automotive industry?
At Sterling Tools Limited (STL), we have a rich heritage in the automotive industry that extends over four decades. Our company excels in two primary business areas: Fasteners and EV Components. Our product range is extensive, catering to a wide range of industries, from two-wheelers to Heavy Commercial Vehicles.
Our Fastener Product Range includes Standard, Chassis, Special, and Engine Fasteners, all meticulously manufactured in state-of-the-art facilities located in the National Capital Region (NCR) and Bengaluru. STL has boldly ventured into the EV Components business through our 100% subsidiary – Sterling Gtake E-Mobility Limited (SGEM). As pioneers in this space, we have successfully established a strong market presence in electric two-wheelers as well as the three-wheeler and LCV segments.
Our unwavering commitment to innovation, operational excellence, and strategic partnerships drives our journey towards sustained growth and success in the automotive industry. We envision leading the way in advancing automotive technologies, especially in the field of E-Mobility. We continuously strive to exceed customer expectations and contribute to a greener, more sustainable future.
Which geographical regions does STL supply their cold forged high-tensile fasteners to, and what is their standing as a fastener manufacturer in India?
STL Fasteners, a leading business in the Indian OEM market, specializes in supplying cold-forged high-tensile fasteners. Our strategic advantage lies in our four advanced manufacturing facilities, strategically located in Faridabad and Bengaluru. This extensive network enables STL to serve major original equipment manufacturers (OEMs) across the country and in a diverse range of segments, including passenger vehicles, commercial vehicles, two-wheelers, construction equipment, and farm equipment.
Over the past four decades, we have firmly established our position in India's automotive industry, earning a reputation for operational excellence and ethical practices. While our primary focus remains on the domestic market, we actively explore opportunities to export our products to other regions.
The cornerstone of our success lies in our unwavering commitment to providing quality and reliable products to our customers through continuous investments in equipment and process upgrades. This dedication has earned us the trust of our customers, reaffirming our standing as a dependable and respected supplier in the automotive industry. With this foundation of continuous improvement and customer satisfaction, STL remains focused and dedicated to shaping a brighter future in the automotive realm, both within India and on the global stage.
What market growth do you see for Motor Control Units supply to high-speed scooter manufacturing plants?
We anticipate significant growth in our Motor Control Units (MCUs) business. SGEM has positioned itself at the forefront of the EV component business, offering a robust portfolio of MCUs for all segments of the industry. The rapidly growing acceptance of electric two-wheelers, particularly high-speed scooters, as well as the electrification of three-wheelers and LCVs, will drive a surge in MCU demand.
SGEM is proactively looking to expand its manufacturing capacity from 3 lakh units to 6 lakh units per annum and aims to double its revenue from the EV segment in FY24. This strategic expansion, combined with the upward trajectory of the EV market, presents exciting growth opportunities for STL's MCU business.
Can you provide an overview of STL's financial performance, and the revenue generated from their Fastener Business and EV Component Business?
In FY23, STL achieved a commendable standalone total income of Rs. 604 crore. Our fastener business demonstrated consistent growth, benefiting from robust customer relationships and dedicated product development efforts.
Meanwhile, the EV component business emerged as a powerful growth driver, propelling STL to capture over 40% market share in the high-speed electric two-wheeler segment. In FY23, the revenue contribution from the EV component business surged from 7% in the previous fiscal year to a remarkable 22%, reaching Rs. 171 crore. It is our ambition that, in the medium term, green technologies will make up one-third and eventually half of the group's revenues.
In what ways Sterling Gtake E-mobility (SGEM) business is associated with STL?
STL maintains a laser-sharp focus on the automotive industry. Our core competence lies in automotive industry processes and relationships, and we are committed to ongoing investments in this area. We aim to leverage our expertise and credibility in the automotive sector to develop additional auto ancillary businesses.
The automotive industry is currently transitioning towards ACES (Autonomous, Connected, Electric & Shared) technologies, and we have adjusted our focus to align with these trends. We are actively working to build competencies that will support and enable this transition in the automotive sector.
While the power electronics core of our MCUs is fundamentally different from the metal forming operations in our fastener business, both verticals share a common focus on automotive quality systems and process excellence. Although their facilities operate independently, they serve the same customers.
We remain vigilant in our search for additional opportunities in the ACES space and anticipate announcing new ventures in this area in the coming months.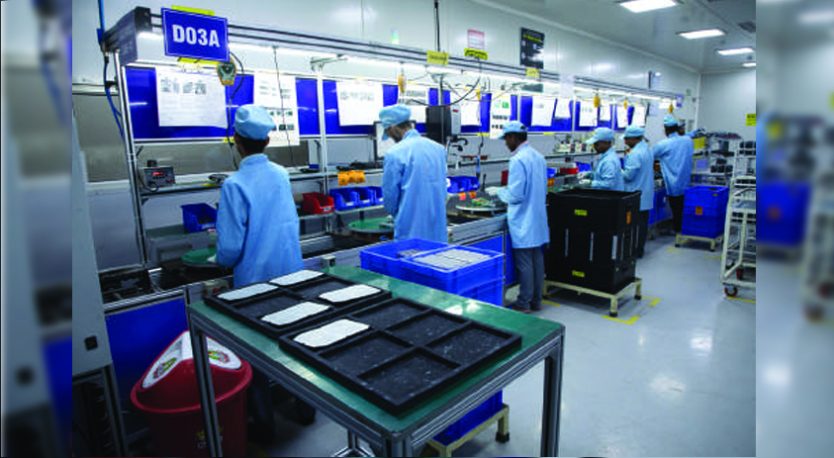 What trends are influencing transitioning towards EV manufacturing and charging infrastructure?
The shift towards EV manufacturing and charging infrastructure was initiated by global sustainability goals and government incentives. Technological advancements and cost efficiencies in batteries have significantly boosted consumer confidence in EVs. Interestingly, as OEMs have introduced high-quality vehicles, consumer adoption is also being driven by the performance, features, and ride quality that EVs offer. Furthermore, consumers have experienced the promised Total Cost of Ownership (TCO) savings, making them more willing to bear the initial higher cost.
EV manufacturing differs from Internal Combustion Engine (ICE) manufacturing. ICE powertrain technology is typically developed in-house by OEMs, serving as a significant barrier to entry in the automotive manufacturing industry. However, in the case of EVs, there are external partners capable of supporting the development and supply of EV powertrains. This change is expected to fuel the emergence of new players and start-ups. As a result, we are now witnessing the entry of hundreds of new participants in the EV market, some of whom will survive the inevitable shakeout and industry consolidation.
The rising adoption of EVs will inevitably create a demand for charging infrastructure, and this will evolve in several ways. Commercial users will establish charging infrastructure at their warehouses and central locations. On the other hand, retail users will require convenience charging, such as at their homes, offices, and malls. This will become a "Real Estate" play, necessitating public and private participation and a significant push from the government. Additionally, we can anticipate further adoption of battery swap stations. With so many different approaches and options to address the challenges of charging infrastructure and range anxiety, the future promises exciting developments. So, it's safe to say, "Watch this space."

What advancements are shaping India to be the third-largest automotive industry globally by 2030?
The Indian auto industry has experienced substantial growth, driven by India's increasing economic strength and the rising wealth of our population. Over the years, the Indian auto industry has made significant investments in capacity and capability. Some Indian auto ancillaries have even emerged as truly global-scale players.
Global sustainability goals and government incentives are accelerating the shift towards EV manufacturing, positioning the country for substantial growth in the automotive sector by 2030. With advancements in EVs, autonomous driving, and government support, India is poised for significant expansion in its automotive sector. The integration of technologies like IoT, AI, and ML is further enhancing safety features, facilitating the transition towards electric mobility.
What are the potential challenges when adopting automation in production processes?
The adoption of automation in production processes presents several "challenge-can-be-opportunities" scenarios. Initially, the need for significant investments and infrastructure changes may appear daunting, especially for well-established industries with long-standing infrastructure and processes. However, this challenge also creates an opportunity for transformative advancements in efficiency and productivity once the new technology is seamlessly integrated through strategic planning.
The human factor plays a crucial role as well, as the need for workforce training and digital skills adaptation offers the opportunity to foster a more dynamic and versatile workforce. Additionally, data security and privacy concerns, while critical, also present an opportunity to implement robust measures that not only safeguard sensitive information but also build trust with customers and stakeholders.
By proactively addressing these challenges, businesses can unlock the full potential of automation, leading to increased competitiveness, innovation, and overall growth in the industry.
At STL, we are committed to automation and Industry 4.0, and we believe that our new plants set world-class standards and serve as a benchmark for the industry.
What are your suggestions for the automotive industry in the near future?
The success of the automotive industry hinges on prioritizing innovation and making substantial investments in research and development to advance electric vehicles (EVs), autonomous driving, and connectivity. Embracing sustainability by adopting eco-friendly materials, energy-efficient technologies, and environmentally conscious manufacturing processes is crucial for building a greener future. Collaborating with the government to establish robust charging infrastructure networks and upskilling the workforce to adapt to new technologies are essential steps to overcome the challenges associated with EV adoption. Additionally, fostering partnerships with technology leaders and addressing data security and privacy concerns in connected vehicles can help the industry thrive in the dynamic and competitive landscape that lies ahead.
The constantly and rapidly evolving landscape offers opportunities for strategic partnerships, and some of the old paradigms of competition are now being redefined. Being nimble and adaptable is essential for navigating these scenarios and staying committed to long-term goals.