Successful debut of Machine Tool Connect Expo draws regional industries in Kolhapur
October 12, 2023 12:02 pm
The inaugural Machine Tool Connect Expo in Kolhapur, organised by IMTMA, saw significant success with strong industry participation, showcasing manufacturing solutions, and fostering regional collaboration.
The first edition of Machine Tool Connect Expo Kolhapur (MTX Connect Kolhapur 2023), organized by the Indian Machine Tool Manufacturers' Association (IMTMA), on 8th and 9th October 2023 at the Pavillion Hotel in Kolhapur concluded successfully. Over 1300 visitors had registered for this event and nearly 900 visitors attended the two-day B2B expo.
MTX Connect Kolhapur 2023 was inaugurated by Mr. R.V. Gumaste, Managing Director, Kirloskar Ferrous Industries Ltd., Mr Nitin Despande, Chief Human Resources, Cooper Corporation, who was representing on behalf of Mr. Farrokh N. Cooper, Chairman & Managing Director, Cooper Corporation Pvt. Ltd. and Mr. Rajendra S. Rajamane, President, IMTMA also presided over the inauguration ceremony.
Speaking about the success of the expo, Mr. Rajendra S. Rajamane said that the first edition of Machine Tool Connect created a benchmark in the western region of India to address the manufacturing needs of industries in Tier 2 and Tier 3 cities.  IMTMA wanted to take technologies closer to the industries and we have successfully done this through this show. Furthermore, it proved to be an important platform for the MSMEs in the region.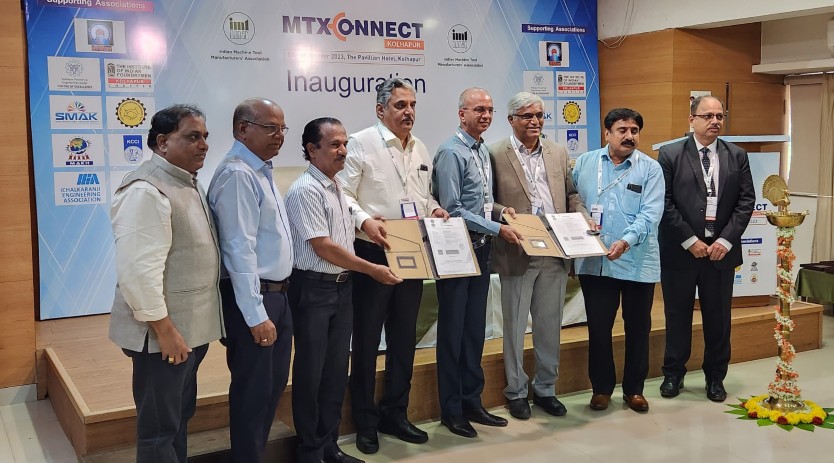 Prominent industry associations namely Gokul Shirgaon Mfrs association, Kolhapur Engineering Association, Kolhapur Chamber of Commerce and industries, Manufacturers Association of Kagal & Hatkanangale, Shiroli Mfrs Association, Indian Instt of Foundrymen- Kolhapur Chapter, Shri Laxmi Industries Association, Ichalkaranji Engineering Association and others from the regions had supported this event and extended their fullest active involvement in promoting this exhibition in a befitting manner.
Around 42 exhibitors from across the country presented their manufacturing solutions and established links to augment their business through this expo. Exhibitors showcased technologies in machine tools, digital manufacturing, laser technologies, tooling and metrology which are driving the manufacturing industry forward. Major visitors from wide spectrum of engineering industries came from Kolhapur, Karad, Jaisinghpura, Satara, Belgaum regions.
Visitors from user sectors such as agriculture implants, automobile, and auto components, construction, die and mould, engineering goods, foundry, railways, textiles, and many others visited the expo.
On this occasion, IMTMA also signed a memorandum of understanding (MoU) with the Centre of Excellence Kolhapur Foundry & Engineering Cluster to jointly organise conferences, seminars, training programs, and workshops to enhance the competitiveness of manufacturing industry in Kolhapur region.