Industry 4.0 gains momentum with increasing acceptance of machine learning and AI in industrial operations
May 2, 2023 1:46 pm
While discussing the advanced Push-in connection technology, Sandeep Saheta from Connectwell stated that they have successfully developed a comprehensive product portfolio that meets the diverse needs of customers in the terminal block market.
Can you talk about your presence at Hannover Messe 2023?
We have a long-standing tradition of participating in the Hannover Messe trade show since 1998. It was a thrilling experience to witness the trade show return to its former glory after the pandemic disruptions. We were delighted to be a part of this event and look forward to its continued evolution in the future.
What products and technology did you showcase, and what new developments have occurred in your business?
As a leading player in industrial connection technology, we specialised in DIN Rail Terminal Blocks and exhibited our innovative range of products, including PUSH-IN terminal blocks. Our offerings incorporate the latest PUSH-IN connection technology, providing customers with a comprehensive product range that meets market demands in the terminal block segment. Our range of products includes connectors for various wire sizes, from 0.2 sq. mm. to 16 sq. mm. These cutting-edge products were prominently featured at the Hannover Messe 2023 show.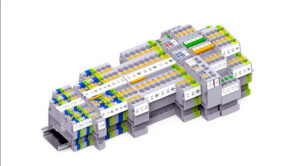 How do you assess the industry outlook?
We recognise the growing momentum of Industry 4.0 and the increasing acceptance of machine learning
and AI in industrial operations. Our products are well-positioned to play a significant role in this landscape. We are engaged in discussions with pioneering companies and equipment manufacturers to understand how our connected products and new offerings can contribute to this growth journey. Our product portfolio includes offerings for various sectors, such as EV, Power and Energy, Control & Automation and process Industries. We have strong partnerships with market leaders in these areas, and we are excited about the terminal blocks and connection methodologies available for these industries from Connectwell.
What are the latest developments and challenges faced by the industry?
The globalisation process and recent global events, such as the pandemic, have put significant pressure on supply chains, making it a key area of concern for large sectors and small component suppliers. Raw material shortages due to global events, such as the conflict in Russia and Ukraine, have also presented challenges. As an industry, it is crucial to have measures in place to mitigate these challenges, and we are actively taking steps in that direction to address these issues.
What are your goals for this year?
Our last financial year ended positively, and the vibrant Indian industry buoys us. We are exploring new opportunities within India in different sectors, such as Rail Transportation, new oil exploration, and renewable energy initiatives. These opportunities have contributed to a positive outlook for our financial year in 2024. As a result, we have made strategic investments in expanding our factory areas and research and development and sales teams in India, Europe, Middle East, and North America. We eagerly look forward to the new financial year starting in April 2023 and are optimistic about our prospects to be at the forefront of the industry in the coming years.