Indian manufacturers increasingly embrace automation in their operations
June 9, 2023 1:44 pm
Sharing about solutions, Niranjan Manjrekar, Managing Director, Bystronic Laser India, says the intelligent connectivity of our laser cutting systems and press brakes with innovative automation, software, and service solutions is the key to comprehensive digitalisation in the sheet metal industry.
How does Bystronic promote sustainability and profitability through its energy-efficient solutions and technologies?
Bystronic is committed to supporting our customers in achieving success by offering energy- and resource-efficient solutions that promote sustainability and profitability. Our range of products is based on advanced technologies aimed at achieving optimal performance and productivity, all while minimising costs and energy consumption. We have created a unified machine design platform that enhances flexibility and allows end users to take advantage of predictive maintenance, reducing the need for extensive equipment investments. This ultimately leads to quicker part processing and maximised equipment uptime, providing our customers with enhanced operational efficiency.

How is innovative automation playing a role from a manufacturing perspective?
Bystronic is a globally leading technology company in sheet metal processing. Our high-quality solutions facilitate a transition towards a productive and sustainable future. We prioritise automating the entire material and data flow within the cutting and bending process chain. The intelligent connectivity of our laser cutting systems and press brakes with innovative automation, software, and service solutions is the
key to comprehensive digitalisation in the sheet metal industry.
How do you view your commitment to reducing your carbon footprint?
Bystronic is committed to contributing to the United Nations Sustainable Development Goals (SDGs). These goals provide a coherent, holistic, and integrated framework for addressing the world's most urgent sustainability challenges to create a better future for all. Skyrocketing energy prices, volatile resource markets, global supply chain constraints paired with dying ecosystems, biodiversity loss, and ever-rising social inequalities are major challenges for our planet, society, and economic system. The circular economy offers a business rationale that restores resilience and regenerates natural capital.

Bystronic, a prominent sheet metal processing sector player, is actively spearheading the transition towards a fully circular industry. Moreover, Bystronic's software and service offerings empower its customers to drive similar transformations across various industries. The company acknowledges that collaboration and partnerships are essential for the swift and effective implementation of circular practices with significant business impact. Bystronic has already initiated an ESG/sustainability program
to make substantial strides in reducing carbon footprints.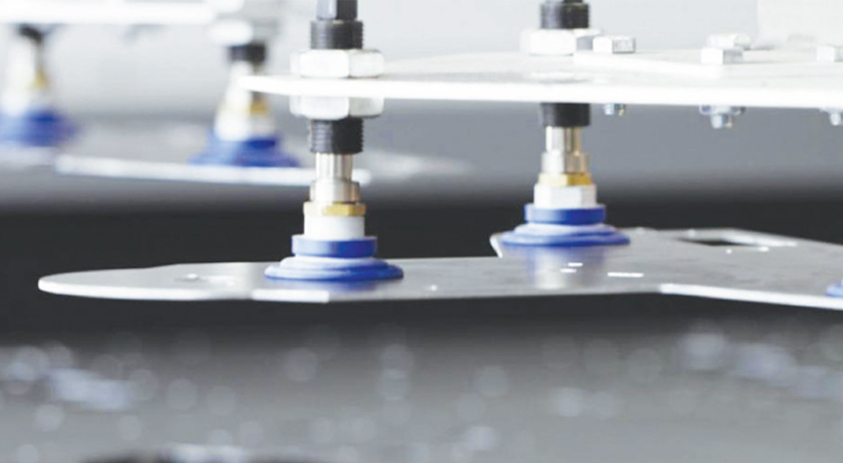 How do Industry 4.0, augmented reality and VR help transform Indian manufacturing?
Technology is helping businesses in several ways. Virtual reality (VR) and augmented reality (AR) are emerging technologies gradually revolutionising our interactions with the environment. They can enhance customer and employee engagement, improving the quality of service experiences and fostering stronger connections between individuals and objects. Automation is crucial in improving manufacturing processes, making them more efficient and reducing defects. As a result, there is a growing trend among Indian manufacturers to adopt automation in their operations. While not all manufacturers in India are currently capable of automating all their processes, those with the capability should consider doing so, considering the rising demand for factory automation and the positive impact it can have on the industrial automation industry in the country.

How do our intelligent software solutions enhance our customers' competitiveness and profitability?
Our intelligent software solutions play a vital role in assisting our customers to enhance their competitiveness and profitability. We address key factors in maintaining a competitive edge by reducing lead time from order placement to the production of cut parts, minimising material utilisation costs, and reducing processing times. Since material accounts for a significant portion of the total cost per part (ranging from 50 to 75 percent), an efficient programming system must prioritise optimising material usage. Additionally, the processing time for nesting is crucial, influenced by both laser processing speeds and cut path optimisation.
What are the major challenges you see in modernising Indian manufacturing facilities?
With the uncertainty of today's supply chains and the rising cost of raw materials, automated material storage systems provide a reliable buffer for metal fabricators. With costs for raw materials at a premium and deliveries out sometimes weeks, this poses a major problem for fabricators and their customers. With automated material storage systems, raw materials can be purchased in bulk, providing a price advantage over traditional single-sheet orders, and materials can always be ready. The risk of losing an order or, even worse, a customer due to delivery or pricing is an everyday challenge. With today's Fiber laser cutting machines and their capability to process a vast amount of sheet metal daily, maintaining materials ready is essential to maintaining a consistent pace of production.

It is crucial to incorporate automated material storage and handling systems to ensure a timely supply of raw materials to the machines. Bystronic Automation solutions play a key role in maintaining a ready inventory of materials, eliminating inefficiencies during material changes between jobs and ensuring a consistent production pace. With such a system, manufacturers can effectively adapt to fluctuating
market conditions, expedite part delivery while reducing costs, improve material handling efficiency, and ultimately increase their chances of winning more business.

Moving ahead with green manufacturing, what is your modular approach?
Previously, Bystronic had many different types of machines. Over the past years, this complexity has been reduced in favour of standardised platforms equipped with various options according to customer requests. We are pursuing a modular approach and keeping the number of parts as low as possible. This speeds up assembly and makes production more cost-effective. It also facilitates maintenance and repairs. In a way, we are committed to the responsible handling of raw materials, research in new materials and recovery techniques, new business models, and, not least of all, customers who engage in these and want to benefit from them.

We are pursuing a modular approach and striving to minimise the number of parts involved. This approach accelerates the assembly process and improves production cost-effectiveness. It also simplifies maintenance and repairs. Furthermore, we are dedicated to responsibly managing raw materials, researching new materials and recycling techniques, exploring new business models, and, most importantly, serving customers who actively engage in these practices and seek to benefit from them.

Which verticals are leading the way to transformations?
To achieve success and stay ahead of competitors, every industry sector has been compelled to embrace this transformative change, which has become pivotal for sustainability. It is observed that original equipment manufacturers (OEMs) with extensive knowledge and well-structured business environments are significantly leading the way in implementing these changes.