We impact countless lives with transformative solutions
June 9, 2023 2:11 pm
As Renishaw Metrology Systems celebrates its 50th anniversary in business, Dr. Sanjeev Kumar, Head of Business Development in India, shares his expertise in sensors and data to empower informed decision-making, optimise returns, improve profitability, and develop safer and user-friendly products.
What technologies and solutions are you focusing on to support manufacturers in achieving faster and higher quality manufacturing in the Indian market?
To support our goals and objectives, we are focused on innovating technologies that will help the market in India achieve faster, more economical, and better quality manufacturing. One of our key technologies is the world's first versatile gauge, the Equator. We are currently demonstrating how this unique gauge can significantly improve the manufacturing process for shop floor, allowing manufacturers to produce faster while ensuring zero rejections.
One of the crucial technologies we are focusing on is our range machine probing solution, which involves the implementation of sensors on machine tools. Nowadays, there is a significant emphasis on data and optimising machine efficiency to minimise machining time and reduce the need for extensive manual involvement, considering the challenges in finding skilled personnel. To support and assist manufacturers in this aspect, we have developed a variety of sensors that can be installed on CNC machines. These sensors enable the automation of numerous processes and assure the accuracy of part production. This technology can streamline job and tool settings and even perform automatic corrections during the machining process, ensuring high precision and efficiency.
In our pursuit of supporting manufacturers, we have developed a technology specifically for quality assurance. After the parts are manufactured, it is crucial to ensure their correctness. We supply our proven solutions to renowned CMM manufacturers like Mitutoyo and Accurate. As an addition to our family of multisensor solutions, we have introduced a new sensor probe that expands our capabilities. Building upon our groundbreaking Revo, the world's first five-axis inspection probe introduced 13 years ago, we have incorporated a probe enabling thickness measurement. This means customers purchasing CMM machines from these leading manufacturers can now conduct comprehensive inspections directly on the machine. They can perform scanning, analyse surfaces, measure thickness, and even conduct non-contact measurements. This technology significantly enhances productivity, as manufacturers can achieve more with the same CMM machine. Instead of purchasing multiple CMMs for increased production, our solution enables higher productivity and greater output from a single CMM. These three technologies are pivotal for manufacturers' growth and success.
In addition to the technologies above, our products are tailored for the electric vehicle, robotic, and automation sectors. Our lineup includes a range of encoders, and we are currently showcasing our encoder family of products here. Our team of experts is present to address any requirements or inquiries related to electric vehicles, automation, robotics, or XY stages. These remarkable technologies are designed to provide significant support and advantages in these fields.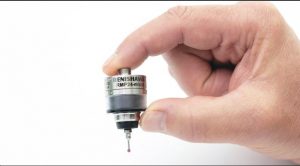 Considering the current state of the machine tool market in India, how is the demand for machinery evolving?
As machine tool manufacturers in India, we are experiencing an exciting period. The market demand and consumption for machine tools are growing significantly, with a growth rate of around 30%. Domestic machine tool manufacturers have increased their production by approximately 25% compared to the previous year. India has become a focal point for global attention and is being recognised as the factory of the future. Industries such as automotive, aerospace, defence, medical, consumer electronics, and mobile phone and laptop contract manufacturing are thriving in India. As a result, there will be a substantial demand for imported and domestically produced machinery to cater to these industries' needs.
What initiatives does Renishaw have in reducing energy consumption and achieving a net-zero carbon footprint?
At Renishaw, we are deeply committed to the importance of sustainability for the present and future generations. We understand that every bit of energy saved makes a significant impact. As a corporate organisation, we have taken several initiatives to achieve a net-zero carbon footprint. Our range of solutions, including sensors used on CNC machines and CMMs, is vital in reducing energy consumption. By optimising machining time we contribute to a reduction in power usage. This energy-saving aspect is integrated into all our solutions, whether machine tools, gauging systems, or feedback devices. As we develop new products, we prioritise designing solutions that aim to reduce carbon footprint and energy consumption further.
What is Renishaw's vision for the future, and how does the company plan to leverage its expertise in sensors and data to achieve it?
As we celebrate our 50th anniversary this year, we take great pride in reflecting on our remarkable journey. Renishaw was founded by our visionary leaders, Sir David McMurtry and John Deer, in a small yet beautiful location in the western part of England known as Britain. Over the past five decades, we have made significant progress, and we are not only proud of ourselves but also grateful to our customers, partners, and all those who have supported us along the way. Our aim has always been to provide solutions that have touched and impacted countless lives, and we are committed to continuing this trajectory. Looking towards the future, our aim for the next 50 years is to bring transformative technology into your lives, making a positive difference in various aspects, including manufacturing. We are focused on developing cutting-edge products and providing the necessary support to facilitate future growth. Our vision is to thrive by introducing various technologies that align with our goal of transforming lives and supporting advancement.
As a company that specialises in sensors, we deeply understand the significance of data, often referred to as the new oil. We have been leveraging sensors in our manufacturing processes for over 30 years, long before the concept of Industry 4.0 emerged. Our future product offerings will continue to harness the power of data, enabling you to make informed decisions and maximise your returns. By leveraging this wealth of data, you can enhance profitability, create safer and more user-friendly products, and provide customised solutions to endusers. At Renishaw, we are driven by our passion as engineers to solve problems and meet future challenges. Our focus is on innovative engineering solutions enabling you to thrive and overcome obstacles.