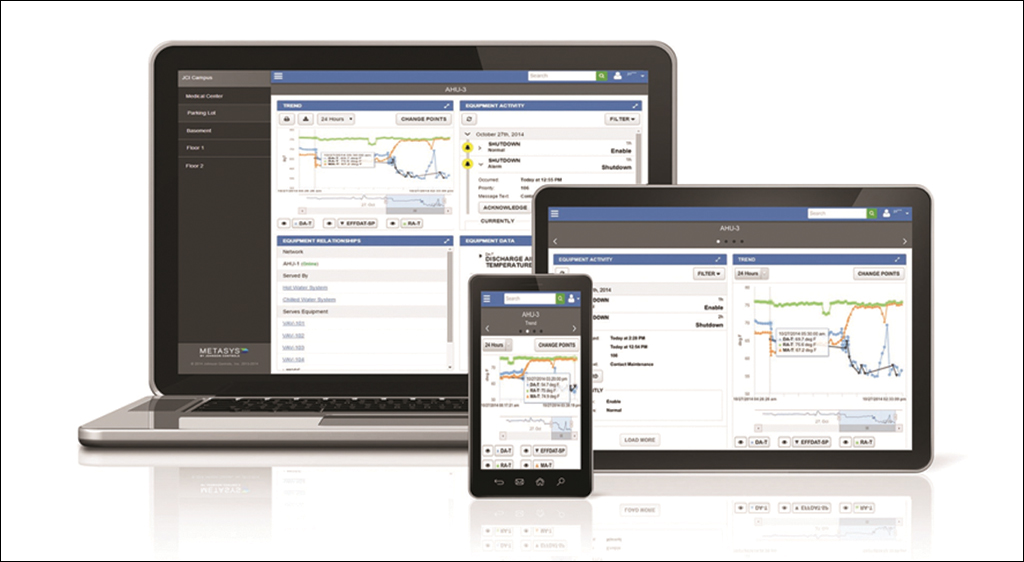 Optimized for mobile devices, Metasys 8.0 features key enhancements to increase productivity, reduce energy costs and enhance security
Johnson Controls introduces Metasys8.0 with new system configurations, programming capabilities, and additional Information Technology (IT) features to increase productivity, reduce energy costs and enhance security. This is one of the first building automation systems (BAS) in the industry to be optimized for any mobile device.
This latest advancement in BAS improves ease of use, speeds up troubleshooting, shortens time on task, reduces risk, and supports easier integrations. Metasys 8.0 key enhancements include:
• Intuitive graphics optimized for multiple mobile devices
• Alarm management enabling alarm prioritization (the features roll up to the tasks)
• Improved scheduling and customized trend viewing
• New reporting features making it easier to access trends, alarms, audits and scheduling data
• Space authorization, which allows users to access the system and see only the data they need
• Added IT security with secure password management and dormant user account reporting
Derrick Kho, Director of product and channels for controls, Building Efficiency Asia, Johnson Controls said, "The improvements are the result of over 1,000 hours of observational research with building owners and operators. Facility operators can now identify and correct problems more quickly with this new intuitive interface, as information is displayed according to the way they work. Now, the potential problem areas view provides a single interactive report to see all alarms, system overrides and offlinesas well as other critical equipment information in chronological order."
Metasys 8.0 builds on the ability to maximize building owners' investments through flexibility and scalability. The system preserves and enhances previous investments in building infrastructure, and its technology and is scalable for facilities of any size and complexity. It enables integration to a wide variety of mechanical and electrical systems, and allows for a progressive replacement of existing field controllers that are becoming obsolete.