Inovance Technology India expands its operations
February 11, 2023 2:06 pm
Inovance Technology India has opened new offices in Mumbai and Ahmedabad and also unveiled a new 1.2-acre facility in Chennai last month.
Inovance Technology India has significantly expanded its footprint in the country in recent months as part of a major ramping-up of its operations. The industrial automation company significantly expanded its existing offices in Mumbai and Ahmedabad in October, swiftly followed by a new facility in Chennai in January.
Inovance is a rapidly growing company in India's industrial automation market and the expansion of its office network is in response to rising sales and a need for more regional offices and engineers across India. New teams of engineers have been hired for the Mumbai and Ahmedabad bases, while the 1.2-acre facility in Chennai will provide crucial support for stock management, product assembly and testing, supporting growth and increasing the company's overall productivity.
India's manufacturing industry is booming, and the future looks bright with multinational companies such as tech giant Apple reportedly planning to radically expand their manufacturing footprints in the country. As Indian manufacturing grows, Inovance India has seen its operation in India grow radically in response, from just 1,850 sq. ft. of office space when it launched in the country in 2012, to a new HQ totalling 50,000 sq. ft (which opened in the MM Nagar industrial area of Chennai in 2022). Now, in 2023, the 3 new/expanded locations in Chennai, Mumbai, and Ahmedabad have added to this already large footprint.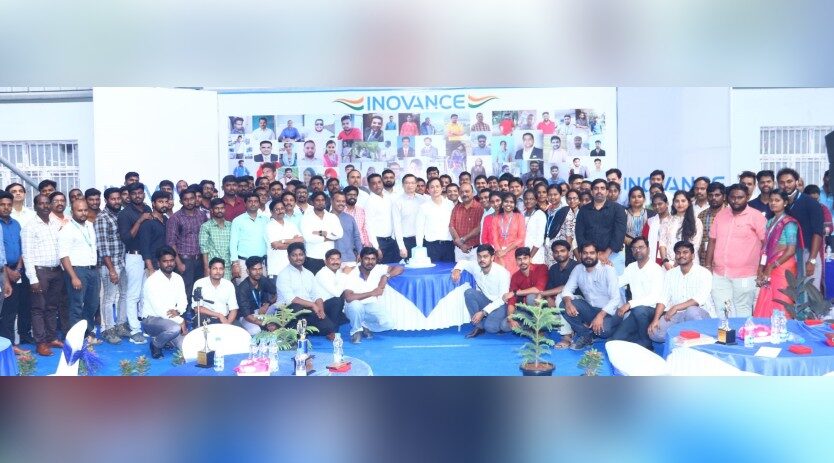 Anil Kumar, Director of Inovance India, says, "We are delighted with the speed at which Inovance Technology India is expanding and the new offices and teams will enable us to rapidly increase our business activity in the industrial automation market in the western and southern regions of India. We will be able to provide prompt solutions and services for our customers in these areas.
"Our employees are very pleased with the new offices, which are done out to a high spec and contain everything they need to do their jobs to the best of their abilities. It's a great time to be in the industrial automation industry in India. More manufacturing in India means more demand for our drives from Indian end users, distributors, and OEMs. I firmly believe the future is bright for manufacturing and industrial automation in India."
Nikhil Sawant, Assistant Manager of Sales, added: "I'm very excited about our new offices, and about the sales growth that has led to the need for them. I feel this is a starting point for great expansion for Inovance throughout India and is a big step towards us growing significantly in the Indian market".