Indigenous and Innovative die lubricants for forging
June 27, 2023 6:25 pm
The company aims to deliver high-performing products that provide substantial cost savings. This earmarks the company's prompt service and ongoing product development commitment.
SUNLUB Technologies specialises in providing Die Lubricants for Forging, and they have a wide range of options available. They have an associated brand, "SHINE+" which offers top-notch products at competitive prices. The company is dedicated to delivering excellent solutions using innovative methods. Their extensive product line includes lubricants for forging, graphite and non-graphite-based options, and water-based graphite lubricants. They also offer various spraying equipment like spray guns.
SUNLUB Technologies has been well-received in the market with its complete range of products. They are known for their expertise and innovative methods and have been acknowledged and appreciated for their offerings' outstanding performance and effectiveness in the local market. Their primary objective is to provide customers with top-quality products with significant cost savings. They also prioritise prompt service and continuous product improvements. SUNLUB has a diverse range of products and solutions catering to various applications. The hot-forging die lubricants are categorised into graphite and non-graphite-based lubricants. 
High-performance graphite-based hot-forging die lubricants
Ultra-thin, unique micronised graphite particles

It contains excellent binders and releases additives

Excellent results for critical and precise forgings

Higher dilution ratios and higher die life; are compatible with ferrous and non-ferrous components.
High-performance non-graphite (white lube) for hot forging die lubricants
A better alternative to graphite and contains excellent lubricity and release additives.

Excellent results for critical and precise forgings and is suitable for high-speed multi-station forging.

Higher dilution ratios and higher die life; are compatible with ferrous and non-ferrous components.
High-performance oil-based forging die lubricants have different grades available with the dispersion of excellent-quality graphite in the base oil.
Excellent wetting properties

High flash point, better material flow, and excellent release properties

economical solution for extrusions and heavy forgings

Compatible with ferrous and non-ferrous forgings

Economical solution for extrusions and heavy deep cavity forgings

Different grades of ferrous and non-ferrous forgings with and without graphite are available.

Deep cavity hammer forgings, heavy SS forgings, brass and aluminium forgings, and critical extrusions.
Water-based graphite and non-graphite lubricants
Whatever option is exercised among water-based graphite or non-graphite lubricant, lubricants can improve any forging. Water-based graphite lubricants contain a binder that holds the graphite particles to all die surfaces and reduces the amount of overspray. Water-based, non-graphite products tend to wash out if over-applied on the die. It is challenging to put extra lubricant in a deep cavity. Most non-graphite products, mainly white lube-type products, usually deposit a soft film on the die surface. This helps with a better surface finish. However, there is no perfect lubricant for every operation, from shallow to deep. Good durability, a clean environment, and low cost are the pros of any lubricant that should be considered while implementing it.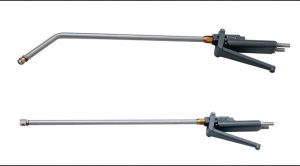 Spray guns and spraying equipment
Sunlub Technologies, with its complete range, offers its clients an economical solution for applying these die lubricants through spray guns and spraying equipment. It involves 'single-side and both-side spray guns'. Capacity wise, the brand offers spray systems with pressure feeder tanks having capacities of 45 and 60 litres and spray systems with open tanks having capacities of 100 and 200 litres.
Spray guns and pressure feed tanks are ideal for spraying "lubricants" on all surface applications, especially for hot forging die lubricant on dies. The proportion of air and liquid lubricant in this spray gun can be adjusted accordingly. Spray guns help form a thin and uniform layer on the dies. According to customers ' requirements, the brand offers 45 and 60-liter pressure feed tanks and 200 and 400-litre open tanks.
Selection criteria for the right lubricant
The lubrication is essential to preserve quality and productivity during hot forging. Many times, extremely high temperatures—up to 12500 °C for steel, 3600 °C to 5200 °C for aluminium alloys, and 7000 °C to 8000 °C for copper alloys—are used during the hot forging process. These temperatures are required to prevent the metal from becoming strain-hardened during deformation. This makes lubricating the forging process a difficult chore. To achieve optimum results, the proper choice of lubricants is needed for the appropriate application. 
Manufacturing outlook
Sunlub is dedicated to continuous improvement in the quality of its lubrication products. Sunlub is actively pursuing new market opportunities and investing in indigenous product advancements to introduce the latest technologies to the Indian market. Their objective is to enhance cost-effectiveness and efficiency in manufacturing, ultimately benefiting customers. 
As a manufacturer, company's primary emphasis is on conducting research and development endeavours to discover alternative production methods that can effectively tackle the fluctuating market prices. With a production capacity of 1300 tons of lubricant per year, Sunlub Technologies has established manufacturing facilities in areas with abundant and affordable raw materials and convenient access to cost-effective labour. This strategic setup enables it to offer competitive pricing while maintaining product quality. The facility spans over 22,000 sq. ft. and is equipped with cutting-edge machinery and equipment, ensuring the availability of top-notch products within the country.
Their manufacturing unit in Ahmednagar, MIDC, is expanding its presence nationwide through partnerships with dealers and distributors in various cities. That includes Ahmednagar, Aurangabad, Bangalore, Chennai, Delhi-NCR, Jamshedpur, Ludhiana, Pune, Rajkot, and Rudrapur.