Rockwell Automation has released a report titled "Anatomy of 100+ Cybersecurity Incidents in Industrial Operations," revealing that state-affiliated actors are responsible for nearly 60% of cyberattacks on the industrial sector, with key findings highlighting the critical need for improved OT/ICS security.
Rockwell Automation, the company dedicated to industrial automation and digital transformation, today announced the findings of its report "Anatomy of 100+ Cybersecurity Incidents in Industrial Operations." The global study conducted by Cyentia Institute analyzed 122 cybersecurity events that included a direct compromise of operational technology (OT) and/or industrial control system (ICS) operations, collecting and reviewing nearly 100 data points for each incident.
The first edition of the report finds nearly 60% of cyberattacks against the industrial sector are led by state-affiliated actors and often unintentionally enabled by internal personnel (about 33% of the time). This corroborates other industry research showing OT/ICS security incidents are increasing in volume and frequency, and are targeting critical infrastructure, such as energy producers.
"Energy, critical manufacturing, water treatment and nuclear facilities are among the types of critical infrastructure industries under attack in the majority of reported incidents," said Mark Cristiano, commercial director of Global Cybersecurity Services at Rockwell Automation. "Anticipating that stricter regulations and standards for reporting cybersecurity attacks will become commonplace, the market can expect to gain invaluable insights regarding the nature and severity of attacks and the defenses necessary to prevent them in the future."
Based on incidents analyzed, key findings include:
OT/ICS cybersecurity incidents in the last three years have already exceeded the total number reported between 1991-2000.
Threat actors are most intensely focused on the energy sector (39% of attacks) – over three times more than the next most frequently attacked verticals, critical manufacturing (11%) and transportation (10%).
Phishing remains the most popular attack technique (34%), underscoring the importance of cybersecurity tactics such as segmentation, air gapping, Zero Trust and security awareness training to mitigate risks.
In more than half of OT/ICS incidents, Supervisory Control and Data Acquisition (SCADA) systems are targeted (53%), with Programmable Logic Controllers (PLCs) as the next-most-common target (22%).
More than 80% of threat actors come from outside organizations, yet insiders play an unintentional role in opening the door for threat actors in approximately one-third of incidents.
In the OT/ICS incidents studied, 60% resulted in operational disruption and 40% resulted in unauthorized access or data exposure. However, the damage of cyberattacks extends beyond the impacted enterprise, as broader supply chains were also impacted 65% of the time.
The research indicates strengthening the security of IT systems is crucial to combatting cyberattacks on critical infrastructure and manufacturing facilities. More than 80% of the OT/ICS incidents analyzed started with an IT system compromise, attributed to increasing interconnectivity across IT and OT systems and applications. The IT network enables communication between OT networks and the outside world and acts as an entryway for OT threat actors. Deploying proper network architecture is critical to strengthening an organization's cybersecurity defenses. It is no longer enough to simply implement a firewall between IT and OT environments. Because networks and devices are connected daily into OT/ICS environments, this exposes equipment in most industrial environments to sophisticated adversaries. Having a strong, modern OT/ICS security program must be a part of every industrial organization's responsibility to maintain safe, secure operations and availability.
"The dramatic spike in OT and ICS cybersecurity incidents calls for organizations to take immediate action to improve their cybersecurity posture or they risk becoming the next victim of a breach," said Sid Snitkin, vice president, Cybersecurity Advisory Services, ARC Advisory Group. "The threat landscape for industrial organizations is constantly evolving, and the cost of a breach can be devastating to organizations and critical infrastructure. The report's findings underscore the urgent need for organizations to implement more sophisticated cybersecurity strategies."
The full findings of the report can be found here.
ABB India leads the way in sustainable and responsible resource consumption in manufacturing after achieving water positivity ratings and Mission to Zero™ status for one of its factories in Nashik.
Water positivity is the concept of returning more water to freshwater sources than is withdrawn and maintaining sustainable water stewardship by establishing a framework for water management. The Nashik site, which covers 49,000 m², has been certified as water positive with a water positivity index of 1.14 by the GRIHA Council (Green Rating for Integrated Habitat Assessment), India. Mission to Zero is ABB's global initiative to enhance energy efficiency and enable building decarbonization, creating best practice solutions for manufacturing and production sites.
The Nashik facility produces medium voltage (MV) switchgear as well as primary and secondary gas insulated switchgear (GIS) equipment to provide efficient power solutions across India. This equipment is critical to the continued urbanization and electrification of the country and the provision of energy systems for sustainable transportation.
As water is a critical issue for the country and globally, ABB India made achieving water positivity a key goal. ABB hopes its operations will become a blueprint for its partners and customers in India – and globally – where water neutrality is quickly becoming as important as carbon neutrality in the fight to save the planet.
To achieve water positivity, the Nashik site introduced a range of measures including a rainwater harvesting system to reduce run off and recharge the groundwater table and reuse the stored rainwater to meet other domestic requirements. The installation of water-efficient fixtures reduced water consumption by 30 percent and a drip-based irrigation system, and sewerage treatment plant allow wastewater to be reused for irrigation and other domestic purposes. This ensures there is zero liquid discharge (ZLD) from the factories. The annual rainwater harvesting potential of the system is 34.486 million liters, which translates to 14 Olympic swimming pools worth of rainwater annually.
ABB also established water meter monitoring and analysis to allow suitable action to be taken on water conservation. The company also invested in water management structures for the local water scarce area to capture rainwater in streams to be used by nearby rural villages for drinking and agriculture.
The scope of the GRIHA water positivity certification is for the site only and does not include upstream supply chain for the water positivity analysis.
ABB's approach to responsible resource management includes reducing energy use and carbon emissions. Understanding that you can only improve what you can measure, Nashik achieved full visibility of energy use for the Mission to Zero factory using ABB Ability Energy Manager, a cloud-based solution that collects data from 76 sensors to monitor energy consumption and identify inefficiencies.
To further reduce emissions, ABB's factory in Nashik also invested in measures to improve energy efficiency using LED lighting, insulated wall and roof panels, more efficient air conditioning, demand-based lighting, and cooling in meeting rooms all managed via a KNX and Cylon building management system. Finally, 1 MWp of rooftop solar panels were installed which provide 35 percent of the electricity needed annually to run the factory at a much lower cost than electricity from the grid. The factory operations use 100 percent green electricity, 35 percent from solar and the remaining 65 percent from International Renewable Energy Certificate (IREC). All these measures combined earned the Nashik facility a Green Factory Building, Platinum Rating Certification from the Indian Green Building Council.
Ganesh Kothawade, President, Distribution Solutions, Electrification Business, ABB India said: "The importance of reducing energy use and carbon emissions form a key part of our Mission to Zero journey. However, water positivity is the next frontier in creating sustainable buildings which work in balance with their environment. ABB has shown how green manufacturing can be done to great effect to support the country's energy transition, and we will be sharing our blueprint for success with our local and global partners to encourage more manufacturers to rethink their energy and water use."
Pharmaceutical Manufacturing Equipment Market size was valued at USD 13.15 Billion in the year 2022 and it is expected to reach USD 21.19 Billion in 2030, at a CAGR of 6.1% from 2023 to 2030.
The production and supply of machinery and equipment used in the manufacturing processes of pharmaceutical products are a part of the global pharmaceutical manufacturing equipment market. Increasing global demand for medicines, technological improvements, and the focus on quality control and regulatory compliance are some of the factors driving the industry. The Global Pharmaceutical Manufacturing Equipment Market report provides a holistic evaluation of the market. The report offers a comprehensive analysis of key segments, trends, drivers, restraints, competitive landscape, and factors that are playing a substantial role in the market.
Global Pharmaceutical Manufacturing Equipment Market Definition
The industry that creates and provides tools, equipment, and machinery utilized in the production of pharmaceutical products is termed the global pharmaceutical manufacturing equipment market. This market includes a wide range of machinery, such as tools for drug formulation, packing, labeling, quality control, and other crucial steps in the manufacture of pharmaceuticals. For pharmaceutical goods to be safe, effective, and of high quality, pharmaceutical production equipment is essential. The Food and Drug Administration (FDA) and the European Medicines Agency (EMA), among other regulatory authorities, have set strict rules and regulations for these types of equipment. A wide variety of pharmaceutical products, including tablets, capsules, injectables, liquids, creams, and ointments, are manufactured using them.
Several factors influence the pharmaceutical manufacturing equipment industry. Firstly, there is an increasing need for pharmaceutical products on a global scale, which is fueled by factors including population growth, rising healthcare costs, and the development of chronic diseases. Additionally, technological developments like automation, robotics, and digitalization have produced more advanced and precise machinery, which has further fueled market expansion. Furthermore, the increased focus on regulatory compliance and quality control has increased the demand for cutting-edge production machinery that can guarantee compliance and reduce the danger of contamination or errors.
Additionally, the market has grown as a result of the pharmaceutical industry's expansion in emerging regions and the outsourcing of manufacturing tasks to contract manufacturing organizations (CMOs). Multinational firms and specialty manufacturers are significant market participants in equipment for pharmaceutical manufacturing. These businesses provide a wide range of products and services, including production tools, packaging tools, sterilization systems, and lab equipment. The market for pharmaceutical manufacturing equipment is expanding as more regulatory frameworks are being established globally to support drug innovation and safety, as well as due to rising generic drug demand, rising healthcare spending, and expanding demands for pharmaceutical manufacturing flexibility.
Global Pharmaceutical Manufacturing Equipment Market Overview
The Global Pharmaceutical Manufacturing Equipment Market is a booming market that is supported by a number of important aspects. The pharmaceutical industry's key sector for the production of numerous pharmaceuticals, medicines, and healthcare items is the global market for pharmaceutical manufacturing equipment. The market's growth and development are shaped by a number of drivers and restraints. The demand for pharmaceutical products is driven by the expanding world population, rising healthcare costs, and the development of chronic diseases. This demand has a direct bearing on the necessity for cutting-edge manufacturing machinery to meet the rising production demands. The production of pharmaceuticals has gone through a revolution because of ongoing technical improvements.
The efficiency, accuracy, and speed of manufacturing have all been improved through automation, robotics, and artificial intelligence (AI). Pharmaceutical businesses can optimize their manufacturing capacities and raise product quality by implementing cutting-edge equipment. The use of modern manufacturing technology is driven by the strict rules and quality requirements established by regulatory agencies like the FDA (Food and Drug Administration) and EMA (European Medicines Agency). Companies must abide by these rules in order to guarantee the security, effectiveness, and caliber of their goods, which increases investments in machinery that meets regulatory requirements. The need for effective manufacturing procedures is driven by the increased demand for pharmaceutical products that are affordable, particularly generic medications.
To address the rising demand for generic pharmaceuticals, pharmaceutical companies are investing in equipment that enables them to increase output, reduce manufacturing costs, and maintain high standards of quality. Contract manufacturing organizations (CMOs) and contract research organizations (CROs) are used by many pharmaceutical businesses to outsource their manufacturing operations. Due to CMOs and CROs' growing investment in cutting-edge technology and machinery to meet the demands of numerous clients, this trend has raised the demand for manufacturing equipment.
The global market for pharmaceutical manufacturing equipment has some limitations and difficulties despite the growth prospects. Significant capital investments are required for manufacturing pharmaceutical equipment, especially innovative and automated systems. The high cost of equipment, coupled with the need for skilled personnel and infrastructure, poses a challenge for small and medium-sized pharmaceutical companies. This can limit their ability to adopt advanced manufacturing technologies. Although regulatory compliance serves as a driver, it can provide problems for pharmaceutical companies. The validation and qualification of equipment may be delayed by the need to comply with complex regulatory standards. Additionally, organizations might need to upgrade or replace their current equipment due to changing regulatory standards and norms, which would incur additional expenditures.
Global Pharmaceutical Manufacturing Equipment Market Segmentation Analysis
The Global Pharmaceutical Manufacturing Equipment Market is Segmented on the basis of Equipment Type, End-Product Type, And Geography.
Pharmaceutical Manufacturing Equipment Market, By Equipment Type
Packaging Machines
Mixing and Blending Machines
Spray Drying Equipment
Milling Equipment
Filling Machines
Extrusion Equipment
Inspection Equipment
Tablet Compression Presses
Based on the equipment type, the market is bifurcated into packaging machines, mixing and blending machines, spray drying equipment, milling equipment, filling machines, extrusion equipment, inspection equipment, and tablet compression process. The packaging machine segment holds the largest market share and is estimated to witness the highest CAGR during the forecast period. Pharmaceutical packaging equipment is used to preserve the finished product from contamination, damage, and deterioration and to guarantee that it complies with labelling, dosage, and storage requirements. Drug items must be packaged effectively and precisely in order to be both safe and effective for patient usage and to meet regulatory criteria.
N-Tron® Series NT5000 Gigabit industrial switches of Red Lion offers security features and set a new standard for performance, reliability and ease of use.
The NT5000 switches and their gigabit speed are designed to improve network security and reliability. They maximize operating performance and system uptime through seamless integration, offer advanced management and diagnostic capabilities as well as network redundancy and layered security.
The N-Tron® Series NT5000 switches are available in 6, 8, 10, 16 and 18 port configurations in all copper or a mix of copper and fiber options that can meet specific installation requirements. With a durable, metal enclosure and wide temperature range, the NT5000 is a compact solution for reliable operation in harsh, industrial environments.
Configuring switches can be a confusing and time-consuming process. The NT5000 is engineered for fast and easy deployment right out of the box. Its modern, graphical user interface includes a configuration wizard that walks users through initial setup.
Today's cybersecurity threats can result in severe consequences. The NT5000 features password encryption, multilevel user access and MAC security, IEEE 802.1X with RADIUS remote authentication and more. Administrators can view the event and syslog to clearly see the state of the network in real time and receive notifications about access attempts or configuration changes. The switch can be set to automatically disable user or port credentials after failed access attempts.
The NT5000 also features:
Graphical dashboards
N-RingTM auto-member
Port mirroring
Cable diagnostics
STP/RSTP/MSTP
IGMP v1/v2/v3
SNMP v1/v2/v3
NTP, LLDP and LACP
Fast boot allowing traffic to pass in less than 20 seconds
Wide shock and vibration tolerance
Extensive compliance certifications, including Product Safety: (UL/CUL) Ordinary and Hazardous locations, Emissions/Immunity: FCC/ICES/CE, ATEX/IECEx, Marine: ABS, Rail: EN 50155, EN 50121, EN 61373, UKCA
To learn more about the NT5000 and view model specifications, visit redlion.net/nt5000
Supply chain software leader EPG cemented its already strong partnership with Dubai-based Falcon Pack, as the disposable food packaging specialist is to implement EPG's Transportation Management System (TMS). The two companies have forged strong bonds since Falcon Pack's introduction of EPG's LFS Warehouse Management System (WMS) in 2018.
With its adoption of the TMS, Falcon Pack is taking advantage of EPG's much-admired suite approach to supply chain software solutions. The EPG ONE Supply Chain Execution Suite comprises bespoke applications for each branch of the supply chain journey, from Gartner Magic Quadrant-recognized storage and fulfillment (WMS) to transport and distribution (TMS). Key business drivers within the TMS are routing optimization and scheduling, provided by EPG's Greenplan application, winner of the prestigious Best Product award at LogiMAT 2023. Dozens of Falcon Pack transport vehicles, from small vans to truck-trailer combinations, are to be implemented with the software.
Speed and efficiency via digital solutions
The digitization of transport execution processes will help Falcon Pack to improve speed, accuracy and efficiencies in its fast-growing ecommerce operations in Dubai. The state-of-the-art technology also enables the packaging experts to introduce same-day delivery to customers, alongside enhanced documentation control and shipment monitoring via an easy-to-use intuitive interface.
"Investing in EPG's TMS was an easy decision for us to make," comments Syed Ehtisham, Executive Director IT, Falcon Pack. "We have enjoyed a productive relationship with EPG's expert engineers and on-the-spot field teams since we installed LFS five years ago. We have great trust in their portfolio, and we expect the TMS to provide us with valuable savings in terms of both time and money as well as clear transparency of our day-to-day operations and, consequently, even better relationships with customers. It is also a bonus for our hard-working staff that the system they have supplied us is so easy to get used to."
Niels Meinken, EPG Logistics Consultant, is delighted with Falcon Pack's decision to invest once more in EPG's product expertise. "Our suite approach means that our customers can source all of their supply chain software needs from a single source, which results in smoother transitions and fewer pinch points, as well as a single contact. At the moment we are fully focused on implementing our TMS with them, and we look forward to expanding our relationship with Falcon Pack still further in the future."
Pairing Solmetric's innovative technology with Fluke's vast distribution channels expands their ability to serve a global audience with high-quality, safe, and reliable tools. 
Fluke Corp, a wholly owned subsidiary of Fortive Corporation and a leader in test and measurement instruments, acquired California-based Solmetric, manufacturers of high precision, solar test, and measurement products.  
This reinforces Fluke's strategic commitment to investing in the electrification of the world on a global scale, while continuing to bring innovative products to technicians who demand reliability, high quality, and safety.  
Solmetric is best known for the PV Analyzer, a US market-leading I-V curve tracer, the de facto industry standard for commissioning solar installations. It's used for field testing applications such as commissioning, auditing, and troubleshooting PV arrays. The PVA-1500HE is a 1,500-volt I-V curve tracer, capable of testing high-efficiency modules, and is particularly suited to the utility-scale solar industry.
The acquisition also includes its shade measurement tool, the SunEye used for shade analysis, enabling expert solar designs with the highest ROI for solar professionals and their customers.
Fluke Corporation's President Jason Waxman commented: "Today marks a significant milestone in our journey. Fluke's acquisition of Solmetric reflects our commitment to delivering the best possible products to technicians in the field. Their innovative solar tools and team's deep knowledge in the space, combined with Fluke's passion to advance the electrification of the world more efficiently will enable us to transform this landscape to serve customers better."
Willard MacDonald of Solmetric added: "We are excited to see Solmetric grow under Fluke's leadership. With access to their vast distribution channels, an expanded, global audience will be able to experience the benefits of our products. Fluke is as passionate about delivering the next generation of solutions for solar customers as we are – it's a great fit."
This acquisition extends Fluke's product line, combining two powerful brands in the solar test and measurement space.
Solmetric was founded in 2005, their experts have extensive experience in the solar installation industry and in the development of high-precision test and measurement tools. The acquisition will see all employees retained under Fluke's leadership.
The slogan of the UNITED GRINDING Group was also its motto at this year's EMO Hannover: UNITED FOR YOUR SUCCESS. The group celebrated its 30th anniversary and announced its partnership with Transaction-Network. It also presented three product innovations in grinding and measuring technology on 1,000 sq. m.
This year's EMO Hannover 2023 was once again a showcase for the latest technologies from the manufacturing industry. With its 1,000 sq m (10,765 sq ft) booth, the UNITED GRINDING Group was again prominently represented this year too, and presented several innovations.
Premiere of three new products
At the 16 machines on display, the trade professionals were also able to experience the following innovations live:
BLOHM, the specialist for surface and profile grinding machines, presented the UNIMATE workpiece automation system for the PLANOMAT XT, a more precise and productive solution for the internal machining of hydraulic motor stators. The new vertical grinding arrangement offers numerous advantages for this application. And the automatization solution developed specifically for this purpose also contributes to higher productivity.
STUDER presented a universal automation solution for the S33 and S31 cylindrical grinding machines: the new insertLoad loading system. This new standardized loading system can handle horizontal- and vertical-oriented workpieces and load the parts between centers and into a chuck.
And WALTER, one of the leading manufacturers of machine tools, presented the innovative "Laser Contour Check" measuring system for the first time at EMO. This combines a new type of blue laser with an intelligent measuring system and is used for highly accurate, contact-free measurement of various tool parameters on cylindrical tools directly in the working area of the grinding or eroding machines.
In Trichy, India, a manufacturing firm grappled with operational setbacks due to coolant challenges. With Mobil's expertise, a transformative solution involving MobilcutTM 220 brought efficiency, savings, and improved performance.
As India inches closer to its goal of becoming a USD 5 trillion economy, the manufacturing sector will play a more active role in driving economic growth for the country. Within the sector, the machine tools segment, in particular, will play a pivotal role in impacting overall industrial activity. Machine tools find application in a wide spectrum of tasks that enhance product consistency and ensure higher labour productivity. Consequently, maintaining optimal health and functionality of the machine tools segment is essential for seamless manufacturing operations.
As the segment focuses on equipment performance, there is a need to enhance the precision of production processes at a microscopic level. This involves the utilization of advanced lubrication solutions and services to optimize the well-being of machines. This is particularly significant due to the projected expansion of the machine tools market that is expected to reach USD 2.5 billion by 2028, exhibiting a growth rate (CAGR) of 9.4% during 2023-2028.
Recognizing the sector's prospects, MobilTM is actively collaborating with enterprises that manage intricate machinery to help them monitor equipment performance and achieve higher levels of performance, productivity and profitability.
Partnerships for productivity
In the vibrant industrial hub of Trichy, India, a dedicated engineering equipment manufacturing firm had long been dependent on a market general water-soluble metalworking fluid to support its machining activities. Nevertheless, the company found itself entangled in a series of hurdles that were impeding both its operational efficiency and financial well-being. Among these challenges were the notorious 'Monday odour', excessive oil usage, elevated top-up rates, and a disappointingly abbreviated tool lifespan. Despite concerted efforts to seek remedies, these persistent issues cast a shadow over the company's operations.
Like clockwork, each week saw workers returning to the shop floor only to be greeted by a strong and unpleasant Monday odour. This not only created an uncomfortable atmosphere but also raised doubts about the coolant's efficacy. Additionally, the company struggled with high oil consumption and the need for frequent top-ups, resulting in significant operational expenditures. Moreover, the tools employed in the machining process had reduced lifespans, leading to escalated costs.
In a bid to overcome these challenges, the company sought assistance from Mobil's Field Engineering Services (FES) team. After comprehensive investigations, the FES team recommended the adoption of MobilcutTM 220 as the lubricant, complemented by the utilization of the MobilTM Solcare kit for comprehensive servicing. This strategic switch brought about remarkable improvements in coolant longevity and helped the company achieve an optimal top-up ratio of 1:40, consequently, reducing oil consumption. The switch to Mobilcut 220 also led to diminished instances of eye and skin irritation, prolonged machine tool longevity, and ultimately resulted in a total cost savings of USD 8438.
Profitable Innovation
MobilcutTM represents Mobil's range of high-performance metalworking fluids. Blended with cutting-edge base oils, additives, and emulsifiers, the Mobilcut Series of cutting oils deliver reliable results across a diverse spectrum of metal removal processes. These products are engineered to function effectively in various water qualities. One noteworthy product of this collection is the Mobilcut 220, a versatile and enduring semi-synthetic metalworking fluid concentrate. It is well-suited for moderate machining and grinding operations on metals. Mobilcut 220 incorporates a unique formulation comprising high-performance extreme pressure additives, corrosion inhibitors, and biocides, ensuring prolonged stability and performance during application.
To complement product use, the company also adopted the Mobil Solcare Service app that empowers customers to reach their ambitions with data-driven insights and tailor-made recommendations. The app helps operators access critical data easily, aiding the shift from reactive to proactive maintenance, and achieving ease of operations with constant task updates. The app ensures more effective service management, more efficient data analysis, greater focus on productivity and increased customer satisfaction.
As Mobil remains dedicated to enhancing customer experience through cutting-edge lubrication solutions, fostering industry partnerships remains an area of key interest. By offering timely guidance, recommendations, and services, Mobil is advancing customer productivity, aiding them in achieving greater efficiency and realizing their business objectives with a leaner approach.
For more information, visit www.mobil.in/business
(Exxon Mobil Corporation has numerous affiliates, many with names that include ExxonMobil, Exxon, Esso, and Mobil. For convenience and simplicity, those terms, and references to "corporation," "company," "ExxonMobil," "EM," and other similar terms are used for convenience and may refer to one or more specific affiliates or affiliate groups.)
The advancements in technology and society are not limited to component cleaning alone. In addition to new products, materials, and production technologies that necessitate customised cleaning solutions, there is a shift in the requirements for industrial parts and surface cleaning due to trends like energy and resource efficiency and the rapid progression of digitalisation.
Component cleaning has become vital in production across various industries, ensuring that downstream processes meet necessary standards and uphold product quality. However, the nature of these tasks has undergone significant transformations in recent years due to industry-wide structural changes. Moreover, there is a growing demand for cleaning processes to be more sustainable, energy-efficient, and resource-efficient. Additionally, the integration of cleaning into digitally connected production environments and the utilisation of AI is becoming increasingly important.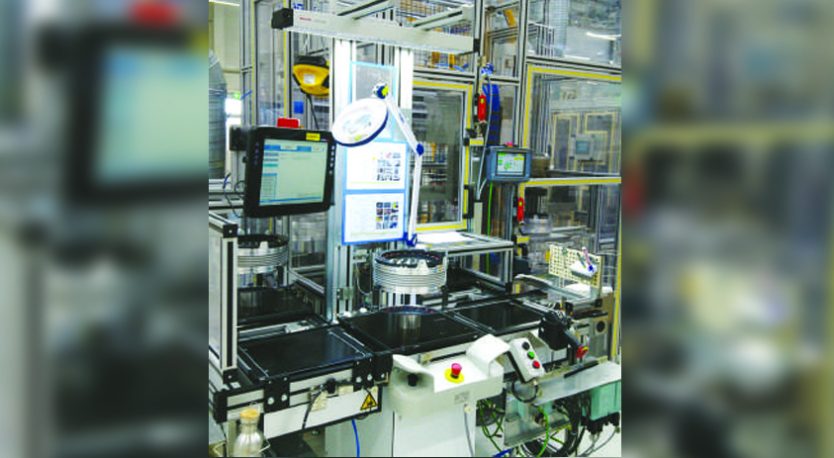 New applications due to the mobility and energy transitions
From electric vehicles and heat pumps to wind turbines and photovoltaic modules, products and solutions for mobility and energy transitions are leading to new applications in industrial cleaning technology.
In electric mobility, in addition to the classic components such as those for steering and braking systems, there are also mechanical drive components, including stators, rotors, housings and gear units. In some cases, relatively high particulate and/or filmic cleanliness requirements must be met for these tasks – which can usually be solved with wet chemical processes. Pre-assembled electromechanical components, on the other hand, require dry cleaning solutions. The requirement is that they can be easily integrated into production lines – if necessary, subsequently – and enable efficient cleaning in the production cycle. The cleanliness of production equipment, such as handling systems and grippers, also plays a role in avoiding re- and cross-contamination.
Cleaning in high-voltage technology like inverters is also receiving more attention. The focus here is no longer only on avoiding short circuits but also flashovers. Various tasks for wet-chemical and dry cleaning also arise in producing battery cells and systems, as well as fuel cells, in which the requirements for particulate cleanliness extend into the range of ten micrometres. Dry cleaning technologies like laser cleaning also benefit from the trend towards the cold body-in-white in the automotive industry. In this context, bonding is increasingly used in car body construction, and the joining surfaces are selectively cleaned.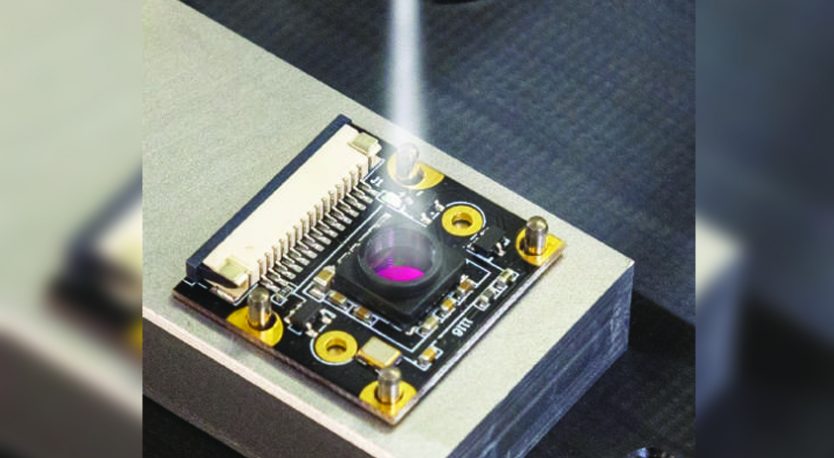 Sensor and microsystems technology on the rise
Whether it involves autonomous driving or the digitalisation of manufacturing processes, the presence of reliable sensors, microsystems, and monitoring technology is a fundamental requirement. Camera systems, for instance, play a crucial role in meeting the increasing demands for performance and reliability in these technologies, especially as they become smaller. The smaller the size, the more susceptible they are to impurities, making cleaning mechanical, electronic, optical, sensory, or actuator components incredibly vital. Achieving high levels of technical cleanliness is often necessary, leading to the need for precision or high-purity cleaning solutions. Sometimes, this may require specialised production environments, such as clean rooms, designed accordingly.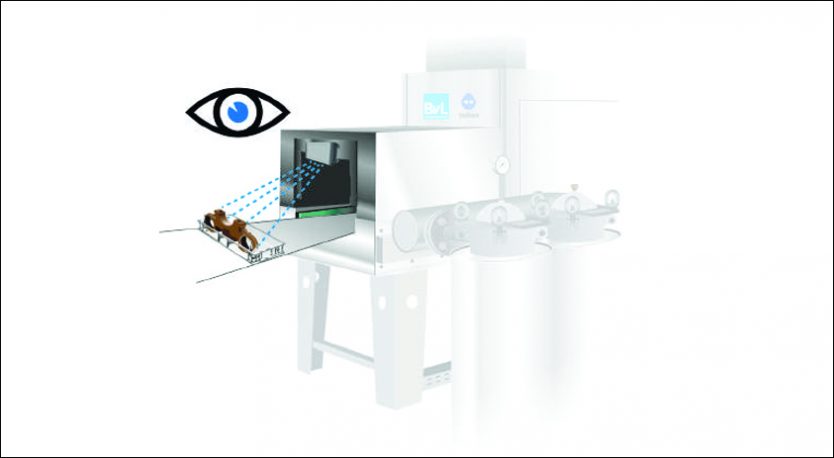 Automation and digitalisation of cleaning processes
Automation and digitalisation in cleaning applications have gained significant importance in recent times. The requirements go beyond the permanent recording, control and documentation of various system parameters, for example, monitoring and readjustment of pressures and temperature as well as condition monitoring of aqueous cleaning and rinsing baths – which have already been implemented. 
In the meantime, there are demands for progress-dependent process control, meaningful monitoring of the process engineering sequences, and adequate storage and provision of relevant process data and information on technical cleanliness. Solutions for implementing these factors are already being offered in some cases and are being developed by practically all system manufacturers. One challenge is the availability and cost of metrological solutions. Likewise, manufacturers – often in cooperation with research institutes and/or partner companies – are dealing with the hot topic of artificial intelligence (AI).
Sustainability, energy and resource efficiency
Rising energy costs and stricter environmental targets have made energy and resource consumption crucial in determining investments in new cleaning systems. The impact of cleaning on the product's carbon footprint is also becoming a significant consideration. Similarly, there is a growing interest in sustainable and energy-efficient cleaning solutions for existing systems. Manufacturers offer improved mechanical processes and more efficient drying technologies, such as condensation drying with heat pumps, to reduce consumption. Additionally, there is a focus on heat exchangers, heat pumps, and other systems that lower energy requirements, as well as software solutions for optimised energy management. Solvent cleaning may experience a resurgence due to its lower energy and resource consumption as long as it is equally suitable for the cleaning task compared to water-based processes. 
From this perspective, alternative cleaning methods that achieve technical cleanliness without relying on energy-intensive heating of cleaning and rinsing baths and part drying are gaining importance.
Automated welding has emerged as a game-changer across industries, promising increased efficiency, precision, and reliability. At the forefront of this transformation, Sumon Mitra, Sales Director, Cloos India Welding Technology Pvt Ltd, a subsidiary of the globally renowned welding automation giant Cloos, takes OEM Update through their latest success stories in various section of welding by their innovative technology.
From its inception in 1989, Cloos India has paved the way for cutting-edge welding solutions, making strides towards a future of seamless automation. Cloos India Welding Technology Pvt. Ltd. embarked on its journey as a 100 per cent subsidiary, set to revolutionise welding automation in the Indian market. Initially headquartered in Gurgaon, the company quickly positioned itself as a solution provider rather than a mere product seller. In 2013, the headquarters was shifted from Gurgaon to Pune, setting the stage for even greater accomplishments.
The core strength of Cloos lies in its unwavering commitment to providing comprehensive solutions. With an integrated manufacturing process at Haiger, Germany, everything from manual to automated welding is meticulously crafted under one roof. It starts with the contact TIP of the welding torch. This ensures every technical component – from welding torch tips to cutting-edge robotics, control panels, sensors, welding systems, and crucial software. This unique approach ensures rigorous testing and seamless integration before delivery, ultimately translating to unparalleled success at customer sites.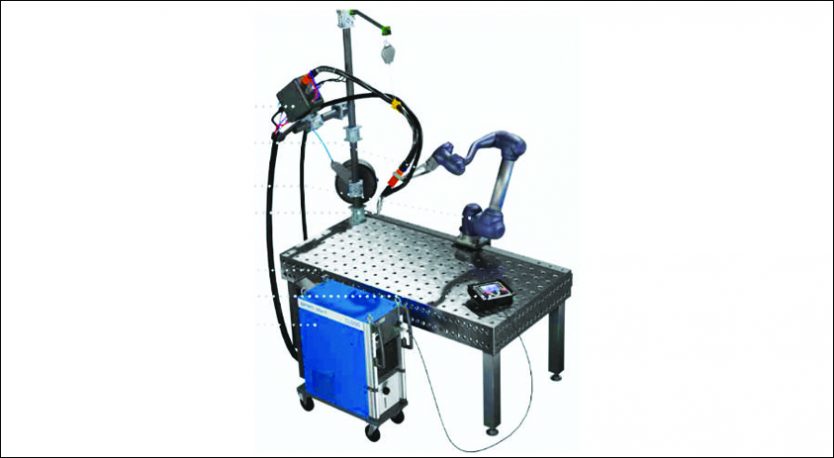 Welding automation solutions
Cloos India's success is not just attributed to its exceptional products but also to its strategic foresight. As the Indian industrial landscape embraces automation, the demand for welding automation solutions has skyrocketed. Manual welding could be faster and more reliable due to the unavailability of skilled welders. Previously, robotic welding was considered for high-volume production due to higher capital investment. Cloos has shattered this limitation by introducing entry-level robotic welding systems, democratising automation for businesses of all scales.
The ArcBot -Cobot welding package is a recent game changer, a testament to Cloos' innovation. This package minimises programming complexities, making it user-friendly and adaptable to various products. The market's enthusiastic response underlines the package's potential to revolutionise the automation arena.
Cloos India's clientele spans diverse sectors, including earth-moving, boiler, and electrical engineering, shipping, and fabrication industries. The company's exceptional German engineering heritage, spanning over a century, assures quality and reliability that few can match. Numerous instances of Cloos robotic welding systems functioning perfectly in India for over 30 years stand as a testament to their commitment.
Quality extends beyond products to service and support. Cloos India boasts a robust stock of spares and consumables in Pune, ensuring swift nationwide deliveries within 48 hours. The service team is strategically placed across customer locations, working diligently to provide seamless assistance. The company's commitment to growth is evident in the doubled service engineer workforce and comprehensive training programs.
Under the visionary leadership of Mr Sumon Mitra, Cloos India has achieved remarkable milestones. The company's expansion into new sectors led to a staggering 2022 turnover that more than doubled, reflecting the widespread adoption of their automation solutions.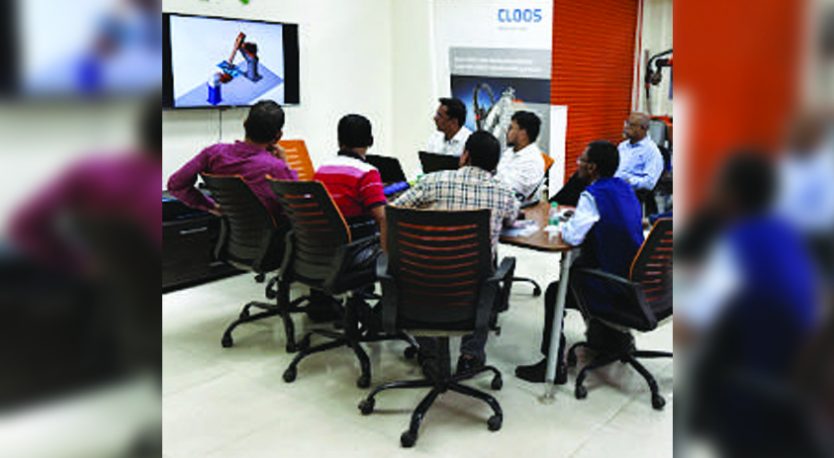 Case Study
In early 2021, Cloos India received an inquiry from a renowned global manufacturer of construction and mining equipment based in Chennai. The inquiry pertained to welding a substantial complete mainframe weighing approximately 17 tons. Notably, the customer had previously employed a robotic system for the same product, but expressed dissatisfaction with its performance.
Cloos' technical sales team meticulously analyzed the issue and made a commitment to rectify it through a fully customised system design and adaptive welding technology. Presently, Cloos India takes pride in sharing that within just two years, they successfully delivered three similar systems to the customer, underscoring the trust they have garnered in the Indian industry.
Driven by current market demand, several customers opted for integrated systems from local suppliers. However, it became evident that these systems fell short of delivering the promised outcomes, lacking a sense of final accountability. In response, Cloos India took on special projects to transform such systems into productive ones. Adding to their accomplishments, Cloos India recently secured the contract for the first welding robotic system designed for shipyards. They were the sole entity to meet the stringent technical requirements, a testament to their expertise.
With over a century of experience, Cloos India takes pride in being a comprehensive solution provider that supports the industry effectively.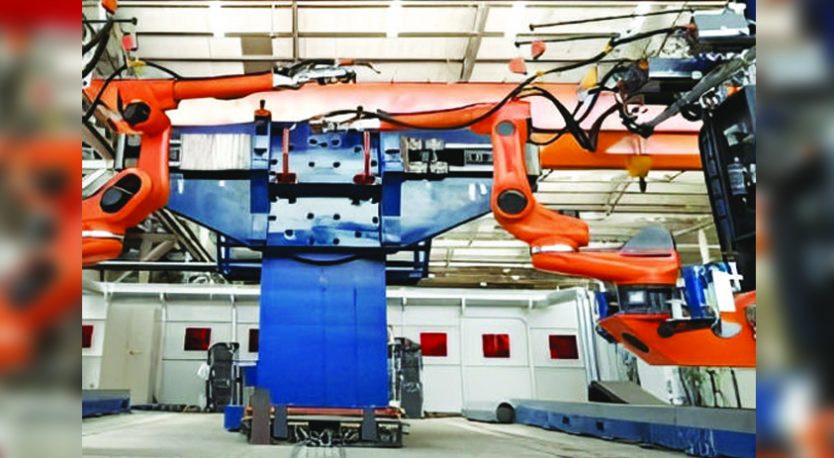 A message for the industry
To industry leaders contemplating entry into automated welding production, Cloos India offers a resounding invitation. Reach out to their technical sales team with product details and welding requirements, and rest assured of a partnership dedicated to welding quality, training, and unwavering support. Cloos' reputation as a reliable single-source supplier remains steadfast. It is poised to drive the industry into a future of automated excellence.
CLOOS India Welding Technology Pvt. Ltd.,
Ground & 1st Floor, Plot No. 114/1/3, General Block, MIDC Bhosari, Pune, Maharashtra 411026, India. Website: www.cloos.de
Email: contact@cloos.in
Contact Details: 7003545907/ 916838393
In addition to an extensive range of automation solutions, including smart sensors, robots, vision systems, drives, etc., the inclusion of i-BELT further enhances Omron's comprehensive lineup of end-to-end solutions, providing valuable data-based services and consultation from a holistic perspective.
Enabling a streamlined digital evolution, OMRON facilitates gathering data at all operational and process levels. Through i-BELT Data Services, it empowers customers to harness the potential of data for their benefit. This service connects manufacturing data with production and management issues, transforming raw data into valuable insights using OMRON's proficiency. The aim is to attain enhanced predictive and preventive maintenance standards, addressing various production challenges such as unforeseen downtime, subpar quality, reliability concerns, rising maintenance expenses, and more. The ultimate goal is to elevate overall equipment effectiveness and facilitate well-informed decision-making.
Sameer Gandhi, MD, OMRON Automation, India, said, "One of the most effective traits of i-BELT is the co-creation synergy of OMRON technology and customer processes. The idea is to empower our customers for the best and most effective data harnessing and utilization. The data collected and visualized is fed back to the customer's production line to help them attain flexible, people and environment-friendly production that is quickly adaptable to changes through Co-creation, formulation of challenges based on data and advancement of innovation in phases. The cycle continues, thus resulting in a truly sustainable value creation over a period."
OMRON's plant examination service focuses on four domains -manufacturing, quality, equipment, and energy. The i-BELT team extracts issues through visualization and analysis and provides services, such as improvement assistance and automation, suited to different phases and needs. The technology also focuses on energy efficiency by monitoring power consumption and providing insights into optimizing overall plant system configuration. Fine-tuning these parameters helps minimize energy waste and improves overall system efficiency. This reduces energy consumption, lower operational costs, and a smaller environmental footprint. It significantly impacts the attainment of carbon neutrality goals- one of the prime imperatives for sustainability for manufacturing businesses.
While i-BELT holds promise for various manufacturing sectors. i-BELT includes an application that exhibits the effective integration of historical and real-time data from palletizers into a dashboard. This integration offers improved control and operational visibility. Alongside its emphasis on data-driven services, OMRON continues to bolster its traditional product lineup.
Recent additions to the company's offerings encompass the advanced NX502 Controller, which incorporates enhanced capabilities in information, motion, and safety control. This enables the achievement of elevated levels of production, quality, and energy efficiency. Additionally, the introduction of the TM-20 collaborative robot for handling heavy payloads marks a noteworthy step in OMRON's efforts to cater to the Indian market.
The technological evolution of heating in industrial processes involves replacing obsolete dissipative systems (resistors) with advanced energy-saving solutions. The inductive extruders and plasticising barrels transform plastic machinery, elevating productivity and efficiency while reducing operational and maintenance expenses.
The rising energy cost and increasing global awareness about energy conservation drive the adoption of more efficient processes.
The principle of electromagnetic induction
Inductive technology is gaining popularity in various applications, exemplified by the shift from traditional gas cooktops to induction hobs in households. This technology utilises magnetic induction to safely and effectively transfer energy from a coil to a ferromagnetic material. The energy transferred to the load is transformed into heat generated inside the metal. This direct energy transfer maximises heating efficiency, reduces heating time, and minimises energy wastage.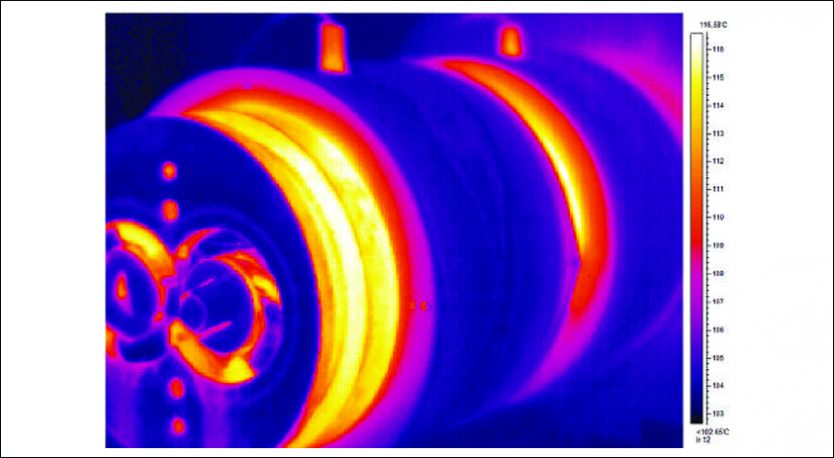 Induction technology for plastic machinery
In the realm of plastic machinery, Atos Induction has harnessed the benefits of magnetic induction to create an innovative heating solution for a common industrial process: plasticising systems. This Inductive technology applied to plasticising barrels offers several advantages over traditional resistive heating systems:
· Energy saving up to 30% on heating energy consumption
· Uniform heat distribution
· 30 percent less of installed electrical power respect equivalent machine with resistors
· Significantly faster heating, less than half time if compared to resistors
· High precision of temperature control, thanks to the absence of thermal inertia and instantaneous heat transfer of inductive technology
· Extended operational lifespan due to the reduced thermal stresses of the inductive coil.
The solution engineered by Atos Induction allows replacing heating elements in both new and existing machines, using the same timed or thermo-regulated control logic of traditional resistive systems.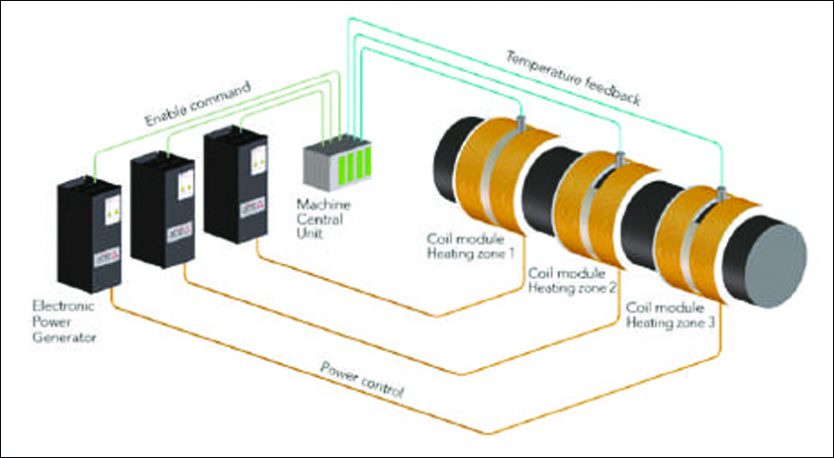 This solution typically involves one or more coils, depending on the number of barrel zones needing heating. An electronic power generator powers each coil. The machine's central unit manages temperature regulation for each zone, adjusting the power generator based on temperature feedback.
The electronic power generator self-adapts the current modulation according to the characteristics of the ferromagnetic material to be heated to achieve maximum efficiency in any working condition.
The inductive coil is wound on highly insulating materials to minimise heat loss from the barrel to the environment. When a large area of the plasticising cylinder operates at a single temperature, inductive coils simplify the machine control scheme and reduce the installed electrical components since a single coil can cover lengths up to 700 mm.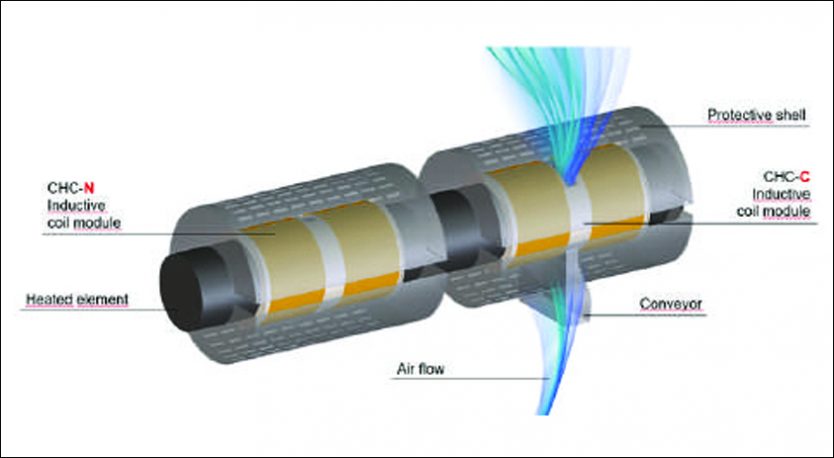 The modular construction technology of the inductive coils allows an easy installation on both cooled and uncooled plasticising barrels:
· CHC-N coils are designed for temperature sensor installation and are suitable for those zones of the plasticising barrel that do not require cooling.
· CHC-C coils are provided with openings for airflow and temperature sensor installation. The special internal structure allows air to be conveyed directly over the plasticising barrel, guaranteeing faster cooling than resistive systems.
Inductive energy-saving solutions
The focus on environmental pollution and the current escalation of energy prices is driving markets towards more efficient technologies and solutions. Comparative analyses performed on a 300-ton plastic injection machine revealed that the energy consumption of inductive coils had been lower than 30 percent concerning ceramic resistors, leading to annual savings of 28 MWh.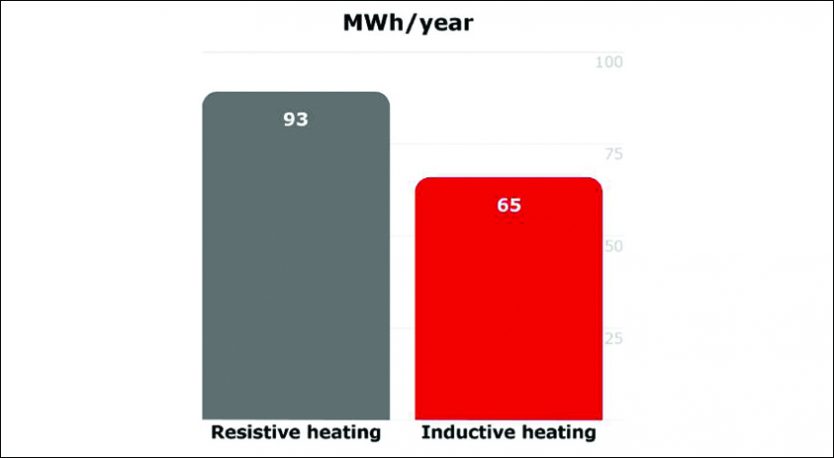 Energy consumption of 300 tons plastic injection moulding machine with traditional heating system and inductive heating system
Atos Induction offers energy-saving solutions to equip the next generation of induction-based plastic injection and inductive extruder machines.
For more information, visit: www.atosinduction.com
With over 65 trained and Authorised Service Centers comprising more than 220 touchpoints in India alone, MeccAlte is well-equipped to meet customer service expectations promptly.
The success of MeccAlte can be attributed to its innovative and high-quality technical and aesthetic design. MeccAlte alternators are known for their exceptional efficiency and reliability, making them stand out in their respective classes. They are built to have a long lifespan and are backed by various quality certifications that validate their credibility.
With over 65 trained and Authorised Service Centers comprising more than 220 touchpoints in India alone, MeccAlte is well-equipped to meet customer service expectations promptly. The company's alternators boast several key features that set them apart:
1. They offer the best efficiency within their range, reducing fuel consumption.
2. MeccAlte is the pioneer in India to introduce a Fully Programmable Digital Regulator, which caters to special applications, enhances user and manufacturer performance, and serves as a diagnostic tool across a wide range of power outputs.
3. The insulation systems are designed to suit varying operating conditions, ensuring reliability and extending product life.
4. Including MAUX (MeccAlte Auxiliary Winding) Power Boost enables exceptional excitation.
5. They exhibit excellent motor starting capabilities, providing 300 percent short circuit current for 20 seconds as a standard.
6. The 12-wire re-connectable configuration for 3-Phase is a standard feature, allowing adaptability to different voltage, frequency, and phase requirements.
7. MeccAlte alternators are known for their superior aesthetics and low noise levels.
8. Maintenance is hassle-free, particularly in higher ratings.
9. The company's commitment to quality is evident in its focus on producing technologically advanced products and services of the highest quality to ensure long-term customer satisfaction.
Its central mission involves seamlessly integrating with our clients' operations, providing independent and responsive world-class advice to enhance their efficiency and competitiveness. MeccAlte achieves this by designing and manufacturing industrial alternators and associated power solutions, tailoring our approach to best meet clients' needs. An illustrative example of this commitment is the MeccAlte App, which grants clients round-the-clock access to alternator specifications and data.
MeccAlte has stood out as a highly dedicated player in the industrial alternators field, contributing significantly to our global success. Unlike competitors, we don't engage in manufacturing or selling complete gensets. It ranks among the world's leading industrial alternator manufacturers and is the largest independent supplier globally. The product range encompasses a single line of Synchronous Alternators spanning 1 to 5000kVA, covering portable and industrial units and medium and high voltage alternators for power generation.
Additionally, MeccAlte offers 2-pole and 4-pole alternators known for their exceptional efficiencies and performance benchmarks. Being a prominent figure in industrial alternator manufacturing, MeccAlte has consistently met customer demands through continuous product enhancements and innovations.
In the Indian market, abundant opportunities span across all segments. From a manufacturing standpoint, the company is committed to advancing towards higher horsepower (HHP) alternators, catering to requirements ranging from 1 to 2500 kVA LT range, applicable in diverse fields such as Agriculture, Industry, Retail, Data centres, Marine, Aviation, and more. The company's upcoming range of accessories will further enhance customer value and provide streamlined service across all its products, including alternators.
The unveiling of MeccAlte's latest advancement, the C-Type alternator range, ushers in a new epoch in power generation. Leveraging over seven decades of expertise, their groundbreaking methodology has sparked innovations that deliver concrete performance advantages for their clientele. Every facet and element has been meticulously reexamined, culminating in an avant-garde series of alternators.
MeccAlte maintains an unwavering dedication to the excellence of its products. Rigorous design standards are upheld across all manufacturing facilities, ensuring unwavering world-class quality across the spectrum.
Acknowledging the trend towards comprehensive power solutions, the company has recognised the escalating desire for a singular supply source. As a result, MeccAlte has expanded its range to encompass Gensets, Engine Controllers, and Battery Chargers. These extensions uphold the same excellence and quality synonymous with MeccAlte Alternators.
MeccAlte remains committed to fulfilling customer orders even after the Covid-19 era by embracing adaptable component bundles and a fresh product lineup. Collaborative endeavours are aimed at shared success as we navigate these times collectively.
Ahire Machine Tools is a prominent leader in work-holding solutions, prioritising innovation and precision. Their range includes versatile vices and cutting-edge machines for various industries.
Ahire Machine Tools Pvt. Ltd. stands as a prominent and distinguished player in the realm of work-holding and tool-holding solutions, showcasing a remarkable legacy of contributing to productivity enhancement over a significant span of time. The company has become highly skilled in creating new and smart solutions for holding workpieces in place. They pay special attention to machines that can move in three or five directions, which are really important for making operations work as efficiently as possible.
At the heart of machining processes, work-holding products assume a pivotal role by facilitating the secure clamping of workpieces, thereby paving the way for meticulous and precise machining operations. Presently, the company's primary thrust lies in the development and provision of all-encompassing work-holding solutions meticulously tailored for the dynamic Indian market.
Ahire Machine Tools remains steadfast in its commitment to delivering products that epitomize precision, performance, and unswerving reliability. This commitment reverberates across the spectrum of their offerings, including an array of state-of-the-art drill machines and tapping machines. These cutting-edge tools have been purposefully engineered to cater to the diverse and evolving needs of industries spanning from manufacturing to the automotive sector.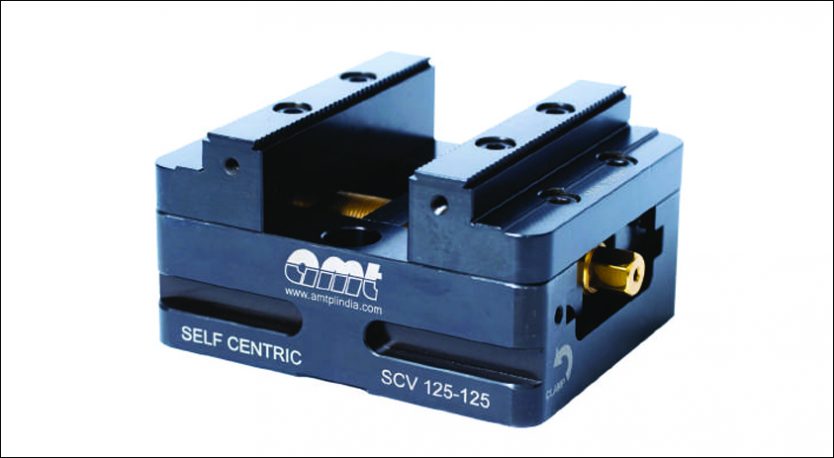 The AMT Allmatic Allite Vice 68 K/M. This product stands out with its CentroLite design, offering mechanical operation coupled with a substantial clamping force of 28 kN and 100 Nm torque. The clamping range spans from 0 to 164 mm, while the integration of gripper-jaws with a width of 124 mm showcases a sophisticated approach to work-holding. A commendable clamping margin of 4 mm enhances its usability, and the spindle's construction with a high tensile strength of 700 N/mm², impeccable sliding properties, and remarkable wear resistance attests to its durability and performance prowess.
Among the standout products in the company's arsenal is the Alloy Steel Body & Case Hardened AMT Allmatic Allite Vice 125 K/M. This versatile work-holding solution boasts an ingenious design that ensures even expansion and balanced pressure distribution, thereby fostering secure workpiece clamping. Notably, the clamping force of 28kN combined with clamping range of 0-164 mm.Spindle is with a high tensile strength of 700N/mm2, good sliding properties and a very high wear resistance.
Among the company's impressive offerings, the small and precise self-centric vice with excellent repeatability captures attention. Its compact design, coupled with enhanced accessibility, creates a tool that balances efficiency and convenience. The vice's versatile span of 6-125mm or 6-225mm caters to a spectrum of needs. The precision in rack teeth pitch, accurate to within +/-0.02 mm, underscores its meticulous engineering. The incorporation of gripper teeth for enhanced grip, provision for a 45° dovetail, and the inclusion of M5 holes for supplementary jaw mounting attests to its thoughtful design. Moreover, the spindle screw's TiN coating bolsters its hardness, wear resistance, corrosion resistance, and lubricity, all in one stroke.
In conclusion, Ahire Machine Tools Pvt. Ltd.'s legacy of excellence in work-holding and tool-holding solutions resonates powerfully through its innovative products designed for maximum efficiency. With an unyielding dedication to precision, performance, and reliability, the company has solidified its place as a trusted partner for diverse industries seeking to elevate their machining processes.
D1/18 MIDC Ambad, Nashik, 422010,
Web: www amtplindia.com
Email id: sales@amtplindia.com
Contact number: +91 99224 48079
Manufacturing units in India are moving towards building safer workplaces to ensure a better working environment for humans working on shop floors.
There's a notable shift in India towards creating safer workplaces in plants, factories, and manufacturing units. This shift aims to provide better working conditions for employees on the shop floors. Manufacturers are now integrating safety measures when constructing machines intended for export to Western nations. This move is driven by the need to adhere to stringent safety standards and legal requirements that come with global machine exports.
The landscape has evolved significantly in recent years. Even Indian manufacturing units actively pursue sustainability and improve human and machine safety. Additionally, the growing concern over cyber threats has led to an increased focus on security measures.
Pilz India emerges as a fitting safety partner for machine builders. They offer a comprehensive range of safety services customised to each company's specific needs throughout their machines' entire lifespan. Pilz India can also assist machine builders throughout the conformity assessment, ensuring that their machinery conforms to the regulatory requirements, such as CE marking in Europe, OSHA in the US, NR-12 in Brazil, KOSHA in Korea, GOST in Russia, or CCC in China.
Assistance in the entire machine safety lifecycle
Whether in the design phase, during operations, or during a machine retrofit, manufacturers and operators have a natural and often legal obligation. It aims to identify and resolve potential safety hazards for humans and machines as early as possible. Pilz India offers comprehensive safety services that are personalised to suit the specific requirements of machine builders throughout the entire lifespan of their machines.
A well-known saying holds here: "One cannot fix anything undetected." Machine builders cannot address a safety gap until they become aware of the limitations of their machine. As a first step towards ensuring the safety of their machines or production lines, machine builders need to undergo a risk assessment. This risk assessment is a customised gap analysis conducted by the Machinery Directive 2006/42/EC. Through this assessment, the machine builder's machine or production line systematically evaluates potential hazards. Pilz offers a pragmatic, organised, and focused evaluation of plants and machinery that aligns with the machine builder's company policies, internal procedures, and operational requirements, such as ISO 12100. Pilz India assists machine builders in recognising potential hazards and proposing methods to mitigate these risks.
Following the identification of risks, the next logical step for a machine builder is to develop a safety concept. This concept aids the machine builder in establishing a secure interaction between machines and operators without compromising productivity. These safety concepts are not standardised; they must be uniquely tailored to match the requirements of each machine builder. After completing the risk assessment, experts and consultants at Pilz India create a safety concept that includes a detailed solution proposal for the technical implementation.
Customised concepts and a strong emphasis on safety design empower machine builders to adhere to international standards and directives. Pilz India provides a well-organised design process tailored to the needs of machine builders, drawing on their extensive expertise and experience in design methodologies. Machine builders gain valuable insights from exemplary engineering management that aligns with IEC 61508 compliance.
Following the safety design phase, Pilz India ensures minimal disruption to the production process for machine builders and line builders. While implementing safety measures, it's essential to strike a balance that doesn't significantly inflate costs in automation and safety projects. Pilz India takes charge of the entire project planning and management, encompassing the selection, procurement, design, and assembly of required automation components.
After integrating safety systems into the machine, machine builders and manufacturing units must guarantee the accurate implementation of all protective measures by relevant standards and regulations. Equally crucial is the functionality of the safety system. Hence, safety validation is pivotal in ensuring safety for machine builders and manufacturing units. ISO 13849, IEC 62061, and IEC 61508 underscore the importance of validating safety systems, requiring machine builders and manufacturing units to confirm their efficacy. Validation is the sole method to ascertain the precise execution of necessary risk reduction measures and the unequivocal alignment of machinery with applicable standards and regulations.
Pilz India offers a suite of services matched explicitly to its customers. It facilitates efficient machinery validation through a structured approach encompassing machinery safety, risk mitigation, functional safety, and other legal prerequisites.
International compliance at your fingertips
In today's context, machine builders and manufacturers of production lines are increasingly engaged in global machine and line exports. As this trend expands and India establishes itself as a manufacturing hub, these builders face the crucial task of ensuring that their machines adhere to international standards. Beyond merely seeking services from a reliable source, these builders are searching for partners who can navigate and assist them throughout the compliance journey. They are actively seeking service providers equipped with extensive expertise and experience in comprehending relevant directives and standards and effectively putting them into practice.
Furthermore, when standalone machines, each possessing their certifications, are integrated to create a machinery assembly (such as production lines), the machine builder must perform a comprehensive conformity assessment procedure, including certification, for the entire plant. Given the exact nature of these requirements, machine builders necessitate a service partner with a global presence to ensure a seamless and hassle-free certification process.
Pilz India stands out as the preferred choice for numerous machine builders across India entrusted with aligning their machinery with regulatory prerequisites. Whether it's achieving CE marking for Europe, compliance with OSHA standards in the US, adhering to NR-12 regulations in Brazil, meeting KOSHA standards in Korea, conforming to GOST requirements in Russia, or obtaining CCC certification in China, Pilz India undertakes the complete conformity assessment procedure on behalf of the machine builder, all by the Machinery Directive 2006/42/EC. They meticulously identify and apply the relevant standards and directives and guide the machine through the entire safety lifecycle, encompassing risk assessment, safety concept and design, safety implementation, and safety validation. Additionally, Pilz India ensures the compilation of documents mandated by law for inclusion in the technical documentation and extends support to the machine builder regarding document archiving and management.
Your certified safety training partner
Pilz India's qualification program provides a gradual and adaptable approach for machine builders to enhance their knowledge progressively, enabling them to pursue training up to the required level of qualification. These training courses are categorised into four levels, from introduction to expert certification, covering a wide array of machinery safety and automation topics. This initiative empowers machine builders, factories, and manufacturing units to leverage the expertise and insights of Pilz India, tailoring a training program to suit their specific needs.
Pilz India collaborates with TÜV NORD to offer certifications such as Certified Machinery Safety Expert (CMSE), Certified Expert in CE Marking (CECE), and Certified Expert in Functional Safety (CMFS). Upon successfully passing the final examination following the training, participants are awarded an internationally recognised certificate issued by TÜV NORD.
Pilz India's qualification program allows individuals to gradually expand their expertise, choosing from a range of training levels, and receive internationally recognised certifications through collaboration with TÜV NORD.
Partnering for safety services
Pilz India stands at the forefront of technology. It has been delivering various safety services encompassing the entire machine safety lifecycle. Their offerings extend to diverse segments across India, including machine builders, factories, plant operators, and manufacturing units. The company is the go-to choice for machine builders seeking to export their machines abroad while adhering to various international standards. Pilz India offers comprehensive safety and security solutions regarding complying with standards such as CE marking for Europe, OSHA for the US, NR-12 for Brazil, KOSHA for Korea, and GOST for Russia or CCC for China. This is made possible by their profound industry knowledge, experience in handling intricate applications, and their roster of certified experts.
Equipped with substantial domain expertise and certified professionals, Pilz India is a dependable partner for machine builders, alleviating concerns related to intricate compliance and legal matters. Throughout the conformity assessment process, the company supports machine builders across India.
Content courtesy: Pilz India.
Choosing the right tools helps overcome challenges associated with the complex machining of titanium, a preferred material in aircraft manufacturing.
The technologies deployed in the aerospace industry have undergone a radical transformation through the decades, resulting in aircrafts becoming compact, lighter, and more efficient. One of the major factors that has influenced the performance of airborne vehicles is the evolving dynamics of material science; yielding changing composition of metals used. Titanium, also known as a strategic material, is being used in increasing proportions today, accounting to almost 15% of the structure of these vehicles. Owing to its lighter weight and higher strength characteristics compared to other metals, impressive properties of corrosion and oxidation resistance, and easier availability overall, it is a preferred material for manufacturing critical parts. Yet, its poor machinability is recognised as an industry-wide challenge. Over the past few years, Kennametal has invested heavily in Research & Development to understand how to better machine titanium, and some of these findings, based on understanding its metallurgical properties are presented below.
Titanium undergoes various phases, from α to ß and depending on these phases, titanium alloys are classified into four main groups: 
• Unalloyed/untreated titanium – excellent corrosion resistance, but lower strength properties
• Alpha structure (α alloys) – great creep resistance, and low to medium strength
• Beta structure (β alloys) – high strength and high density, but the most difficult to machine
• Alpha beta structure (α-β alloys) – medium to high strength, and include alpha and beta stabilizer elements
The commercially viable alloys are ß and (α-ß). Beta (ß) Alloys Beta (ß) alloys contain transition metals, such as V, Nb, Ta, and Mo, that stabilize the ß-phase. Examples of commercial ß alloys include Ti11.5Mo6Zr4.5Sn, Ti15V3Cr3Al3Sn, and Ti5553. Beta alloys are readily heat-treatable, generally weldable, and have high strength. Excellent formability can be expected in the solution treated condition. However, ß alloys are prone to ductile-brittle transition and thus are unsuitable for cryogenic applications. Beta alloys have a good combination or properties for sheet, heavy sections, fasteners, and spring applications
In comparison, α-ß alloys contain both α and ß stabilizers. The simplest and most popular alloy in this group is Ti6Al4V, which is primarily used in the aerospace industry. Alloys in this category are easily formable and exhibit high room-temperature strength and moderate high-temperature strength. The properties of these alloys can be altered through heat treatment.
Titanium is typically produced in the shape of plates and bars, as well as forgings and castings. The Buy-to-Fly (BTF) ratio is typically between 10 and 16, meaning a raw material of 10kg titanium ends up being a finished part with the weight of 1kg. The BTF ratio requires efficient removal of the excess material achieved through titanium roughing applications, which causes the cutting edge to be exposed to extremely high temperatures for a long time.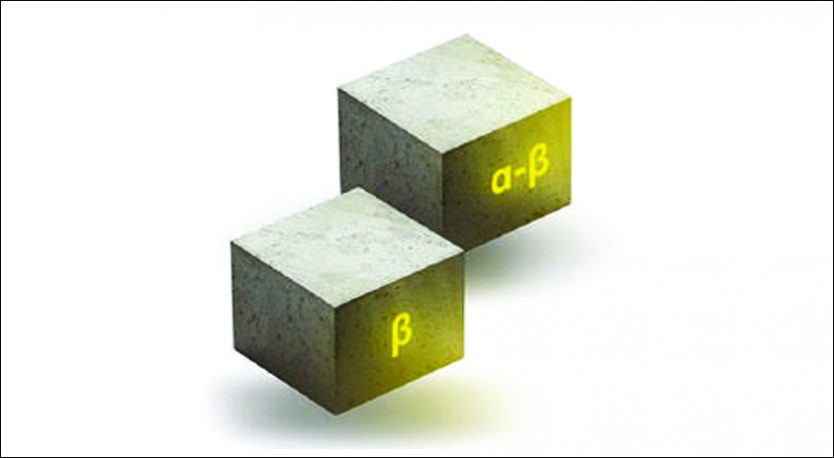 Some challenges associated with machining comprise high-chemical reactivity of titanium alloys, which causes the chip to weld to the tool, leading to cratering and premature tool failure. In addition, the chip-tool contact area is relatively small, resulting in large stress concentration due to these higher cutting forces and temperatures, resulting in premature failure of the cutting tool.
The machining of flight critical components (engine rotatives) at optimal production rates requires reliable, high precision tooling for semi-finishing and finishing turning operations. The entire process needs to be secured to avoid any damage to the part that requires advanced chip breaker technologies.
Requirements:
· Tool stiffness/stability
· Heat management
· Coolant flow
· Grade toughness (chipping resistance)
· Heat-resistant coating
· Chemical wear resistance
· Micro geometry that promotes low cutting forces
· Stable machines and conditions that promote higher Metal Removal Rates (MRR)
Flat bottom drilling is ideal for pre-machining of high-temperature alloy airframe structural parts. Quickly removing large amounts of material remains a challenge for these types of components. Traditionally, the first step of the process is to enter the material by using ramping techniques, which is time-consuming and leads to low metal removal rates. 
Speeding up the machining process requires combining the advantages of a flat bottom drill and a Z-axis plunge mill. The flat bottom design eliminates radial forces, while four effective cutting edges provide increased feed and speed rates, leading up to 200 percent higher metal removal rates than traditional ramping techniques and freeing up capacity for aerospace manufacturers. 
Once the drill has shaped the basic structure of the component, it progresses for the roughing and finishing steps.
A recommended roughing solution for a large structural part is helical shoulder milling that addresses the high metal removal needs in aerospace machining. To achieve lowest possible cost per edge, tool makers have come with up to 8 cutting edges per insert in Helical Milling Cutters. Such designs are proven to reduce power consumption up to 50% and can deliver the highest MRR, especially in high-temperature alloys.
If the work holding is weak and tool overhang is high, another technique that can be used is High Feed Milling (HFM). With low entering angles, these cutters provide optimum cutting forces with maximum stability. Also, in materials like titanium which has extremely low thermal conductivity (thermal conductivity of Ti6Al4V is ~ 7.2 W/m K), it is prudent to work with higher feeds than speeds.
An array of new-generation PVD coatings with alloyed substrates are available, which provide resistance to thermal cracks, least co-efficient of friction and prevent chip welding in roughing applications. The cutter body should be constructed of higher-quality steel for improved stiffness and rigidity to withstand the high cutting forces. The variable helix design helps to break the harmonics that lead to chatter, further improving tool life, part quality, and throughput. Positive cutting action reduces vibration, minimizing the cutting zone temperature and prevents work hardening tendencies.
Finishing operations are mostly performed with solid endmills. Some unique design features include unequal flute spacing, variable helix configuration to minimize chatter and vibration, eccentric reliefs, twisted end face for increased stability and ramping along with the most optimized geometry, and flute design for titanium machining. In some advanced designs, endmills come with positive clamping technologies (safe lock) which prevent tool pull-out and ensure high process security. High-performance endmills will also have features like chip gashers for smooth chip evacuation and lower cutting forces.
Comprising high strength-to-weight ratio, corrosion resistance, fatigue resistance, and capability to work in high-temperature zones – titanium is usually the primary material for aerospace structures, frames, and engines. Titanium's low modulus of elasticity, poor thermal conductivity, high chemical reactivity, and hardening properties, together, make it one of the toughest materials to machine. Therefore, an appropriate selection of cutting tool design and machining strategies is extremely important for machining titanium and its alloys along with proper machine, coolant and work holding capabilities, in order to maximize productivity and optimize costs.
(Content courtesy: Kennametal)
The joint manufacturing of fighter jet engines by GE Aerospace in collaboration with HAL in India will be used to power Tejas fighter jets.
The Indian defence sector has embarked on a transformative journey to enhance its self-reliance and strengthen its strategic capabilities. The development of indigenous fighter jet engines holds immense strategic value for India. Currently, the country relies heavily on foreign suppliers for its fighter aircraft engines, which poses logistical challenges and raises concerns regarding national security and technology transfer.
Investing in the manufacturing of fighter jet engines will have far-reaching positive effects on the Indian economy. Establishing a robust defence manufacturing ecosystem will generate employment opportunities, attract foreign direct investment, and stimulate innovation, research, and development activities. The multiplier effect of such investments can lead to the growth of ancillary industries and the development of a skilled workforce, thus contributing to the country's economic prosperity.
Revolutionising the manufacturing of fighter jet engines is challenging. Developing the required technical expertise, infrastructure, and supply chain capabilities will necessitate significant investments and long-term commitment from the government and private sector. Collaboration with international partners, leveraging their expertise, and establishing joint ventures can expedite the process and bridge technological gaps. In a boost to the economy, GE Aerospace and Hindustan Aeronautics Limited (HAL) will produce fighter jet engines for the Indian Air Force. This partnership marks a crucial milestone in defence cooperation between the United States and India, highlighting the growing significance of the Indian aerospace industry. The agreement includes the potential joint production of GE Aerospace's F414 engines in India, subject to necessary export authorisation.
GE Aerospace's presence in India
GE Aerospace has been actively engaged in the Indian aerospace industry for over four decades, participating in various areas such as engines, avionics, engineering, manufacturing, and local sourcing. In addition to the potential new work in India, several GE facilities in the United States will experience increased volume due to this collaboration.
The partnership between GE Aerospace, India's Aeronautical Development Agency, and HAL dates back to 1986, when they began supporting the development of India's Light Combat Aircraft (LCA) with F404 engines. Since then, GE Aerospace's F404 and F414 engines have played a critical role in developing and producing the LCA Mk1 and Mk2 programs. With 75 F404 engines already delivered and 99 more on order for LCA Mk1A, the agreement paves the way for the delivery of 99 engines for the Indian Air Force under the LCA Mk2 program.
Global reach and expanding capabilities in India
GE Aerospace's Chairman and CEO, H. Lawrence Culp, Jr., described the agreement as historic, made possible by the longstanding partnership between GE and HAL. He emphasised the role this collaboration plays in advancing the vision of closer coordination between the United States and India, as President Biden and Prime Minister Modi envisioned. The F414 engines, renowned for their exceptional performance, will deliver crucial economic benefits and enhance national security for both countries.
The agreement positions GE Aerospace to expand its manufacturing capabilities in India by building a family of products, including the F404 engine, which currently powers the LCA Mk1 and Mk1A aircraft. Furthermore, GE Aerospace has been selected for the prototype development, testing, and certification of the Advanced Medium Combat Aircraft (AMCA) program using its F414-INS6 engine. The company will continue collaborating with the Indian government on the AMCA Mk2 engine program.
With over five million flight hours and eight nations operating or placing orders for F414-powered aircraft, these engines have consistently exceeded reliability and time on-wing expectations. Globally, more than 1,600 F414 engines have been delivered, solidifying GE Aerospace's position as a trusted provider of jet engines.
GE's Commitment to India
GE's presence in India extends beyond this manufacturing agreement. The company operates the John F. Welch Technology Centre in Bengaluru, a research and technology hub, and the Multi-modal Factory in Pune, established in 2015. These facilities demonstrate GE's dedication to advancing technology and manufacturing in India, supporting the country's aerospace ambitions.
By reducing dependency on foreign suppliers and fostering indigenous technological advancements, India can strengthen its defence sector, boost its economy, and secure its national interests more effectively. The challenges on this path are formidable, but with concerted efforts, collaborative partnerships, and long-term investments, India has the potential to become a global hub for advanced fighter jet engine manufacturing, making significant strides in defence technology.
Conclusively, the revolution in manufacturing fighter jet engines marks a pivotal moment in India's journey towards self-reliance and enhancing its strategic capabilities. In this way, the collaboration between GE Aerospace and HAL to produce fighter jet engines in India represents a significant advancement for the country's aerospace industry. By leveraging GE's expertise and HAL's manufacturing capabilities, the agreement will contribute to India's defence capabilities and boost the country's economy. This partnership is a testament to the strong bilateral relations between the United States and India, fostering closer cooperation in defence and technological advancements. As GE Aerospace continues to expand its footprint in India, the collaboration holds immense potential for future advancements in the Indian Air Force's capabilities and the overall growth of the aerospace sector. With collaborative partnerships and long-term investments, India has the potential to become a global hub for advanced fighter jet engine manufacturing, making significant strides in defence technology.
The Education center aims to train 1200 students for three years and offer jobs – directly impacting over 5000 family members.
Phillips Education – a global leader in advanced manufacturing education – inaugurated its Center of Excellence (CoE) at the Vishisht Government Industrial Training Institute, Haridwar, in the State of Uttarakhand. This CoE is established in partnership with Uttarakhand Workforce Development Program ("UKWDP") and is backed by the World Bank. The state-of-the-art CoE symbolizes the nation's transition from less efficient manufacturing methods to a new era of advanced technologies, in sync with the world, ready to deliver global excellence.
Saurabh Bahuguna ji (Minister of Skill Development and Employment of Uttarakhand) said – "As we gather here today to inaugurate this Center of Excellence, let us take a minute to realize that Aao Behtar Bharat Banaye is more than just a phrase – it represents how together, we are forging a better Uttarakhand and Bharat. This CoE will create job opportunities, ensure our people are trained using the very latest technologies, and industries will be motivated to set up their factories in our beautiful State and compete in the global arena." 
Phillips Education is focused on unleashing the potential of the manufacturing industry by tackling its most crippling challenge: the skills gap. Haridwar's CoE, was awarded to Phillips Education earlier this year to foster the region's manufacturing prowess and scale its capabilities to newer heights. Prominent attendees from Phillips included Rakshiit Kejriwal (President, Phillips Education), Nikhil Modi (Global Marketing Leader, Phillips Corporation) and Col. Ankur Sabharwal (Vice President – Operations). The event was also graced by thought leaders such as Col. Mohit Chauhan, with speeches from Dr. Harindra Garg, Chairman Sidcul Manufacturing Association, Uttarakhand.
Understanding the importance of this initiative to the industry, governments, and the employability of the citizens, Phillips Education has been setting up CoE across India and Overseas.. Overseas, the organization has partnered with the Malaysian government agency to develop a CoE to drive Industry 4.0 in their country, and is also instrumental in developing Qatar's first advanced manufacturing CoE – a project led by McKinsey and involving collaboration with Factory One, a model factory by Qatar Development Bank. Each CoE is the result of Phillips Education working with partner organizations to directly address the skills gap.
"With an extraordinary customer base and unparalleled proficiency in creating and encouraging new machinists, Phillips is a brand to be reckoned with," according to Kejriwal. "Our foray into Manufacturing Education reflects not merely another business venture, but us taking the onus and responsibility to contribute to the betterment of our nation and truly making it Atmanirbhar."
Haridwar is a state of enormous potential to contribute to India's manufacturing sector, according to Kejriwal. "We believe this CoE will empower the region's students to create a paradigm shift from dependency on tourism and farming towards sustainable careers in manufacturing."
With the Center of Excellence now officially operational in Haridwar, it stands poised to become a beacon of knowledge, innovation, and excellence, not just for the region but for the entire nation. As more countries and states within India establish CoEs by Phillips Education, the manufacturing education provider plans to develop a vast network where student exchange programs across cities of India and internationally, can help accelerate the incubation of ideas, transfer of technologies, and sharing of best practices.
The inauguration culminated with enthusiasm and hope for the future. The CoE's cutting-edge facilities, state-of-the-art machinery, and industry-leading curriculum left attendees impressed and optimistic about the impact it would have on the local workforce and region's overall economic growth. It is also a shining example of how the collective efforts of State Government, Corporate, and World Bank will be needed to foster the missions such as Make in India, Skill India, and Atmanirbhar Bharat.
The Indian Machine Tool Manufacturers' Association (IMTMA) is launching FACTEQ 2024, India's premier expo for complete factory solutions, from May 23-26, 2024, in Pune. Explore cutting-edge factory equipment under one roof.
Indian Machine Tool Manufacturers' Association (IMTMA), organizer of IMTEX is launching FACTEQ 2024, a first-of-its-kind expo in India focusing on complete solutions for factories. The expo will be held from May 23 – 26, 2024 at the Pune International Exhibition and Convention Centre, MOSHI, Pune.   
FACTEQ 2024 would bring the entire range of factory equipment required to design, build, maintain and upgrade factories, under one single roof. Exhibitors would display cutting-edge factory solutions to meet the requirements of various industry sectors. FACTEQ 2024 is co-located with Pune Machine Tool Expo, western region's leading machine tool and manufacturing technology exhibition.
Jibak Dasgupta, Director General & CEO, IMTMA stated: "As India's manufacturing industry moves towards contributing $1 Trillion to the economy by 2030, industries are expected to grow multi-fold resulting in demand for new factories and necessitating upgradation of existing factory setups.  Considering these factors IMTMA has come up with FACTEQ 2024 which is a unique model in India which enables customers to source safe, sustainable, and environment-friendly solutions for the factories of tomorrow."
Further information about the show is available on www.facteq.in
Planetary gearboxes are prescribed in 2 different situations: as a one-to-one replacement of a competitor product, or in a new customer development. Recommending an alternative product in an existing application is an easy task, as our engineers know that their design is safe. 
Reckon gearboxes can replace gearboxes of similar size and interface at no risk. In the second case, when customers design new systems, it is our responsibility to recommend a reliable solution that matches all specifications. From a customer perspective, determining the appropriate gearbox size using standard catalogs is becoming viewed as unreliable and fraught with risk. More and more engineers are beginning to question the accuracy of the values provided in datasheets. Personally, we hold the belief that the recent uptick in reported product performance by certain suppliers is puzzling and cannot be attributed solely to improvements in design, materials, treatments, or lubricants.
Customers now expect that manufacturers proceed to argued recommendation, based on solid, reliable data.
Explaining the discrepancy between our torque ratings and those of our competitors to our customers is a challenging task. This is because when it comes to assessing gearbox torque ratings, there can be significant variation. For instance, ten different gear designers may assign ten different torque ratings to the same gearbox. These variations are influenced by factors such as the specific norms or norm versions they follow, the safety margins they choose to incorporate, and the scenarios they consider in their calculations, such as speed, heat, and the location of shaft loads.
To address this question effectively, one would need to understand the methodology used to calculate the torque ratings, which is often not provided in catalogs. It's essential to recognize that the gearbox with the highest torque rating isn't necessarily the best choice. In fact, it may indicate that safety margins have been reduced to present more favorable data, which we consider to be potentially misleading.
In our industry, when datasheet ratings are genuinely provided, they often rely on standards that assume an ideal scenario where every component is precisely positioned and manufactured. In this idealized scenario, the performance of each individual part is not influenced by the interactions with other components both inside and outside the gearbox. It also assumes that any radial loads on the shaft only affect the gearbox's output bearings or the shaft itself. However, the reality in practical applications is quite different.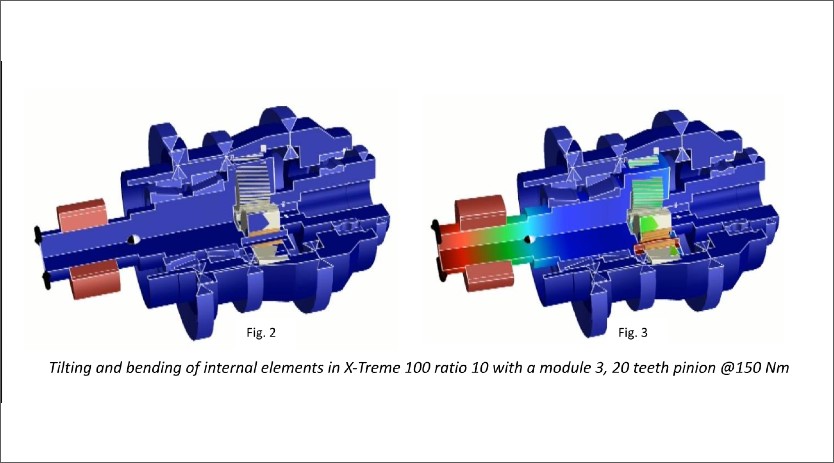 Romax Enduro functions
As it is able to take all these parameters into account, Romax Enduro estimates real-life conditions more accurately than any other software we used before. We can show how our products behave in any application. 
While natively integrating most calculation norms including the latest updates of the ISO 6336-2:2006 for gear calculation and the TS 16281:2008 for bearing calculation, English company Romax goes further and works with the most respected experts around the world to develop their own additional algorithms. Functions now available in Romax Enduro enable increasing design reliability and estimating very precisely the life of a complete gearbox, taking all aspects of real-life conditions into account. Using Romax, we can now estimate the life of each gearbox in our customers application, component by component, taking into account the impact on a component on the other, and, more importantly, considering your output element as a part or the system.
The following phenomenon is typical: in a rack and pinion transmission, the combined loads generated by the helical pinion are applied to the output shaft, they bend it, tilt it around the output bearings, twistthe planet carrier, which compresses the ring gear onto the gears, the needles against the planets, the planets against the sun gear and finally applies a radial load on the customer motor shaft! As a result the sun gear suffers more than what the basic norms can estimate (basic algorithms will only give L10h results) and becomes the weak element in the system. Romax Enduro can tell us the damage to each of these elements! 
The result of such calculation is obviously conservative when compared with standard datasheet ratings: in such or such application or working conditions, the same gearbox can be rated a certain torque value or only half of this value; but it is a fact that shafts, bearings, planet carriers, gears, needles, axles; all have their own stiffness. Who would prefer trusting catalog values that do not consider such a phenomenon?
Using Romax Enduro consequently makes our recommendations precise and professional: we now can tell you the difference in any internal element lifetime if you use a 25 teeth pinion rather than a 20 teeth pinion, as the resulting additional shaft torsion, flexion and tilt will reduce the size of the zone where the planets are transferred power from the sun gear, or transfer this power to the ring gear (this factor called the Khβ is clearly displayed in the results). Our engineers can show you that a 160 Nm gearbox is only a 120 Nm gearbox if you install a spiral bevel gear on its output shaft, because the radial and axial load generated by the bevel gear set will compress and deform the output bearings and tilt all the components inside above this torque. We can tell you that adding 2 teeth to your pinion and increasing the ratio slightly can sometimes increase, sometimes decrease the overall life, depending on the initial ratio.
Because even the greatest products cannot perform if poorly sized, we are ready to give our customers the perfect recommendation so their application achieves the longest lifetime and the best performance.
Expertise shared by: Martin MIJNO, CEO and founder of Reckon Drives International SAS, France.
For more information and assistance on improving your reliability, contact us at:
Amcats Pvt. Ltd., Turbhe, Navi Mumbai 400705.
Teledyne FLIR introduces Neutrino Ground ISR 300 and Ground ISR 420, advanced MWIR imaging solutions for ground-based ISR systems. These systems offer high-performance imaging and flexibility for surveillance and reconnaissance applications.
Teledyne FLIR, part of Teledyne Technologies Incorporated, announced two additional mid-wave infrared (MWIR) imaging solutions for integrators developing ground-based intelligence, surveillance, and reconnaissance (ISR) systems. The Neutrino Ground ISR 300 and Ground ISR 420 offer high-performance imaging, long life, and a low switching cost through the combination of Teledyne FLIR's best-in-class MWIR camera modules, continuous zoom (CZ) lenses and image processing with market-leading control electronics from InVeo Designs LLC.
"The Neutrino Ground ISR series incorporates multiple focal plane array (FPA) resolutions and CZ lens options, all with the same industry standard image processing and interface electronics, allowing for differing detection recognition and identification (DRI) requirements and affordability," said Dan Walker, vice president of product management, Teledyne FLIR. "As the most complete and versatile integrated MWIR solution yet for ground-based ISR systems, the newest addition to the Neutrino series delivers the performance, reliability, and support expected from Teledyne FLIR."
To drive high system-level performance, the Neutrino Ground ISR series includes industry-adopted AgileCore™ imaging electronics, long-life Linear Stirling coolers that provide a superior mean-time-to-failure of greater than 27,000 hours, and fully integrated CZ optics. Developed and produced by Teledyne FLIR, formerly New England Optical Systems (NEOS), which joined FLIR in 2019, the CZ lenses provide a range of focal length options to maximize DRI. The series also features an industry-leading two-year warranty.
With the choice of either 640×512 or 1280×1024 thermal pixel resolution, the modules provide optimal thermal sensitivity while the zoom, focus, and boresight retention enable superior autofocus and focus-to-range. They also feature common camera interfaces with 30Hz Camera Link or Gigabit Ethernet and 1080P30 HD-SDI or 720P60 HD-SDI to streamline development further.
All Neutrino Ground ISR products are manufactured in the USA, classified under US Department of Commerce jurisdiction as EAR 6A003.b.4.a, and are not subject to International Traffic in Arms Regulations (ITAR). Customers also have access to a comprehensive software development kit (SDK), integration support, and documentation from the highly qualified technical services team at Teledyne FLIR.
The Neutrino Ground ISR products are upgradable to operate Teledyne FLIR's AI detection, tracking, and classification models and image signal processing (ISP) libraries for super-resolution, turbulence mitigation, contrast enhancement, and more that will be available in 2024.
The 63rd Annual Convention of the Society of Indian Automobile Manufacturers (SIAM) places sustainable mobility at its forefront, featuring key insights and government initiatives for a greener automotive future.
Society of Indian Automobile Manufacturers (SIAM), the apex body representing leading automobile manufacturers of the country, commemorated its 63rd Annual Convention deliberating on the way ahead for Sustainable Mobility.
On the Occasion of 63rd SIAM Annual Convention Hon'ble Prime Minister of India, Shri Narendra Modi in his message mentioned that for over six decades SIAM has been serving the Nation admirably. He said India is the 5th largest economy and is soon poised to reach top 3. Hon'ble Prime Minister also noted Indian Auto Industry's efforts towards decarbonization through introduction of vehicles with wide range of powertrain technologies. By 2047, we aspire to realize the vision of building a sustainable, self-reliant, strong and developed India.
The inaugural session, themed "Sustainable Mobility – The Way Ahead for Indian Automobile Industry", Chief Guest, Nitin Gadkari, Union Minister of Road Transport & Highways, Government of India commented, "In 2014, the global automobile sector was ranked 7th, but today, it has climbed to the 3rd position. The automotive sector serves as a growth engine for our nation, aligning perfectly with the honorable Prime Minister's vision to elevate India from its current fifth largest economy in the world to third. Our ultimate goal is to become the world's leading automobile hub." He requested the auto industry to work on expeditiously increasing the share of green technologies, such as biofuels, electric and hydrogen. Higher use of biofuels will lead to aligning the auto industry's approach with global biofuel alliance announced during the G20.
Guest of honor, Dr Mahendra Nath Pandey, Union Minister of Heavy Industries, Government of India said, "India's commitment to achieving net-zero carbon emissions by 2070 and reducing 1 billion tonnes of carbon emissions by 2030 aligns with the ambitious Amrit Kaal: Vision @ 2047." He also announced that the Government of India has extended the PLI scheme by another year to enable the auto industry reap benefits of the incentives being provided for manufacturing advanced automotive technologies. 
During the session, Vinod Aggarwal, President of SIAM and Managing Director & CEO of Volvo Eicher Commercial Vehicles Ltd., underscored the imperative need for sustainable mobility to secure a better tomorrow. He mentioned, "Over the past two years, we've witnessed remarkable growth, with the industry's current size standing at INR 12.46 lakh crores, including exports worth INR 3 lakh crores." He highlighted the six pillars of sustainability on which the auto industry and SIAM is presently focussing with close association with Government of India viz. Javik Pahal (biofuel), Vidyutikaran (electrification), Gas Gatisheelta (gaseous fuels), Harit Hydrogen (Green Hydrogen), Chakriyata (Recycling) and finally Surakshit Safar (Safe Journey). He also mentioned the progress undertaken by the industry to increase its localisation content. 
Shailesh Chandra, Vice President of SIAM and Managing Director of Tata Motors Passenger Vehicles Ltd. and Tata Passenger Electric Mobility Ltd., said, "The Government's commitment to the Amrit Kal vision 2027, along with the imperative to achieve net-zero emissions, sets the stage for a forward-looking India. We are witnessing a remarkable transition towards electric vehicles (EVs), aligning our industry with global benchmarks. SIAM has embarked on a proactive journey, with a strong focus on biofuels and a future centered around green energies. SIAM's commitment not only resonates with India's environmental goals but also underscores our dedication to saving lives on the road. Our collective commitment to sustainability is the path toward a safer, more holistic future that lies ahead for the country."
The interface between the EPLAN Platform and the 3DEXPERIENCE platform of Dassault Systèmes will systematically be expanded by both parties working together.
EPLAN and Dassaults Systèmes entered into a technology partnership as part of the EPLAN Partner Network on the first day of the Hannover Messe. Both parties will be working on expanding the interface between EPLAN and the Dassault Systèmes 3DEXPERIENCE platform. The goal is seamless integration of electrical engineering and fluid-power technology in the context of product development. Dassault Systèmes Managing Director Eurocentral Dominic Kurtaz and EPLAN & Cideon CEO Sebastian Seitz signed the agreement in Hanover, Germany. The partners will beneficially be contributing their expertise in the interests of their shared clients, thereby enabling companies to set up end-to-end digital development processes.
Aiming for higher process efficiencies
Sebastian Seitz explains: "With the bidirectional interface between the EPLAN Platform and the Dassault Systèmes 3DEXPERIENCE platform, we're increasing the process efficiencies of our common clients. When all systems are bidirectionally connected – ECAD, ERP and PDM, for instance – users are workly in a truly interdisciplinary manner and thus much more efficiently."
"With this partnership, we support our joint customers in achieving new dimensions of efficiency and productivity when it comes to holistic product development based on the creation and capitalization of virtual twins," adds Dominic Kurtaz, Managing Director EURCENTRAL, Dassault Systèmes. "The bidirectional interface simplifies numerous processes and creates new collaboration opportunities for our customers. We are therefore delighted to take this groundbreaking step together with EPLAN."
The partnership will be expanded in the coming months. Both companies are working in tandem to further optimise the interface – the PLM 3DEXPERIENCE Connector – and provide new solutions for digital product development in the cloud environment. A joint demonstration environment is also planned as part of the Engineering Collaboration Network (www.ecn-online.com) with videos and sample data in the PLM cloud environment, as well as joint interaction on customer projects.

Bidirectional coupling of engineering and PLM
The interaction of EPLAN and the 3DEXPERIENCE platform allows that the data management processes for electrical engineering and fluid-power engineering can be automatically controlled. What's special about it is that access to the Dassault Systèmes cloud-based platform is available directly in EPLAN Electric P8 and EPLAN Fluid. For instance, components lists and bills of materials can be synchronised with just one click. For users of both platforms, automating routine processes makes everyday work even easier – common operations such as searching for, finding and creating projects, checking in or out of them, or exporting EPLAN project pages into neutral formats are all carried out much more efficiently with the interface. Fast and easy document generation in particular will save users both time and effort, since all that is needed to output in neutral formats is a checkmark when checking in. The neutral formats are then automatically linked to the associated EPLAN project.
EPLAN and the 3DEXPERIENCE platform have bidirectional communication. Checking into projects from EPLAN on the platform is automated, as is opening projects from the PLM system. Important descriptive PDM attributes, including information for the drawing header (as an example), can be added companywide in the 3DEXPERIENCE platform and are automatically available during the next checkout of the EPLAN project. Furthermore, the software supports traditional PDM functionality such as the approval or transfer of documentation to manufacturing.
IoT-enabled data analysis technology to improve energy efficiency, pre-empt maintenance, and increase uptime of compressed air systems.
Elgi Equipments Limited introduced Air~Alert, an IoT-based Air Compressor Monitoring System, for the Indian market. After a successful launch at the Hannover Messe in Germany earlier this year, the ELGi Air~Alert smart 24/7 remote monitoring and alert system is now available to ELGi's customers in India for new and existing installations*.
Air~Alert is a data transmission and analysis service that monitors critical parameters and sends out actionable insights and alerts to users. With these insights, customers can improve uptime and maximise efficiency with smart monitoring and data related to air compressor performance. The service also enables customers to act in time and avoid potential failures. Additionally, Air~Alert enables 24/7 remote monitoring of the air compressor. It delivers trend graphs and information about operating parameters, including discharge pressure, oil temperature, variable frequency drive (VFD) speed (where fitted), total running hours, trips, and alerts on a live online interface accessible remotely from anywhere in the world.
Air~Alert also notifies customers and ELGi channel partners about scheduled maintenance and fault occurrences while predicting commonly occurring failures. Monthly summary reports on overall health and operating parameters, including upcoming service requirements and preventative maintenance based on the data obtained, are sent to customers.
The operational and performance data from the compressors are acquired by Air~Alert from the compressor controller, transmitted in an encrypted form, and sent to secure and dedicated Air~Alert servers in the cloud. Smart algorithms then work on the data to enable intelligent prediction with actionable alerts, reports, and trends – which are returned securely to the operators as easy-to-read actionable dashboards.
Throughout the process, the data is structured and analysed to provide smart analysis that helps users to plan maintenance activities, enabling energy efficiency improvements with the compressor. The Air~Alert failure prediction modulealso predicts if the compressor is likely to fail in the future. At the end of the process, data is translated into comprehensible alerts and reports that allow the user to take timely action.
With ELGi's Air~Alert, users can track highly informative utilisation trends providing actionable intelligence and take corrective actions, such as:
Operating pressure band optimisation based on the utilisation rate
Replacing an existing fixed speed unit with a variable speed VFD unit/ or adding a retrofit VFD
Providing an energy efficient, lower size compressor in case of very low utilisation rate
Detecting leaks based on an unexpected change to a higher utilisation rate over time
In the evolving landscape of Industry 4.0, the symbiotic relationship between cables and connectivity has assumed importance, forming the cornerstone of automation and laying the foundation for seamless network communication within India's wire and cable sector. Gary Bateman, MD, LAPP India, says as India forges ahead on its digital transformation and technological integration, the pivotal role of cable and connectivity solutions has risen to prominence.
In the dynamic domain of Industry 4.0, the intricate link between cables and connectivity has gained immense significance, serving as the bedrock of automation and forming the core of seamless network communication in India's wire and cable sector. As India advances toward digital transformation and heightened technological fusion, the unpretentious yet crucial role of cable and connectivity solutions has emerged as the driving force behind this evolutionary journey. In the tapestry of India's technological advancement, the fusion of cables and connectivity stands out as the vital element that binds the efficiency of automation with the expansive reach of network connectivity, propelling the nation towards an innovative and interconnected future. Utilising fixed monitoring devices like LAPP's ETHERLINE® GUARD, which continuously oversees Ethernet cables, enhances plant availability through proactive maintenance.
Amid the ever-evolving landscape of industrial interconnection and automation, LAPP India's ETHERLINE® GUARD distinguishes itself as an innovative solution, reshaping the idea of monitoring data cables. Operating as a compact yet potent tool, the ETHERLINE GUARD takes the lead in preventive and predictive maintenance approaches, offering a transformative alternative to reactive methods. Traditional maintenance practices often followed a reactive pattern, only addressing issues after they had escalated into disruptions or failures. However, this method has proven costly and disruptive, resulting in downtimes, production losses, and higher repair expenses.
The innovation of the ETHERLINE GUARD lies in its ability to break free from this reactive cycle by continuously monitoring data cables, spotting anomalies, fluctuations, or potential failures in real-time. Outfitted with advanced sensors, it watches critical factors like temperature, humidity, and vibration along the length of data cables. Through sophisticated algorithms and data analysis, the device detects patterns and deviations that might indicate imminent problems. This foresight empowers maintenance teams to intervene proactively, scheduling corrective measures during planned downtimes, thus sidestepping the disruptive aftermath of unforeseen breakdowns.
By scrutinising historical and real-time data, the ETHERLINE® GUARD anticipates potential cable failures and declining performance, enabling maintenance squads to take proactive steps. Its adaptability to various data cable types makes it versatile and suitable for various applications and industries. Deployable across numerous data cable installations, the device is scalable to meet the demands of diverse industrial setups. In line with the tenets of Industry 4.0, it delivers real-time data insights and predictive capabilities that contribute to industries' digital transformation. In essence, the functions and characteristics of the ETHERLINE® GUARD converge to furnish a comprehensive solution that empowers industries to shift from reactive maintenance strategies to proactive and predictive approaches. By ensuring the well-being and reliability of data cables it plays a pivotal role in optimising operational efficiency, curbing costs, and elevating overall productivity in industrial settings.
This cutting-edge data cable monitoring device is specially designed for Ethernet-based networks in automation technology. Its core function oversees the lifespan of data cables prone to failure, especially in critical applications such as dynamic environments. It's ideally suited for data cables adhering to the 100BASE-TX transmission standard (up to 100 Mbit/s) as defined by IEEE 802.3, thus making it compatible with a wide array of Ethernet protocols, including EtherCAT, EtherNET/IP, and 2-pair PROFINET applications. Engineered for usage within control cabinets, this versatile device boasts an IP 20 protection rating, ensuring dependable performance even in demanding industrial conditions. The ETHERLINE® GUARD provides:
A holistic solution for preemptive maintenance.
Guaranteeing the endurance and uninterrupted functionality of essential data cables in automation systems.
Ultimately contributing to enhanced operational efficiency and decreased downtime.
In India's industrial landscape, where sectors like manufacturing, energy, and transportation are rapidly embracing digitalisation and automation, the role of the ETHERLINE® GUARD becomes particularly impactful. It empowers these sectors to retain their competitive edge by harnessing technological advantages while safeguarding the reliability and resilience of their data cable networks.
Over the past two years, the Industrial Products and manufacturing sector has seen a maximum increase of 20 percent in adopting AI/ML solutions.
After the COVID-19 pandemic, Indian businesses have embraced advanced analytics and data-centred choices. The PwC report, titled "Towards a More Intelligent Future: Influence of AI in the post-Covid period", reveals that the industrial products and manufacturing domain has experienced the highest integration of AI/ML in the past couple of years. Nearly 64 percent of surveyed entities in this sector indicate they are presently in the initial phases of their AI-driven evolution, reflecting the potential for additional investments and growth driven by AI/ML solutions within this industry.
PwC conducted surveys that included more than 220 CXOs and decision-makers in the Indian market, building upon a prior investigation conducted in 2020. Simultaneously, PwC executed the 2022 AI Business Survey, extracting insights from 1,000 worldwide business and technology leaders accountable for their companies' AI strategies.
While there has been a significant rise in the implementation of AI with considerable and favourable outcomes, current trends suggest that the travel and hospitality sector has reached a point of saturation, says the report. In contrast, the Technology, Media, Telecom, Healthcare, and Pharmaceutical industries have made consistent advancements; yet they face certain challenges in assessing ROI, particularly pre- and post-Covid-19 times.
Compared to these sectors, the retail and consumer market has experienced reduced AI integration, attributed to challenges in pinpointing viable use cases amidst shifting market dynamics and consumer actions.
Sudipta Ghosh, Partner & Leader – Data & Analytics, PwC India, said, "As organisations mature in their journey towards using AI for driving business outcomes, a three-pronged approach around identification of appropriate use cases, the rigour of measuring and communicating the RoI along with driving adoption and scale at the enterprise level using the framework of responsible and explainable AI will be critical."
Dr. Indranil Mitra, Managing Director & Leader of Advanced Analytics, PwC India, said, "As the volume of enterprise data grows, it is becoming increasingly important to leverage this data in a meaningful way. Companies using AI to model this data are reaping the benefits of business transformation enabled by effective decision-making. However, to truly differentiate themselves from the competition, leaders must also deeply understand the risks around security, privacy, and accountability."
Sector-wise AI adoption trends
· Industrial Products & Manufacturing: Between mid-2020 and 2022-23, the sector experienced the highest growth of 20 percent in adopting AI/ML solutions. After implementing these solutions within 12 to 18 months of the pandemic, entities in this field garnered the most advantages from AI in three key business areas: manufacturing and operational processes, supply chain and logistical operations, and information technology and cyber security.
● Retail: Compared with the other sectors, the retail and consumer industry witnessed a marginal decrease of 6 percent in 2022–23 compared to 2020. This was triggered by the gap in identifying the right use cases and measuring the RoI. Use cases in this sector are primarily in sales and marketing, customer service, and supply chain and logistics, with 68 percent, 52 percent and 56 percent of participants reporting only marginal to no improvements.
● Technology, Media & Telecom: As per the survey, there is a nearly 15 percent increase in respondents deploying enterprise-wide AI/ML solutions at scale. To keep up with market forces and build a long-term competitive advantage, organisations are piloting AI/ML solutions to investigate and measure their impact. There was an almost 7 percent increase in such implementation at the pilot level in 2022-23 compared to 2020.
● Healthcare & Pharmaceuticals: In the wake of the Covid pandemic, this sector has seen steady progress in AI adoption, demonstrating a 7 percent growth since 2020-21. According to the survey, 85 percent of participants are interested in AI-powered solutions prioritising patients, such as personalised treatment strategies for autonomous disease identification and support in prevention and cure. Additionally, around 65 percent are open to and willing to pay for services that utilise AI to predict illnesses or medical issues. However, only 15 percent of all respondents fully trust AI-generated diagnostic outcomes, while 78 percent of the population intends to delve deeper by consulting doctors and discussing these results.
Finally, in contrast to 2020, the Travel & Hospitality market is heading towards saturation. The industry has witnessed a roughly 7 percent increase in the adoption of AI. Nearly 99 percent of the surveyed organisations have integrated AI/ML extensively, at least in specific domains. These businesses have also observed a corresponding enhancement in operational performance, with 67 percent of respondents indicating a substantial enhancement in outcomes due to targeted investments in certain business functions.
According to this article, the training phase serves as an opportune moment to introduce students to novel paths for embarking on their careers, ones that align with environmentally conscious and sustainable practices. 
Why do we need to train welders?
Welding stands as a specialized profession demanding skilled labour across the globe. Be it in construction, manufacturing, automotive, shipbuilding, aerospace, oil & gas, railways, or even small roadside grill factories, the requirement for welders is evident. While various statistics indicate a mismatch between the demand and supply of welders, the reality is more nuanced. Developing and less developed countries in Asia, Africa, and Eastern Europe, including our own, produce a substantial number of welders annually. However, the emphasis is on highly skilled welders who can seamlessly adapt to diverse roles.
Additional factors contributing to the soaring demand for skilled labour include certain countries' immigration policies, retirements, and attrition. Despite welding's transformation into a field encompassing science, technology, and art, some welders may opt for jobs within air-conditioned shopping malls or as food delivery personnel. Thus, the question arises: where can we source proficient welders? This is where the significance of continuous training becomes evident, ensuring a consistent supply of adept professionals.
Green welding, the need of the hour
Our global environment is continuously being polluted due to the various activities of civilized individuals worldwide. These activities span from significant industries and manufacturing units to vehicles, encompassing even welding practices. Industries are undertaking diverse measures to diminish pollution, including installing electrostatic precipitators, exhaust gas treatment, chemical neutralization, afforestation, evaluation of environmental impacts, and subsequent actions. However, the concern remains regarding welding's environmental impact, which deserves individual consideration.
While contemporary welding processes, coupled with advanced alloys, electrodes, and filler wires, represent improvements over past technologies, many of these processes still contribute to climate pollution and pose risks to the workforce. This is where the concept of "Green Welding" emerges. It necessitates the adoption of technologies that generate minimal pollution, such as friction stir welding, magnetic pulse welding, diffusion welding, and even submerged arc welding. However, integrating these processes proves challenging and unfeasible, particularly in construction projects where welding is a substantial component. Such construction-related welding also entails the training of welders.
Cost of training 
The primary expenses associated with welder training encompass materials, electrodes, filler wires, gases, power usage, essential tools, fire safety gear, and the presence of a skilled instructor. Effective welding training entails comprehensive instruction and practical experience, necessitating a substantial consumption of materials and consumables. Unfortunately, a side effect of this process is the emission of fumes and gases that contribute to pollution.
A green way of welding training 
Here comes the requirement for Welding Training via Augmented Reality becomes evident. Initiating the shift towards environmentally friendly welding processes commences with training welders utilizing virtual and augmented reality. This approach curtails training expenses by supplying virtual tools and materials while eradicating the ecological effects of real welding. The training phase serves as an opportune moment to introduce students to new paths for embarking on their careers that align with environmentally conscious and sustainable practices. Employing welding simulators for training eliminates material expenses, consumable costs, and environmental pollution.
 Augmented Reality Welding Training Simulator
These welding simulators replicate the most realistic welding experience without actual welding. Students engage with 3D-coded objects, immersing themselves in the sensation of genuine welding with authentic sounds and seam tracking facilitated by real welding torches. Computer-generated imagery lends a hands-on impression, while sensors within helmets feed data for image generation and storage. This stored data aids students in identifying and rectifying errors. Seam tracking assists them in maintaining steadiness in their hand movements, facilitating wrist manoeuvres during real welding tasks. This entire process can be projected on a secondary screen, enabling fellow students and instructors to observe and assess performance. Moreover, this simulation approach can be employed for various joint types and welding processes like SMAW, GMAW, FCAW, or GTAW.
The Reality
Augmented reality training programs have found application in numerous training institutes across diverse disciplines. Rather than replacing traditional welding training, these programs serve as supplements, providing instant feedback to students to enhance their future performances. This approach is a significant step towards contributing to environmental preservation on a larger scale. Although the initial setup costs might be considerable for training institutes in developing countries, the long-term benefits are promising, including cost savings and reduced training expenditures. The resultant reduction in training costs will enable underprivileged students to participate in welding training programs, ultimately bridging the global gap between the demand and supply of skilled welders. 
Expertise shared by- Rituraj Bose, PMP, Quality Management Consultant, Honorary Secretary General, The Indian Institute of Welding.
Steinbacher Dämmstoff GmbH in Austria has installed a new packaging line for PU insulation panels. A RoRoStretchPack solution has replaced two packaging lines for packaging multiple panel sizes. Improved 6-sided packaging and automation are the headlines behind installing the new packaging line.
Steinbacher searched for a fresh solution for packaging their PU insulation panels for some time. The primary reason is the need to enhance packaging quality. The Production Manager at Steinbacher in Erpfendorf, Markus Brandstätter, emphasised, "Securing waterproof packaging is a top priority for us. Our end-customers often store the panels outdoors at construction sites, and due to high demand, we can't always store the panels indoors before shipping." Markus elaborated, "Our previous packaging approach lacked waterproofing, which led to the potential issue of water getting trapped between the panels when stored outside."
Previously, the standard-sized PU panels (1200×600 mm) were packed with a sleeve to create four-sided packaging for a bundle of panels. These bundles were then arranged on a pallet and wrapped using stretch wrap film. The larger panels were earlier packaged utilising heat shrink, but consistent problems emerged with the weldings. Consequently, neither of these packaging methods ensured complete waterproofing.
Six-sided packaging – sealed and waterproof
Markus Brandstätter says, "A few years ago, we came across RoRoStretchPack® produced by Tentoma". RoRoStretchPack® is a horizontal packaging solution employing a tubular stretch hood film covering all six sides. Achieving sealed and waterproof packaging only requires welding the two ends of the film. Both packaging and sealing steps are integrated into a single process. This innovation was developed by Tentoma in Denmark, inspired by the established vertical stretch hood packaging technique commonly utilised for five-sided pallet packaging.
Markus explains," After the initial assessment, we sent different sizes of product samples to Tentoma for test packaging. When the packaging samples returned to Austria, they were thoroughly tested regarding packaging quality, environmental impact, and logistics. We also investigated consumables, potential savings, and automation to evaluate the business case".
Energy savings
Maximum energy efficiency and cost savings to improve sustainability are focus areas for Steinbacher. Markus Brandstätter says," Previously 20-30 percent of the packaging used heat shrink. This is now replaced by RoRoStretchPack® packaging. By directly comparing our previous packaging solution and RoRoStretchPack® packaging, we have reduced energy consumption by about 50 percent on the packaging line".
Film consumption is also an important parameter of both cost and sustainability. Steinbacher is monitoring the film consumption per pallet. Even though Steinbacher has gone from 4-sided to 6-sided packaging, they have reduced film per pallet by using RoRoStretchPack®. Markus adds, "Now that we have become familiar with the new packaging line, we will optimise the process to further film reductions."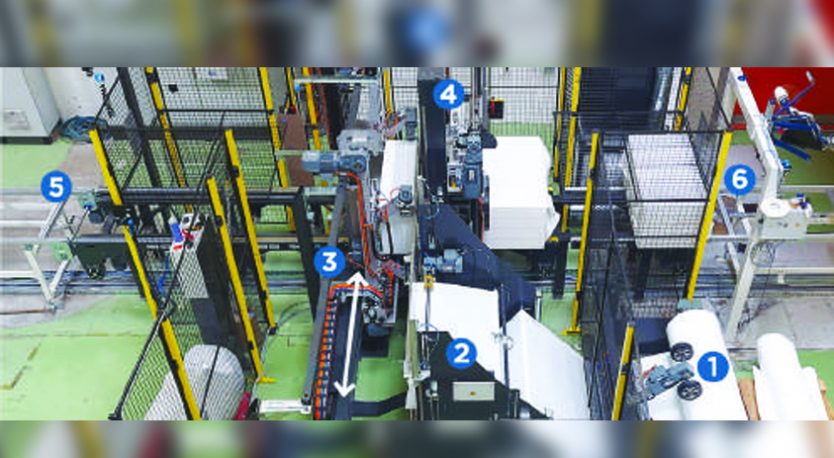 A structured project process
Markus Brandstätter states, "Summarising the project process went very well from the first contact till installation and commissioning. It was a structured process with good communication with Tentoma. We had fixed monthly meetings and later fixed weekly meetings when the FAT (Factory Acceptance Test) approached. Both the FAT and the installation were well planned and executed."
In connection with the installation, Tentoma trained three employees from Steinbacher as key users on the new packaging line. He concludes, "Our employees felt confident with the new packaging line after the introduction. We are satisfied with the capacity and the packaging quality of the new RoRoStretchPack® packaging solution."
Benefits for Steinbacher Dämmstoff GmbH
· 6-sided packaging and waterproofness
· Improved and uniform satisfied quality
· Removed heat shrink from the packaging
· 50% energy savings on the packaging line
· Automation and reduced number of processes in the packaging line.
View of Steinbacher's new inline RoRoStretchPack® packaging line.
· The film stand (FS) contains up to 12 km of film, which reduces the number of film shifts.
· The film unit (FU) welds the front end of the tubular film to create a hood.
· The gripper unit (GU) stretches and moves the film to the packaging lane. The film is rolled off the GU while the panels are packed.
· The back sealing unit (BU) seals the 6-sided packaging.
· The in-feed conveyor receives the panels directly from the production line.
· The output conveyor transports the packed panels to a labelling machine and a palletising system.
Production manager, Mr Markus Brandstätter: "We are satisfied with the capacity and the packaging quality of the new RoRoStretchPack® packaging solution".
For more information, visit: www.tentoma.com
Veolia Water Technologies & Solutions has revolutionised the South Asian dairy industry's water management approach. The company has successfully conserved precious groundwater resources while prioritising environmental sustainability by deploying an MBR-based wastewater treatment plant and a zero-liquid discharge (ZLD) system.
A prominent dairy company in South India emerges as the first dairy player by becoming the first in its industry to recycle 100 percent water, utilising Veolia Water Technologies & Solutions' MBR technology and Zero Liquid Discharge system at its Mega Plant. This fastest-growing private dairy enterprise has embraced sustainability initiatives, implementing Veolia's membrane bioreactor (MBR) technology, a High Recovery Wastewater treatment plant, and a Power Driven (MVR) Zero Liquid Discharge system at its Erode-based Mega Plant.
Originating as a premium paneer brand in Tamil Nadu and the southern regions of India, this company has evolved into the sole dairy in the country to convert all procured milk into an array of value-added products, boasting more than 150 stock-keeping units (SKUs) spanning 20 categories. Today, the brand is synonymous with quality dairy products like Curd, Fresh Paneer (cottage cheese), Mozzarella Cheese, Cheddar Cheese, Processed Cheese, and Gouda Cheese, apart from other value-added products like cream, butter, ghee, ice cream, curd and other dairy-based Indian sweets.
Over the past four years, it commissioned a wastewater treatment plant with a capacity of 600,000 litres per day and a 60,000 litres per day Zero Liquid Discharge (ZLD) plant in collaboration with Veolia Water Technologies & Solutions. This dairy firm has played a crucial role in sustaining the local environment and community. Approximately 600,000 litres of river water have been saved from being discharged into the local groundwater, safeguarding the livelihoods of nearby villagers. Moreover, by employing the MBR Wastewater Recycle Plant, freshwater consumption has been curtailed, indirectly benefiting around 10,000 households in the Erode region with uninterrupted access to clean water.
Prioritising sustainability
The decision to adopt Veolia Water Technologies & Solutions' MBR technology was largely driven by the dairy company's commitment to sustainability. It is opting for Veolia's MVR technology for the Zero Liquid Discharge system, which uses power instead of conventional steam evaporators. This aligns with the company's endeavour to minimise its carbon footprint and reduce the use of fossil fuels.
Gopal Madabhushi, Senior Vice President, Veolia WTS, South Asia, said, "Unlike its peers that recycle roughly 30 -40 percent of wastewater and discharge the rest of it into the adjoining ecosystem, the customer has prioritised sustainability. This meant bearing an additional burden over and above the project cost. The customer has continued to consider such costs as an investment into sustainability. It further selected Veolia WTS for treating an additional 1.2 MLD ( 12,00,000 litres per day) of wastewater, wherein approx. 10,00,000 litres per day of water will be recycled and reused for utility operation. The plant is expected to be commissioned by the end of the year."
In its groundwater resource assessment of 34 units in the Erode district of Tamil Nadu, the Central Ground Water Board (CGWB) categorised 11 as over-exploited and semi-critical. At the same time, two were considered critical, with the rest found safe. Amid such critical water levels, this enterprise has embarked on a mission to conserve this precious resource.
In conjunction with its corporate social responsibility (CSR) efforts, the company has installed a 30 KW Solar Power Plant, ensuring continuous water supply to local homes and agricultural fields. The power grid is connected to the Tamil Nadu Generation and Distribution Corporation (TANGENCO). As an indirect benefit, water will be supplied uninterrupted, as there will be no power cut-off. Home and agricultural fields will receive water continuously. This will benefit nearly 10,000 villagers in Tudapathi Panchayat District. A separate Solar Power Plant is commissioned to cater for the entire manufacturing facility, making it a 100 percent Green power/ Energy company.
On-the-go learning and innovation
This initiative has also spurred innovation within the company, underscoring its commitment to adopting cutting-edge technologies throughout its value chain. This commitment is evident in the decision to recycle 100 percent of its wastewater through Veolia's Zero Liquid Discharge (ZLD) plant.
Looking ahead, sustainability remains paramount as the company plans to expand its operations. By partnering with Veolia Water Technologies & Solutions, this dairy leader sets an example for other industry players to tackle water challenges with sustainable technological solutions to avoid the discharge of treated water in the surrounding ecosystem. In a way, it is prioritising long-term environmental goals over short-term costs.
The objective behind ABB India securing a contract with Reliance Life Sciences to implement automation and control solutions in their biosimilars and plasma proteins manufacturing plants in Nashik, Maharashtra is to achieve operational excellence throughout the manufacturing processes.
ABB India has secured a significant automation contract from Reliance Life Sciences (RLS) to automate their newly established manufacturing plants in Nashik, Maharashtra. RLS's sprawling 160-acre facility in Nashik will be home to manufacturing units producing plasma proteins, biopharmaceuticals, oncology pharmaceuticals, and vaccines.
Managing large-scale biotechnology production presents intricate challenges in terms of processes and automation. These processes strictly adhere to regulatory guidelines to ensure the quality of products. ABB's System 800xA® solution reduces manufacturing errors and ensures high-quality yields. This solution seamlessly interfaces with different skid systems and is extensively employed for smooth operator interaction, batch control, and production information on the factory floor.
G. Balaji, Senior Vice President and Head of Energy Industries at ABB India highlighted ABB's strong positioning in the pharma and life sciences sector, emphasising the potential for growth and innovation. As India solidifies its position as a biopharmaceutical manufacturing hub, ABB India is well-prepared to capitalise on the automation-driven industrial revolution in these sectors, pivotal for maintaining large-scale production with assured quality.
K.V. Subramaniam, President of Reliance Life Sciences, noted the company's tradition of leveraging automation technologies for quality and productivity enhancement in its manufacturing processes. The collaboration with ABB represents continuity in this approach and advancement in virtualisation and process control.
ABB's System 800xA solution
System 800xA will be installed in a virtualised environment for RLS. This move offers cost and operational benefits by simplifying server management and reducing the IT footprint, subsequently lowering operational costs. ABB's multichannel remote I/O solutions will facilitate efficient data communication, reduce wiring complexity, optimise hardware space utilisation in the plant, and expedite project execution. Given the pharmaceutical nature of the manufacturing unit, the DCS (Distributed Control System) will adhere to US FDA 21 CFR Part 11 standards.
The latest Windows Server 2022 platform will provide the DCS, ensuring extended lifecycle support and top-notch software management. This approach avoids plant shutdowns for software upgrades, decreasing overall costs associated with downtime, software/hardware updates, and related services. The integration offered by System 800xA brings together various plant components, eliminating the need for multiple PLCs. This integration guarantees a unified audit trail, integrated data reports, and streamlined operations, reducing maintenance requirements, training needs, and inventory complexities. Additionally, it simplifies third-party audits. Alongside the DCS, RLS will adopt ABB's modular remote I/O solution, which offers flexibility and a plug-and-play concept for automation. This approach enables quicker commissioning and process implementation, with the added benefit of scalability for future capacity expansion.
As Reliance Life Sciences expands its manufacturing capabilities, they intend to produce high-quality biosimilars at an affordable cost. With the largest number of biosimilars in India and a global development pipeline, the company's expansion aligns with its goal to become a major player in the biopharmaceutical industry.
ABB has a track record of delivering advanced DCS solutions to prominent pharma companies in India and has been recognised as the world's leading DCS provider for 23 consecutive years, according to the ARC Advisory Group's 2021 report.
For more details, visit: go.abb/process automation