Technology+Talent+Supply chain+Smart factory+Sustainability
January 2, 2023 12:14 pm
Our 2023 outlook explores five manufacturing industry trends that can help organisations turn risks into advantages and capture growth.
IMTEX is an international show. It is a platform for providing new business, helping to increase brand awareness, presenting networking opportunities, and giving a chance to learn more about the industry wherein we are conducting business.
Products expected to showcase
• High-Speed Probes: They are faster, more economical and more precise. The advantages of the high-speed touch probe series can be summarised. They are specially designed for the harsh conditions in machine tools and provide the right solution for any task.
• DIGILOG Probes: They are used for roughness, measurement and scanning in the Machining Centre. They quickly and reliably scan complex workpiece contours in milling, turning and grinding machines
• TOOL Setting Probes: The probe systems are used for fast and automatic tactile tool setting and tool breakage detection. They represent the ideal add-on to BLUM workpiece touch probes
• Software Form Control: They measure by mouse click and user-friendly software for rapid quality control of contour measurement and standard geometric elements in machining centres.
Innovations in business
DIGILOG Technology implies that the measuring systems combine the functionality of a digital touch probe and an analogue touch probe in a single device.
This is where components work together that belong together. Dependable sensor technology is essential for low- manpower, in-process reliability in production. In response to this, BLUM is already in a position to fulfil the demands that Industry 4.0 networked production will be making. DIGILOG technology will be playing a decisive role here: The future-oriented measuring systems open up revolutionary options for production processes because of the data pool generated through thousands of measuring values per second. They cover contour scans with DIGILOG touch probes, process-integrated roughness measuring, bore measuring devices for series production and of course tool measurement using DIGILOG laser measuring systems. The perfect interaction is reflected in the interface hardware It is based on a modular system and can be modified extremely easily to accommodate further measuring systems.. LC50-DIGILOG: It is a laser measuring system for CNC machine tools which is unique worldwide for non-contact tool measurement and tool monitoring under the harshest conditions. It is unbeatably fast, precise and reliable due to the latest DIGILOG technology, premium laser optics and due to a perfected BLUM protection system.
DIGILOG Probes: DIGILOG Touch probes by BLUM are used for fast and automatic inspection of workpiece contours during mass production. Specially designed for the harsh conditions in machine tools, the analogue measuring systems are an effective solution for improving the accuracy of your workpieces and the productivity of manufacturing lines.
TC55 Touch Probe: It is an ultra- compact all-rounder with an infrared transmission. It is our most miniature wireless probe for workpieces and tool measurements in CNC machine tools. It is deployed in compact milling, turning and mill turning centres used for micro processing, medical technology and the measurement of components on machines for additive manufacturing.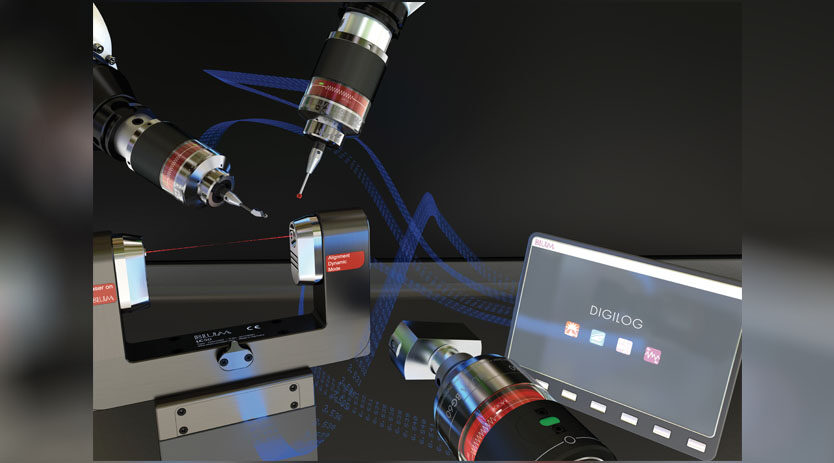 Manufacturing outlook for 2023 in the country
The manufacturing sector surpasses previous years' expectations, despite supply headwinds, labour shortages, and an uncertain economic environment. To maintain this growth, leaders should leverage digital technologies, adopt strategies for the future of work, and drive supply chain resiliency. Our 2023 outlook explores five manufacturing industry trends that can help organisations turn risks into advantages and capture growth.
Manufacturing has demonstrated continued strength in 2022, building on the momentum it gained emerging from the pandemic and surpassing expectations of the previous two years. While overall demand and production capacity have hit recent highs, there are indications that the near-term outlook may need to be more bright. The industry is currently experiencing concerns related to inflation and economic uncertainty. In addition, manufacturers continue to grapple with talent challenges that may limit the industry's growth momentum. Moreover, supply chain issues, including sourcing bottlenecks, global logistics backlogs, cost pressures, and cyberattacks, will likely remain critical challenges in 2023. As leaders look beyond leading amid disruption and revamp their approach, our 2023 manufacturing industry outlook examines five important trends to consider for manufacturing playbooks in the year ahead.
Five manufacturing sector trends
• Technology – Investing in advanced technologies to help mitigate risk.
• Talent – Implementing a broad range of talent management strategies to reduce voluntary exits.
• Supply chain- Relying on time- tested mitigation strategies with enhanced tactics to achieve supply assurance.
• Smart factory -Taking a holistic approach to smart factory initiatives to unlock new horizons.
• Sustainability – Focusing on corporate social responsibility.
Make-in-India push and progress on the road to Industry 4.0
India's greatest potential to drive economic growth and job creation this decade is a globally competitive manufacturing sector. Due to factors like power growth, long-term employment prospects, and skill routes for millions of people, India has a significant potential to engage in international markets. Several factors contribute to their potential. First, these value chains are well-positioned to benefit from India's advantages in raw materials, industrial expertise, and entrepreneurship. Second, they can take advantage of four market opportunities: expanding exports, localising imports, internal demand, and contract manufacturing. With digital transformation being a crucial component in achieving an advantage in this fiercely competitive industry, technology has today sparked creativity. The manufacturing sector in India is gradually shifting to more automated and process-driven manufacturing, which is expected to increase efficiency and boost the manufacturing industry's production.
India is gradually progressing on the road to Industry 4.0 through the Government of India's initiatives like the National Manufacturing Policy, which aims to increase the share of manufacturing in GDP to 25 percent by 2025 and the PLI scheme for manufacturing which was launched in 2022 to develop the core manufacturing sector at par with global manufacturing standards.
Manufacturing has emerged as one of the high-growth sectors in India. Prime Minister of India, Mr. Narendra Modi, launched the 'Make in India' program to place India on the world map as a manufacturing hub and give global recognition to the Indian economy.
Industry 5.0 will extend to societal transformation
In the era of Industry 4.0, manufacturing and production systems were revolutionised by increasing operational efficiency and developing and implementing new business models, services, and products. Several countries have begun orchestrating initiatives towards designing and developing the human-centric aspect of technologies, systems, and services, which has been coined Industry 5.0. The impact of Industry 5.0 will extend to societal transformation, eventually leading to the generation of a new society, Society 5.0.
IMTEX 23 would be the right platform to evaluate and examine the transformation of Industry 4.0 to 5.0. We may witness the digital transformation of many manufacturing industries over the years.