Temperature measurement and controls offer quick analysis
December 2, 2022 11:47 am
The translation of data into action helps with remote adjustments and control over the systems, leading to preventive maintenance planning and optimisation of the manufacturing applications.
Precise data and exercise control for manufacturing systems
The data's precision depends on the sensors' strength and how well they are deployed across the machines. Only when the machines network among themselves and coordinate output – can one have a 'Smart manufacturing system'.
The sensors attached to the machine tools capture data continuously and send it back to the computers. In turn, computers use algorithms to crunch the data for diagnosis of any immediate intervention needed or for any fallacies occurring in operations in real-time. The immediate translation of data into action can help with remote adjustments and exercise control over the systems. This effectively leads to preventive maintenance planning and optimisation of the manufacturing applications.
At WIKA India, we feel that the Indian industry is fast adopting the new trends of the test and measurement market in HVAC. Stand-alone equipment and applications will be the first ones to go for it. Extensive manufacturing facilities and processes will follow soon. This indeed provides huge opportunities across industrial segments. For IoT-enabled solutions. WIKA already has a solid foundation for conventional processes and industrial instrumentation with well-established manufacturing processes.
Industrial temperature sensors for processes
HVAC is a growing opportunity with digitisation and the Internet of Things (IoT). The market has embraced Smart HVAC, where a simple thermostat has been replaced with an array of sensors. This allows machines to communicate with each other. Thus combined with IoT, the output of measurements has become more refined and customised to each industry.
As stated earlier, thermal control is dependent on the sensors. There are different industrial temperatures sensors, like surface mount RTDs, thermocouples, thermocouple probes, and many others. Among these, smart probes are used even beyond manufacturing, given their versatile application. However, coming back to sensors, they can be widely clubbed under the following four groups.
• CO2 Alarm Sensor is most important as any gas leakage that can cause harm needs immediate attention.
• Fire Protection sensor—
Unnecessary increase in heat in the machine or the factory is hazardous enough to necessitate fire protection sensors inbuilt into the industrial manufacturing space.
• Low voltage sensor is an immediate cause of fire and sparks. The voltage fluctuation sensors define limits when the alarm can sound off as an essential parameter.
• Thermographic testing & inspection: Thermography uses infrared video and still cameras to measure surface temperatures. These tools detect light that is in the heat spectrum. This is a must for machines working round the clock ensuring fixed downtime for both the machine and the safety of the workers.
Temperature measurement and control for metal processing Temperature measurement and the proper control that can lead to immediate analysis and action are key to metal processing. Close monitoring and precise temperature measurement information are necessary to protect the quality of the final product. Any temperature mismatch in metalworks can compromise quality and endanger workplace security.
The typical outputs of a temperature measurement and control device are alarms for overheating and cooling beyond a point. The practical alarm setting and adjustable limit setting can react immediately to changes and offer automated modifications to a certain extent. If the readings and output really vary beyond a margin, the alarm should warn and request human intervention. Apart from metalworks, the food, beverages, and plastic industries are also highly dependent on temperature measurement and control.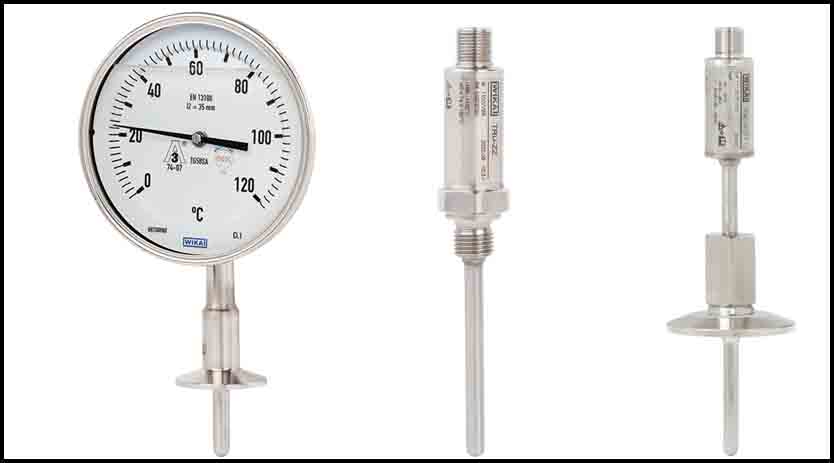 Machine temperature controls enhance efficiency and operations.
A smart HVAC system, built on the backbone of Industry 4.0 technology, has sensors communicating with each other. They provide a superior level of automation and control compared to previous installations. Nowadays, digital heat and humidity sensors and smart thermal cameras deployed across the factory relay data wirelessly to industrial PCs. They analyse the data and use it to control the HVAC system accurately.
The temperature controlled by machines has become one of the basic requirements of a Smart Manufacturing unit. The digital technology inbuilt into the HVAC equipment helps to gather, analyse, and utilise data from every step in the manufacturing process to maximise efficiency. The efficient data analysis from the sensors allows one to build competent supply chain management. Similarly, the same technology ensures you get the most out of the installed HVAC system.
Trends impacting demand for temperature control technologies
India's HVAC market was worth USD 8.6 billion in 2021 and is projected to reach USD 21.5 billion by 2028, growing at a CAGR of 14.80 percent in the forecast period, according to reports by Blueweave market consultants. Today, HVAC machines have a wide range of usage defined for verticals like commercial and residential buildings. It includes family homes, apartments, hotels, industrial facilities, hospitals, trains, aeroplanes, ships and many others.
Three trends are pushing the HVAC market actively. Firstly, the demand for sustainable and energy-efficient solutions will be environmentally friendly and economical in the long run. Several HVAC equipments are designed to put less burden on energy consumption. For example, installing Variable Frequency Drives (VFDs) for air blower modulation helps reduce energy consumption. Installations of 2-way or 3-way valves also modulate chilled water flow per indoor environmental conditions, reducing the chiller's load.
Secondly, smart machines are increasingly getting innovated. They are being integrated with advanced technologies such as the Internet of Things (IoT) and artificial intelligence (AI). Integrating sensors and IoT into HVAC enables the machines to attain maximum efficiency. Due to these sensors, the HVAC system can communicate and share data and process it to operate more efficiently and drive optimal efficiency across a range of products.
Thirdly, one of the major deterrents of HVAC deployment has been the cost. However, increasing disposable income, consumers' purchasing power, and rising investments impact decision taking. Smart infrastructural development that inadvertently needs a temperature-controlled atmosphere to work optimally is helping consumers decide on HVAC deployment.
Temperature sensors enhance productivity for EVs using batteries.
Factors such as current flow, internal resistance, SOC (state-of-charge) and temperature affect an embedded battery's performance, voltage efficiency and energy efficiency. The factors are more relevant for EVs as they continuously generate heat from friction. Most EVs have embedded computing systems that work in real-time to run basic operations automatically. Combined with AI and IoT, they can go into the estimation of the State of Charge (SOC), State of Available Power (SOAP), and the State of Health (SOH) – thus helping the battery to operate optimally. Further, sensors within the battery itself will help to predict and keep a tab on historic health metrics of a storm, prognostics- indicating the time for useful life and predictive maintenance. The same battery can give different results when run on diverse terrain and under additional drivers.
The market potential for temperature sensors control market
According to Global Market Insights, the Smart HVAC Controls Market size was over USD 7 billion in 2017. It is expected to grow at a CAGR of 19 percent from 2018 – 2024. Energy management initiatives by the governments in light of environmental degradation are expected to propel the smart HVAC controls market growth. According to a study by the American Council for an Energy-Efficient Economy, smart HVAC allows energy cost savings of about 5 percent to 15 percent.
In the Indian context, the Prescient and Strategic Intelligence report mentions that from $8,526.7 million in 2019, the Indian HVAC market size is expected to grow to $31,598.6 million by 2030, at a CAGR of 16 percent during the forecast period (2020–2030), backed by both residential and industrial demands.