Transitioning to smart factories needs a problem-solving approach
December 2, 2022 11:37 am
Automation, using robots or similar processes, is helping industries to become more competitive, more productive, and in line with other prominent players.
The transition from traditional factories to smart factories requires a problem-solving approach. Identify those areas where to make it smarter by using sensors, maybe robots, maybe something else and making it more efficient so that it is not just saving costs, but the process overall is less complex. We are also looking at bringing better products out of it in terms of final export, increasing productivity per direct labour. If it is a repetitive job, we can see what automation can bring more benefits. It is an opportunity.
The big data challenge
A lot of data will be available; at the end of the day, all the data is essential for business. Identifying which data, out of available information, is more critical for us. We extract that and then use it for our benefit to make some simulations; some analysis so that we can predict something much ahead for a machine, for a process and even for our supply chain management challenges. Many software, analytical tools and simulation methods are currently being used. First, we acquire the relevant data and use it for specific systems. For example, in the machine tool industry, for injection moulding machines, fetching the data from multiple PLCs, Delta PLCs; it could be any make, in the whole process in a plant or a machine and then utilising that to create some models to enhance the process.
Today, there is a challenge, as the factories need to be more productive and need to be more competitive, not just in India but at the global level. The Government of India focuses on bringing manufacturing to an international crossroads. We are investing in SEZs, and we have a lot of products that will be not just used in India but exported to the US, Europe, the Middle East, and Southeast Asia.
The use of automation, the use of robots, or similar processes is helping all these industries to become more competitive, more productive, and in line with other prominent players. More repetitive processes should be attended to by something other than humans but done through automation. However, human need is still there. We cannot replace the human mind with a robot. The human being is still the fascinating creature in the world.
Industry 5.0 depicts a collaborative relationship between robots and humans.
Industry 5.0 signals a changed relationship between robots and humans, making it more collaborative. Unlike the shift from Industry 3.0 to Industry 4.0, the jump to Industry 5.0 is not as large, and the differences are not as significant. When we speak of the Indian industry, the pandemic has helped their March progress towards Industry 4.0. We see increased usage of robotics in electronics, the paint industry, the food & beverage industry, and wherever applicable. The increasing use of robots in the Indian industry is substantial. However, it cannot still be compared to the density of industrial robots in countries like South Korea and China. Even as steps are being taken towards IIoT and robotics, the road to Industry 5.0 is long, and the Indian industry will take its time to get there.
Automated factory and robotics
for productivity enhancement Digitisation has been a game changer for automation in the industry. Bringing the process or supervision online has completely changed how an automated factory or shop floor is run. Digital India, in that regard, has been an enormous success, and we will see a more profound shift with 5G coming in, resulting in IIoT venturing in many new directions.
Now talking about robotisation, it is changing. And it is not just the automotive business that traditionally uses robots. FMCG started, and then we saw pharma and electronics started using robots, and smaller SMEs are also not averse to using robots. Because of the availability and adaptability, the use of these robots has become much more manageable. It's not a big tech thing that somebody is scared to start implementing.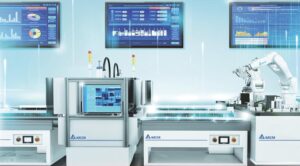 5G technologies launch to address new industrial use cases
The launch of 5G is set to address new industrial use cases. It can potentially have unique use cases for automation and will lay the foundation of Industry 5.0. 5G will provide the unparalleled application of innovative technologies to drive transformational improvements across the whole value chain, bringing inclusive growth that benefits businesses, individuals, and society.
Visible trends besides smart factories
There is a re-examination of processes in industry today, and those that do not need human intervention and are monotonous are being identified. Automation allows business owners, managers, and plants to grow beyond recurring and tedious processes and let their human resources rise to their potential. The tools for the same are sensors, cameras, software like SCADA, robotics, and more. There is a vast potential for this shift.
Further, IIoT convergence, along with 5G, is a powerful force waiting to be unleashed. This will aid many changes, including centralised monitoring, so that management can be instantly updated about what is happening.
AI and machine learning revolutionising manufacturing
Artificial intelligence (AI) and machine learning (ML) are two technologies revolutionising manufacturing. Developing a Smart Factory is an opportunity to be competitive, optimise timelines and make product design and production more efficient. Quality, worker safety, and sustainability are the fundamental pieces where these technologies can participate in redesigning towards high productivity, much safer, and more sustainable manufacturing.
Some use cases will include predictive maintenance, better learning, quality control and improvement, inventory management, and product development, and these technologies will continue to evolve. They will become an essential tool to cater to the evolving market demand.