Godrej & Boyce prioritises sustainable manufacturing
June 9, 2023 3:06 pm
Zurvan Marolia, Senior Vice President at Godrej & Boyce, highlights the company's initiatives to mitigate carbon emissions through sustainable practices, product innovation, and responsible manufacturing. This involves leveraging modern technology to improve productivity, minimise waste, and reduce dependency on manual labour.
How do your solutions empower sustainability in the manufacturing unit?
Godrej & Boyce provides a variety of equipment, materials, solutions, and services to drive efficient energy management throughout the industry value chain. At Godrej & Boyce, we believe employing sustainable manufacturing techniques is essential to reduce our environmental impact, increase productivity, and to promote economic progress. Through our UN SDGs aligned 'Good & Green Vision', we aspire to create a more employable Indian workforce, build a greener India, and innovate for 'good' and 'green' products. 
The Godrej & Boyce businesses innovate and adopt better technological platforms to create products that not only reduce the amount of energy consumed during the production cycle but importantly we aim to significantly reduce the overall energy utilization during the lifetime use of the product. 
In the last decade, we have invested over 500 crores towards Good & Green initiatives. Godrej & Boyce is the first company in India to introduce Refrigerators, free of CFC, HFC & HCFC and to produce Air Conditioners that have a 'Zero' Ozone Depletion Potential (ODP) and minimal Global Warming Potential (GWP). We are committed to generating over one-third of our overall revenues from Good & Green products. Moreover, our manufacturing plants are 100% powered by renewable energy thereby promoting energy conservation in the units.   
What current practices are in place at your facility which offer you a cutting-edge, especially from a manufacturing perspective?
We have incorporated Industry 4.0 technologies like automation, artificial intelligence (AI), and the Internet of Things (IoT) into our manufacturing processes. As a result, we are able to improve output, reduce waste, and streamline our processes. 
Through our "Beyond Sourcing" initiative, our suppliers are guided through fundamental development of management, initiatives of building robust productivity, quality systems, and sustainability in terms of Lean & Green Management, and finally to ZED (Zero Effect Zero Defect).
We have implemented circular economy practices that focus on reducing, reusing, and recycling waste and follow lean manufacturing principles. Asset utilization is a key use case for leveraging technology and another is OEE improvement. To facilitate infusing the latest technology into a manufacturing plant, G&B has a Centre of Excellence at one of the business units; Godrej E&E. There is also a central digital team that manages the partnering with Technology providers. DigiNXT is a specially curated learning journey that aims to enhance the Digital dexterity of our employees and upskill them across the organization. This program is based on a hybrid learning model comprising instructor-led sessions, simulators, self paced learning modules, immersion labs, assessments, capstones and much more. This learning journey aims to create a common language around Advanced Analytics / Digital across all layers of G&B, build a community that fosters and drives Digital Transformation across the organization and upskill and reskill our employees on new-age technologies along with their mindset, adaptive for Digital.
Over the past few years, most G&B plants have built roadmaps for technology implementation and based on ease of implementation and impact are implementing them by piloting and doing proof of concept before scaling up.
How are these practices helping you in reducing your carbon footprint?
Godrej & Boyce is well-known for its commitment to sustainability and environmental stewardship. In its 125th year, the business has made sustainability the cornerstone of its growth strategy. Over the past few years, we have worked relentlessly towards reducing carbon emissions through adopting sustainable practices, product innovation, manufacturing, and preserving biodiversity in the country. 
In 2020, Godrej & Boyce committed to smarter energy use. The Company joined the EP100 global business revolution whereby we committed to doubling energy productivity by 2030 and further aiming to reduce carbon intensity by 60 percent by 2030. Godrej & Boyce joined CII and WWF India in the Launch of the 'India Plastics Pact' in 2021. It aims to achieve this by promoting a circular economy for plastics through a public-private collaboration that enables innovative ways to eliminate, reuse, or recycle plastic packaging across the plastics value chain and collectively achieve long-term targets. 
By 2030 the company also plans on systematically phasing out the use of thermocol and introducing recycled content up to 25 percent in its plastic product packaging. Our business Godrej Construction has recycled over 25,000 metric tonnes of concrete debris and received the Best Green Building Project – Residential for its Godrej Platinum project in 2018. The autoclaved aerated concrete (AAC) and recycled concrete blocks by the business have over lowered the embodied carbon by over 30 percent as compared to regular virgin concrete blocks. Due to their superior insulation properties, the blocks can contribute to lowering the energy requirement of structures to over 5 percent. Godrej Electricals & Electronics Division's line of business -MEP has also executed projects that have been awarded certifications for green and sustainable built environments from various authorities, including IGBC, LEED, GRIHA, and WELL.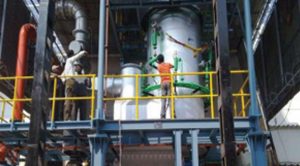 How has integrating Industry 4.0 technologies impacted productivity and sustainability at Godrej & Boyce?
Modern technology adoption improves productivity, reduces wastage, and lessens the burden on manpower. Artificial intelligence (AI) and machine learning (ML) can be used to analyse data from manufacturing processes and identify patterns and insights. AI and ML can be used to improve supply chain management, predictive maintenance, and quality control.
We are leveraging conversational AI and Robotic Process Automation (RPA) to enhance end customer and employee experience. Businesses are launching self-service bots to ensure an omnichannel, 24×7 experience for their customers. Mundane tasks and repetitive activities are now being migrated to RPA bots so that employees can focus more on client and customer interaction. G&B has deployed over 80 RPA bots to automate manual processes across the value chain. This has resulted in productivity improvement, reduction in errors and improvement of employee engagement.
With the advent of Industry 4.0 and IoT, process data required for quality assurance is available at our fingertips. Godrej & Boyce overarching objective is to harness smart technology while adopting a holistic approach to the customer experience, resulting in increased productivity, consistent quality, reduced costs, and improved safety. With a data platform and ongoing cloud modernization initiatives, G&B will be leveraging data to benefit from advanced analytics use cases. This will apply to manufacturing, supply chain, sales, marketing and customer service teams. Immersive technologies (Augmented Reality/Virtual Reality) are set to be used for training and assistance at manufacturing locations for enhancing G&B's operational effectiveness. Our business Godrej Material Handling also plans to significantly boost investment in IoT-based technology and data, to enhance customer experience, global footprint and increase market share.
Please talk about how your range of solutions is impacting the transformation.
We provide a comprehensive selection of environmentally friendly products that are created to lessen our influence on the environment and encourage resource conservation. Green building materials, energy-efficient lighting options, and environmentally friendly appliances are just a few of our sustainable offerings. Our B2C businesses have rolled out connected/intelligent products such as smart appliances, furniture, locks and cameras. These products, built with advanced chipsets and advanced IoT platforms, not only enable the consumers to control the products from their smartphones but also allow the product service teams to diagnose issues and proactively reach out to customers for potential problems that the AI engines have predicted. 
With the rise in the sentiment around the demand for more sustainable transportation, the growing necessity for EV charging infrastructure in India is fuelling up. To bolster accessibility, the company has built four EV charging points which are available to over 25,000 occupants at Godrej & Boyce. In recent years, India has seen a significant increase in renewable energy. 
The company has the long-standing goal of making its businesses carbon-neutral and energy efficient. Decarbonization is of the highest material importance for businesses, and we have taken progressive steps to meet our energy use-related objectives. As signatories to the EP100 initiative, G&B commits to implementing a smart energy management system (EnMS) within the next 10 years or earlier, across all our industrial, commercial, and manufacturing facilities.
The company meets 13 percent of its energy requirements from renewable sources and uses several routes for meeting its renewables targets – namely through integration of solar rooftops, and thermic fluid heaters, and by engaging in power purchase agreements (PPAs) and green tariffs. With the commitment towards energy efficiency, Godrej Electricals & Electronics is aiming for 50 MW to 100 MW solar projects per year.
What are some of the key challenges faced by Indian manufacturing facilities in their efforts to modernise and promote sustainable development?
Indian manufacturing facilities must be updated if they are to become more competitive, efficient, and supportive of sustainable development. To make this transformation, however, several issues must be resolved. The following are some of the main obstacles to modernizing Indian manufacturing facilities:
Outdated infrastructure: To keep with modern industrial techniques, many Indian manufacturing enterprises must replace their obsolete infrastructure. This entails investing in new technology, updating equipment, and enhancing supply chain management.
Lack of skilled workforce: India's manufacturing sector is experiencing a skills gap. Due to this, businesses are less able to adopt new technologies and streamline existing processes. For a trained workforce to be developed to address this challenge, training and education programs must be revamped and suitably funded.
Moving ahead with green manufacturing which affects the cost and bottom line, how to get financial viability while implementing these technologies?
A company's costs and bottom line may be impacted if it pursues green manufacturing. Implementing the technologies, however, can also result in considerable long-term cost reductions, increased effectiveness, and increased competitiveness. An energy audit is a quick and simple approach to start making facilities more environmentally responsible. To identify waste, this audit accounts for every unit of energy usage. Businesses can choose the most effective strategy to make up for these losses after evaluating their energy use. These little adjustments, such as using energy-efficient lighting or replacing obsolete motors, can have a significant impact.
A Company need not adopt a "Big Bang" approach but could instead work in a phased manner and take a scalable route to enhancing the "Green Quotient" of a manufacturing unit.
 Which verticals do you see adopting these transformations as front runners?
All the verticals and businesses of Godrej & Boyce follow sustainable development principles that are in line with energy conservation, efficiency and the nation-building objective of the company. 
Owing to India's demand for energy to power its economy is expected to soar. The move to green alternatives from the current reliance on fossil fuels is thus an urgent necessity. In line with this, our business Godrej Electrical & Electronics ensures that we have access to reliable, clean energy that will help significantly reduce our carbon footprint. The business is aiming for 50 MW to 100 MW solar projects per year. The project has electrified around 16 lakh households covering 20,000 villages and 56 urban towns across India, in addition to installing millions of solar panels to generate clean power.
Another business of Godrej & Boyce, Godrej Interio has set up sustainability goals to reduce its specific energy consumption, and specific water consumption, and increasing share of renewable energy. The business is consciously trying to increase the renewable component in its energy usage with strategies like using producer gas plants, briquette-based thermic fluid heaters, and rooftop solar panels. The manufacturing plants in Shirwal and Haridwar have installed 350 kW and 329 kW roof-top solar panels, respectively.
With a focus on green forklifts, Godrej Material Handling is taking major strides towards reducing its carbon footprint and creating a more sustainable future for the manufacturing sector in India. As India's manufacturing industry is continuously transforming, it is not only witnessing significant industrial development but a conscious adoption of green manufacturing processes by corporate India. Electric forklift trucks will make a cleaner alternative to conventional diesel trucks. Electric-powered forklifts have operation costs as low as 20% and are highly maneuverable and versatile which gives them an edge over Diesel forklift trucks. These trucks have the potential to redefine green mobility and set a new standard for the industry. Further, the business intends to double its investments in technology across the value chain, including manufacturing, sales, and sustainability. Godrej Material Handling has seen a 10% gain in user experience efficiency as a result of technological advancement since the introduction of Salesforce CRM.
Our business Godrej Construction produces greener construction materials to solve the pressing issue of construction waste through the use of recycled concrete. Godrej Construction's Ready Mix Concrete (RMC) plant and Recycled Concrete Materials (RCM) plants at Vikhroli West are 100% powered by renewable energy. What makes this more significant is the fact that the business is the first in the industry to switch to 100% green energy. Furthermore, 3D Construction Printing Technology is used for sustainable infrastructure development in India. The business has developed a Bus Shelter that was 3D Printed within a span of 32 hrs and assembled on site within 8 hrs to represent the benefits of using 3DCP Technology.
Please talk about your initiatives and plans in this line of thought.
At Godrej & Boyce, "Environmental Stewardship" is one of our Values. It is the way we see the world, which in turn shapes our strategy, business and manufacturing processes. The products and services we offer ensure we protect the ecology and ecosystems in which we operate.  One of our strongest beliefs is in the importance of balancing progress with sustainability. In conjunction with our sustainability approach, and the vision for 'Brighter Living', the Company has developed a long-term plan for playing a key role in creating a more inclusive and greener India. Our Good & Green approach to achieve our sustainability goals includes initiatives ranging from energy efficiency, water conservation, waste management and greenhouse gases reduction to promoting certified green buildings, factories and products.
Our Chairman, Mr. Jamshyd N. Godrej is one of the signatories to the EP100 initiative, which makes Godrej & Boyce one of the 120 companies world-wide which are committed to double energy productivity.  Some of the other targets and initiatives are-
Maintain and improve 'Water Positivity' and 'Zero Waste to landfill', 

Reduce carbon intensity by 60%, 

Pursue 1.5-degree decarbonization pathway through the Science Based targets for reducing Scope 1 & 2 carbon footprint by 46%. 

Engage at least 75% of our upstream and downstream logistics partners to embark on the decarbonization pathway by adopting Science Based targets. 

Develop all new buildings as Net Zero and work on converting existing buildings to Net Zero by 2050.