Prostarm empowers businesses with innovative power solutions for smart projects
May 16, 2023 4:47 pm
Prostarm's smart, reliable and energy-efficient power electronics solutions are empowering the digital transformation journey across industries.
PROSTARM has emerged as a single-point provider of power solutions in the power electronics segment. It brings clean, efficient, reliable, and affordable power storage solutions across businesses of every size and sector. They are a trendsetter in the growing segment of power electronics. Armed with a proficient and strong team of 500 plus engineers nationwide, we have done 1,00,000 plus UPS /Stabilizer /Solar installations in the range of 1 kVA to 320 kVA across various industries and served 500 plus large enterprise-level customers. Having a wealth of expertise and experience spanning over 15 years, Prostarm provides innovative power solutions for smart and critical projects. Recently, it was recognized as among the Top 10 UPS & inverter manufacturers in India.
Prostram have a comprehensive range of power electronic products which includes Industrial UPS, Servo SCVS (air-cooled & oil cooled) 1-500 kVA, Solar Power Inverters, Turnkey Rooftop Solar Systems, Innovative Power Solutions for smart projects (including smart city, data centers, airports, etc.), Lift Inverters, Lithium-Ion Power Solutions and RDSO approved products. To meet the surging market demand, Prostarm houses 3 factories in India, 2 in Pune and 1 in Mumbai. It rehabbed its manufacturing facility into a leading-edge production unit of approx. 51,000 Sq. ft., adequately equipped and suitably structured to roll out state-of-the-art products of global standard.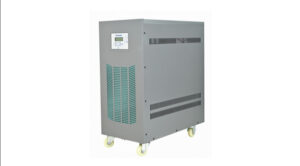 Solutions offered to safeguard critical and costly equipped and devices from damage
UPS (Uninterruptible Power Supply) is a device that provides battery backup when the electrical power fails or drops to an unacceptable voltage level. It protects the devices from critical loads from utility-supplied power problems, such as fluctuations and power outages, brownouts, spikes, etc.
Prostram's UPS Systems comprise Line Interactive UPS (1- 5kVA), Online Active PFC UPS (1-120 kVA), Online UPS with Inbuilt IT (5- 120 kVA), Online UPS with IGBT Rectifier (80-500 kVA), Industrial UPS (10-800 kVA), Modular UPS (25-500 kVA), UPS for Outdoor applications (1-20kVA), and so on. It also offer Servo-controlled voltage stabilizers (both air & oil cooled) 1-500 kVA. Further, as a step forward the company has been striving to build in and focus on green energy including Energy Storage Systems (ESS). Under the domain of Green Energy, it is providing Solar Hybrid Inverters and Solar PV Power Plant Solutions. It also undertakes EPC Contracts. The next-generation requirement for an efficient and clean source of power is Lithium. PROSTARM is successfully providing Lithium-Ion based power solutions to critical industry segments.
Helping digital transformation in the country
Regulated, Reliable, uninterrupted and sustainable power is the key to the digital economy. Prostarm's smart, reliable and energy-efficient power electronics solutions are empowering the digital transformation journey across industries. Its focus has always been to develop innovative and customised solutions to meet the specific needs of Indian industries. By ensuring the last-mile reach for service and support, today, Prostarm is the go-to partner to both traditional as well a new age companies for their transformation into a digital enterprises. Going ahead, it has already built a strong line-up of smart and intelligent solutions that would contribute significantly to drive the mission of a digital India.
Today, Prostarm has a strong presence pan-India across 22 cities, in more than 170 districts with a team of about 500+ employees including 300+ service engineers. This portrays the last mile reach capability and higher customer retention.
Prostarm has ambitious growth plans. It is constantly expanding our workforce and infrastructure to further bolster our market penetration and become a Rs. 500 crore entity by FY 2025.