Enhance efficiency and information flow by transitioning from paper-based to digital
June 9, 2023 2:22 pm
Anil Kumar R, Managing Director of Inovance Technology India, emphasises that adopting variable speed drive technology in factories offers manufacturers a simple and efficient approach to achieve energy efficiency and cost reduction.
Please talk about your industrial automation solutions and business activities.
Inovance Technology India serves as the Indian subsidiary of Inovance, a global industrial automation company. With an extensive sales network throughout India, Inovance provides comprehensive industrial automation solutions, leveraging expert engineering capabilities and a diverse product range that includes AC drives, servos, motion control systems, industrial robots, PLCs, and HMIs. Our offerings cater to OEM machine builders and end users across various sectors, including packaging, textiles, rubber, plastics, and printing. We specialise in delivering complete automation solutions for manufacturing machinery, and we have also collaborated with unconventional special-purpose machinery, such as face mask manufacturing equipment, providing full automation solutions during the COVID-19 pandemic. Our expertise has benefited over 140 face mask OEM customers.

How have automation, IIoT, AR, VR, and other technologies improved performance?
In recent years, technological advancements have made remarkable progress in connectivity and integration. The manufacturing industry has witnessed the introduction of advanced digital innovations such as automation, data analytics, the Industrial Internet of Things (IIoT), augmented reality (AR), virtual reality (VR), Industry 4.0, artificial intelligence (AI), and cloud platforms. These technologies have significantly benefited organisations by enhancing productivity, improving operational efficiency, optimising logistics processes, enhancing the customer experience, and reducing R&D and training costs. Implementing advanced technologies has reduced the reliance on manual labour in manufacturing processes. Particularly during the Covid-19 pandemic, when social distancing and remote work are necessary, technology has facilitated collaboration, planning, product design, and digital modifications, often more accessible to accomplish digitally than manually.
Please discuss your latest innovative solutions.
Inovance's business in India is expanding fast, and to support this growth, the company unveiled a new 1.2-acre facility in Chennai on January 9th, 2023. The new site will support stock management, product assembly and testing, increasing the company's overall productivity. We are delighted to announce that Inovance India's HQ is a total of 50,000 sq ft today.
Inovance recently unveiled the new Easy Series PLC, an EtherCAT-enabled compact PLC that replaces the previous H1U PLC to offer improved automation solutions. Alongside this release, they also introduced the MD520 AC Drive. The Easy PLC series provides a compact solution suitable for various applications, from simple pulse architecture to complex motion control requirements. It supports various field bus communication protocols such as MODBUS-RTU, MODBUS-TCP, EtherCAT, Ethernet/IP, and CANopen. Notably, this PLC is well-suited for complex automation solutions in the textiles, packaging, and printing industries. The MD520 AC Drive is a high-performance universal AC Drive is known for its enhanced reliability, conformal coated PCBs compliant with 3S2 and 3C3 environments, and simplified parameters for easy start-up. It carries CE and cULus certifications and meets the efficiency level IE2, as defined in IEC 61800-9-2.
In addition to the advancements above, Inovance has recently launched the GL20 expansion module, a compact, stable, and reliable solution designed explicitly for compact cabinets. This innovative product allows a significant spacesaving of 2/3 during cabinet installation compared to our previous GL10 generation. The GL20 modules feature convenient 'plug and play' wiring terminals with large 1.5mm2 apertures, simplifying the wiring process. With ultra-fast performance and various variants available to accommodate different systems, the GL20 modules also incorporate a user-friendly lever system that enables effortless removal of individual modules from the DIN rail.
What specific technologies have helped manufacturing units reduce waste and energy consumption?
In recent years, there has been a growing emphasis on energy conservation and waste reduction as part of sustainability initiatives. However, variable-speed AC drives are often overlooked in manufacturing processes despite their significant potential to reduce energy consumption.
The industry is an enormous consumer of global electricity, with data from the International Energy Agency (IEA) indicating the industrial sector was responsible for Industry Analysis – IEA, up from 33 percent in 2000, pushed up by rising production in energy-intensive sectors. A substantial proportion of this consumption is power for electric motors and could be more than half of the total quoted by the IEA for the industry. This demonstrates the importance of using the most energy-efficient industrial automation solutions possible, particularly in the current climate where the Russia-Ukraine war has disrupted the global energy supply.
Implementing more variable speed drive technology in their factories presents a straightforward and effective method for manufacturers to conserve energy and reduce costs. For example, in systems where fans operate with direct-on-line motors, the motors run at full speed continuously, even when the fans are only required intermittently. Manual switching of fans is often impractical due to resource limitations. However, this issue can be resolved by incorporating a simple variable speed drive, resulting in energy consumption reductions of up to 80% for fans. Similar energy-saving outcomes can be achieved for pumps and compressors. Additionally, advanced AC drives that utilise the latest energy-efficient DC bus technology offer substantial efficiency gains for highly sophisticated manufacturing machinery.

How can technology aid in optimising resource utilisation?
The manufacturing industry is progressively adopting technologies like robotics, AI, cloud platforms, and data analytics to minimise waste. In logistics, the application of digital technology is revolutionising the organisation, scheduling, and dispatching of goods, thereby transforming the movement of products. The shift from paper-based administrative systems to digital administration systems enhances process efficiency and information flow. By leveraging advanced technologies, industries can reduce labour costs, manual handling, and waste management operations.
To what extent do upskilling and training contribute to a sustainable manufacturing process?
Upskilling and training are major contributors to business growth, particularly within fast-moving and expanding manufacturing sectors. At Inovance, we focus on improving our engineers' and customers' knowledge of new digital technologies by conducting regular training programs with our expert engineers and leaders, who are well-versed in the latest developments, and providing hands-on practice to enhance participants' understanding better.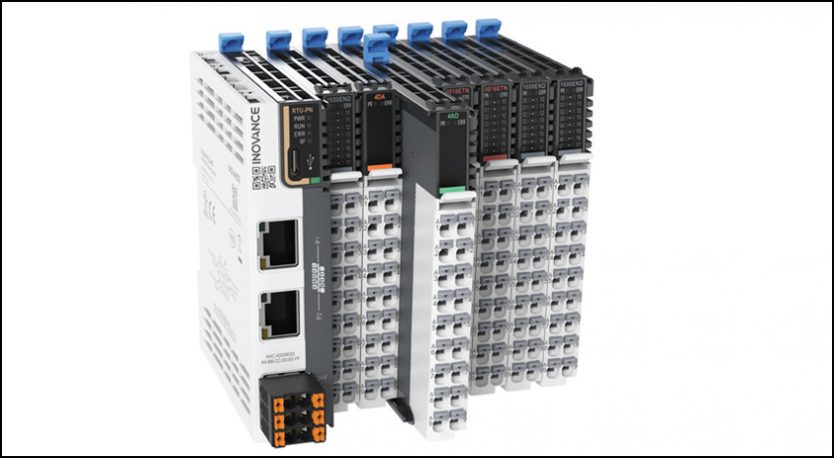 What is your approach to sustainable manufacturing?
At Inovance, we have developed automation technology that helps industries such as on-shore power, electric vehicles (EVs), port machinery, central heating systems, injection moulding machines, and the steel industry to reduce carbon emissions and benefit the environment. We are investing heavily in green and energy-efficient technologies to significantly expand this area of our operations over the coming years.
What is Inovance's vision and strategic direction in the electric vehicle (EV) industry?
In its commitment to reducing carbon emissions and promoting environmental sustainability, Inovance has recently established a 40,000 sq. ft. facility in Chennai, serving as a product assembly and production line. Looking ahead, we have strategically decided to invest and expand our operations in the electric vehicle (EV) segment. This decision aligns with government EV initiatives, the surging demand for EVs, and the remarkable growth of public charging stations and major EV technology investments across India. As EVs become more efficient and renewable energy sources increasingly power them, our vision at Inovance is to emerge as a leading Tier 1 provider of e-powertrain solutions and power supply systems. With our strong team and product range in India, we are well-positioned to capitalise on the opportunities presented by the EV industry.