Quality instrumentation is vital for sustainable manufacturing
June 9, 2023 2:20 pm
Gaurav Bawa, Senior Vice President of WIKA India, explains WIKA supplies smart instrumentation, a large part of asset performance management, and handholds the process plants to pick, implement and maintain the right technology.
How do the quality instruments empower sustainability in the manufacturing unit? 
WIKA, a global leader in the test and measurement market, offers smart instrumentation to empower machines and processes to communicate with each other and transform into smart technology. Optimisation of measurement technology like temperature, pressure, and others enables optimum and sustainable processes and performance. Quality instrumentation is pertinent for the sustainability of manufacturing units—translating into lesser downtime and the right results.
Smart Instrumentation today is a large part of asset performance management that includes a variety of functions like power management, maintenance systems, process automation, asset optimisation, and safety. 
To deliver on the same, WIKA offers several smart products to cover the entire industry range. As automation increases in every field, it is pertinent that the industry will look for efficient returns to investment in smart technology, better functionality of the machines, and safety points. Instrumentation will continue to play a key role in each of these cases.
What sustainable strategies at your facility offer a cutting edge from a manufacturing perspective? 
WIKA applies sustainability principles, including an integrated management system and sustainability impact management covering environmental, social, governance (ESG), and economic aspects. This is one of WIKA's strategies to realise sustainability for future generations.
In achieving the sustainability performance target, WIKA also pays attention to the impact of the company's business activities on stakeholders, the environment, and the stakeholders' concerns. With AI and automation playing a role in every field, WIKA too has embraced automation and upgraded its products. Over the last two years, WIKA has internally sorted out the list of products that need to become smart. With a targeted sense of priority, we have transformed into manufacturing IoT-enabled products. WIKA Germany has made huge investments in futuristic market segments of appliances and products through a two-pronged strategy. Not only have we invested in the automated process, but we have also invested in human management to imbibe the transformation to automation fully. We already have a roadmap to turn suitable products into IOT-enabled ones. Internally, we are reworking our product range.
How does green manufacturing help in reducing your carbon footprint?
Harnessing natural sources of power like sunlight directly impacts the carbon footprint. Apart from that, when all the processes –from vendor management to sourcing of raw materials are based on the principles of green manufacturing, it has a direct positive impact on WIKA's sustainability quotient also.
The company has heavily invested in installing Solar Energy and investing in renewable energy. All four factories of WIKA in India are fitted with Solar panels making them a positive supplier to the electricity board. Adhering to the Environmental protection and energy policy strategy, WIKA used solar rooftop solutions to make themselves energy positive.
How do Industry 4.0 optimising and the need for Industry 5.0 help fuel the transformation of Indian manufacturing? 
Industry 4.0, or the 'smart' industry, as it is known, has challenges requiring unique solutions for each establishment. As we faced a pandemic, the last two years have speeded up the adoption of automation and upgradation. WIKA India made an internal list of products that need to become smart and prioritised the transformation of manufacturing IoT-enabled products.
As industrialisation is poised at the cusp of the paradigm shift where two realms of industrial manufacturing co-exist for the first time in modern human history, the pace of technology transformation with responsibility has increased manifold. Thus, while Industry 4.0 relates to research, development, and technology-driven, Industry 5.0 is value-driven. This allows the implementation of green technology and disruptions and access to more data, which, when used responsibly, allows humankind to reap the benefits of AI and Blockchain. Thus, for Industry 4.0 to be optimised in the long run, we need Industry 5.0 as it provides the weightage to the value addition offered by digital adoptions.
Can you discuss how transitioning from 'Part of your Business' to 'Smart in Sensing' impacts the transformation?
WIKA offers several smart products aiming to cover the entire industry range and equip the system with the best solutions. For example, WIKA has a differential pressure gauge with a pressure switch for monitoring air filters, blowers, industrial cooling circuits, flows in ventilation ducts, and the control of air and fire shutters that are sensor-driven. Not only can they predict the heating and cooling requirements of the surroundings and adjust themselves, but the inbuilt mechanism in the system wired through AI also enables the machines to send a signal to the maintenance department in case any issue needs to be addressed.
Very recently, WIKA has imbibed the presence of the social megatrends characterised by 3D's such as digitalisation, decarbonisation, and demographic change, positioning itself to master these challenges while accompanying customers, partners, and employees through difficult times, reliably and securely. We leverage our extensive sensing technology portfolio that stands out from the competition and makes industrial processes safer, more efficient, and sustainable. The transition from 'Part of your Business' to 'Smart in Sensing' showcases the future-ready Smart WIKA Group.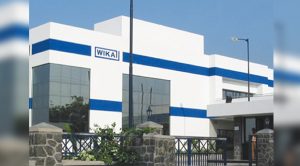 What are the challenges faced by Indian manufacturing units in adopting new technology, and how can they overcome them?
Indian manufacturing facilities will need overhauling to absorb the full range of technology available. One can broadly categorise the challenges into three buckets—awareness creation, funding the transition, and choosing the right technology.
While every business is aware of the technology change sweeping the market and rendering the older processes inefficient, it remains a challenge to most manufacturing units—especially MSMEs to understand the impact of technology and how they offer value for money. While the choice of tech impact and impression will enable the manufacturing unit to be efficient and environment-friendly, the requisite fund is complex for these units to invest in one push.
Thus, the transformation cost is a big prohibiting factor on why Indian manufacturing units cannot make the jump. Thirdly, once the issue of awareness and fund availability is addressed, an implementation partner is vital for these units. WIKA supplies the smart instrumentation and handholds the process plants to pick, implement and maintain the right technology.
How can digital transformation impact the market value of Fortune 500 companies?
According to Deloitte analysis, the right combination of digital transformation actions can unlock as much as US$1.25 trillion in additional market capitalisation across all Fortune 500 companies. But the wrong combinations can erode market value, putting more than US$1.5 trillion at risk. The takeaway: Getting digital transformation right takes more than ambition and bold investments. Digital transformation is a continuous effort extending well beyond one technology, platform, or skill set. It's the fabric for enterprise survival in the face of continuous disruption.
To bridge the financing requirement gap, while institutional investors are lending a hand, technology must be faster and ever-changing to become complacent. Hence, this will need government support regarding tax breaks and structural support.
While adopting technology-led transformations, what course of action suits the best for the manufacturing industry?
WIKA serves many process industries –all already in different stages of tech implementation in their firms. HVAC-led industries, the oil & gas industry, the agriculture sector, and most of the industries which are environmentally a serious hazard will undergo technology-led transformation first. But as I said, transformations are inevitable, and every manufacturing industry will follow the path in the long run.