Advanced emission monitoring for power plants
November 20, 2023 7:37 pm
In today's landscape, efficient power plants and emission control are paramount. This raises the need to explore innovations in emission analysis and technology-driven solutions for a cleaner, more sustainable future.
In the current scenario, it is imperative to ensure the efficient operation of thermal power plants and closely monitor their emissions to enhance overall power plant productivity. We are witnessing a rapid surge in pollution, making emission analysis mandatory, especially in power plants and heavy industries, to minimise its harmful effects on the environment and humans. It is worth noting that the emission of carbon dioxide and other substances is directly tied to plant efficiency; more efficient plants produce fewer emissions. Simultaneously, conducting emissions checks at all stages of the power production or combustion process in these plants is vital to ensure compliance with the regulations set forth by both the Central and State Pollution Control Boards.
In any such industry, there exists a crucial need for a measurement system capable of monitoring and calculating emissions at various points, including air pre-heaters, economisers, and the final stack location. At Testo, we believe in applying technology to enhance facility performance while prioritising pollution reduction and environmental concerns. In this regard, we provide products like Emission Analysers, including the Testo-340 and Testo-350, to the industry.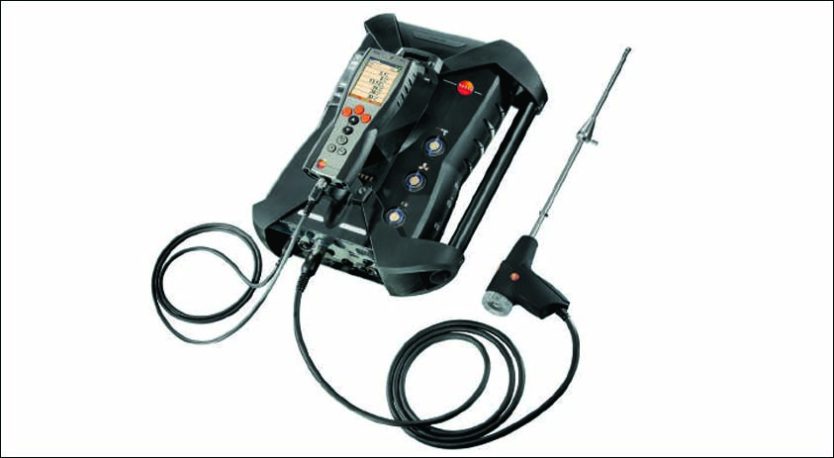 Testo-340 Flue Gas analyser
The Testo-340 flue gas analyser facilitates the comprehensive analysis of all relevant gases. It allows for adjusting the combustion process to achieve the optimal ratio of fuel quantity to combustion air quantity. The Testo-340 is a versatile instrument designed to guarantee adherence to legally prescribed emission thresholds and can be configured with as many as four distinct gas sensors. It can measure CO, CO low, NO, NO low, NO2, or SO2, providing the flexibility needed to address a range of emission concerns.
Moreover, it offers an extended measuring range, making it suitable for deployment in environments characterised by elevated gas concentrations. The pre-calibrated gas sensors simplify and expedite the process of sensor replacement, reducing downtime. Additionally, the Testo-340 is equipped with integrated pressure difference and air flow measurements, facilitating mass flow calculations.
Testo-350 Flue Gas analyser
The testo 350 is a rugged, easy-to-use exhaust gas analyser designed to meet the highest demands for carrying out precise emission measurements and providing proper data administration. The Analysis Box can be operated with up to 6 gas sensors, 5 of which are optional. This allows you to select freely from sensors for CO, NO, NO2, SO2, H2S, CxHy and CO2. It is the perfect solution to monitor the emissions from coal-based and gas-based power plants. This will enable the power plants to fine-tune their processes to minimise the emissions to permissible levels and improve combustion efficiencies.
The Testo-350 Flue Gas Analyser is a highly capable tool with several advantages for users. It features an extended measurement range, ensuring the ability to take measurements even in environments with elevated gas concentrations. This enhances its suitability for a wide range of applications.
Moreover, the Testo-350 offers user-friendly features, such as easy-to-change gas sensors and accessible wearing parts. This simplifies maintenance, reducing downtime and making it a practical choice for users.
The instrument is designed for durability, with a sealed housing and integrated impact protection. It is built to withstand harsh environmental conditions, ensuring reliable performance.
In terms of operation, users have the flexibility to control the analyser unit through the Control Unit or the easyEmission software. Both options offer convenient control and data management, making the Testo-350 Flue Gas Analyser a valuable asset for various industries.
For more details, visit the website www.testo.com or email info@testo.in