TechXperience Day 2023: A Resounding Success for YASKAWA India – Robotic
October 7, 2023 1:02 pm
YASKAWA India's TechXperience Day 2023 showcased cutting-edge robotic automation solutions and was a testament to their commitment to excellence, strengthening bonds with valued Japanese customers.
YASKAWA India, a leading solution provider for cutting-edge robotic automation, hosted an event that has made an indelible mark on the world of industrial technology. The "TechXperience Day 2023" occurred at YASKAWA's Robotic facility in Manesar, Haryana, on September 13, 2023. This exclusive gathering featured Japanese customers and highlighted YASKAWA India's steadfast commitment to excellence and customer satisfaction.
The event brought together YASKAWA India's esteemed Japanese accounts customers from various companies, allowing them to experience innovative technologies and cutting-edge robotic automation solutions.
The TechXperience Day commenced with a warm welcome, where each guest was presented with a rose bouquet and expressions of gratitude. Mr. Ajay Gurjar, COO of the Robotic Division, delivered his opening remarks in Japanese language, setting the tone for the event by emphasising the company's commitment to its Japanese customers. The audience was then treated to an informative presentation by YASKAWA India, conducted in Japanese by Mr. Makoto Horikawa, Deputy General Manager – Business Development. This presentation provided valuable insights into YASKAWA India's pursuit of excellence and the values, it delivers to its customers. Mr. Hidetoshi Maeda, Chief Technology Officer of the Robotic Division, concluded the event with closing remarks, all delivered in Japanese language, further underlining the global unity of YASKAWA.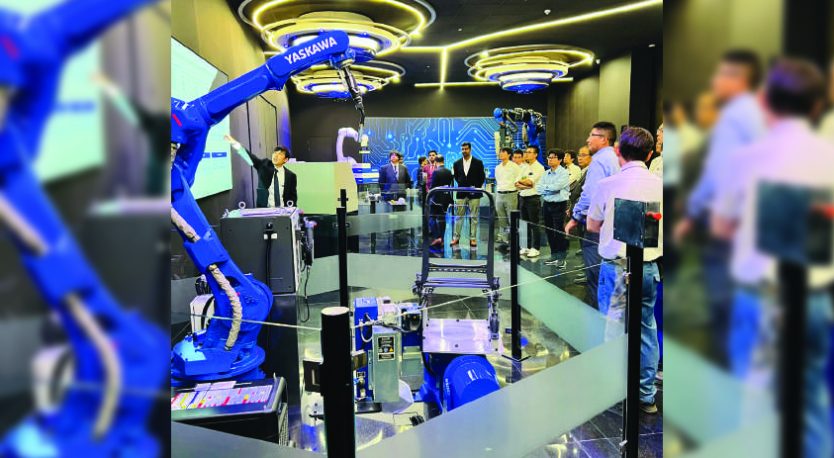 A comprehensive tour of YASKAWA India's state-of-the-art facility was given, where the guests could witness live demonstrations of the company's cutting-edge robotic technologies. The event culminated with a delightful cocktail dinner that harmonised the flavors of Indo-Japanese culinary traditions. Special giveaway gifts were bestowed upon the esteemed guests as a gesture of gratitude, ensuring that their visit left lasting and cherished memories.
TechXperience Day 2023 captured YASKAWA India's technological capabilities and served as a platform to fortify relationships with valued customers. The presence and active engagement of the Japanese customers were instrumental in making this event truly memorable.
For further information about YASKAWA India and its Robotic automation solutions, please visit www.yaskawaindia.in or contact on 24×7 Toll-Free No. 1800 102 3699,
Email: marketing@yaskawa.in