AI and ML optimise manufacturing, quality control, and reduce waste
July 31, 2023 2:04 pm
Our manufacturing units have successfully transitioned from manual to integrated digital processes on the shop floors, with dedicated training provided to the workforce, says Dhirendra Choudhary, CEO, Bry-Air. This proactive approach has also significantly improved our production efficiencies.
From an automation perspective, how has Pahwa Group leveraged cutting-edge solutions to enhance sustainability?
Pahwa Group believes in continuous innovation and delivering the most advanced solutions to our valued customers, evident in all operations. We are fully committed to fostering sustainability within our manufacturing unit through ongoing innovation and providing cutting-edge solutions. At our Desiccant Rotors International (DRI) facility in Manesar, we have achieved significant milestones in this endeavour.
Our dedication to sustainability has been recognised through various prestigious certifications. The facility proudly holds the Platinum Certified Green Factory Building status, demonstrating our adherence to the guidelines set by well-known green building certification agencies such as ASSOCHAM, ECBC, LEED, and the Indian Green Building Council.
To conserve energy, we have incorporated energy-efficient equipment and harnessed the power of solar panels, thereby reducing our reliance on conventional electricity sources. Simultaneously, we have ensured ample daylight in the building, promoting a healthier and more productive work environment for our employees. Our commitment to resource conservation extends to water management. With a 100 percent water treatment system in place, we promote the responsible reuse of wastewater, emphasising the principles of reduce, recycle, and reuse.
What digitisation practices provide a cutting-edge advantage from a manufacturing standpoint?
We are thankful to have a visionary leadership team that foresaw the importance of digitisation long before it became a popular trend. Recognising the potential of a robust digital future, Pahwa Group proactively implemented streamlined digital processes throughout the organisation. Our manufacturing units have successfully transitioned from manual to integrated digital processes on the shop floors, with dedicated training provided to the workforce. This proactive approach has also significantly improved our production efficiencies.
Embracing digitisation early on has allowed us to continuously enhance our processes by introducing new technologies. This commitment to innovation is evident in the products we offer to our customers, as we integrate advanced technology and lean processes to provide highly customised solutions with real-time mapping.
Furthermore, our competitive advantage stems from our involvement in technologically advanced sectors, including the fast-growing Electric Vehicle (EV) industry, Lithium-ion battery manufacturing, Data Centres, and precise pharmaceutical manufacturing. Through our diverse range of environment control solutions, we are deeply engaged in these industries, driving us to adopt real-time innovations and technological upgrades to match their rapid growth.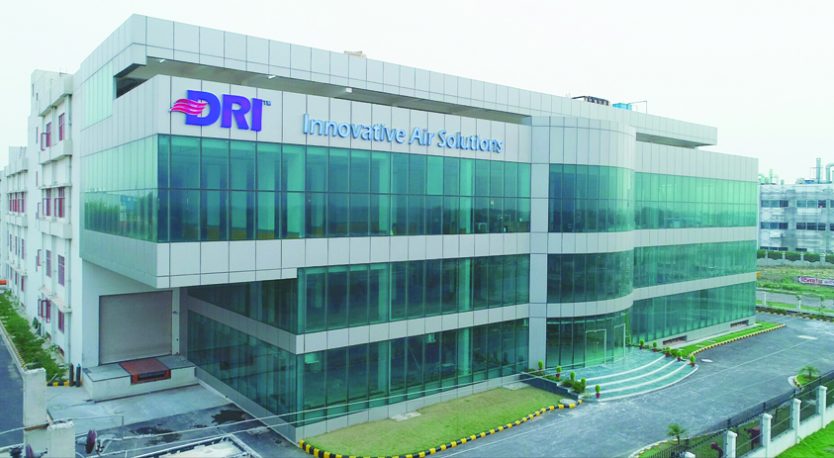 How the product design and technologies help in reducing carbon footprint? 
In addition to Net Zero certified manufacturing plant in Manesar, which plays a significant role in reducing our carbon footprint, an even larger impact on sustainability comes from the eco-friendly nature of our products. Our product design incorporates high energy efficiency to assist customers on their sustainability journey.
For instance, our Bry-Air Low Dew Point Dehumidifiers (LDP) are specifically engineered for lithium-ion battery manufacturing, effectively reducing energy consumption by 30 to 60 percent. Given that battery production is a major source of energy consumption in the EV manufacturing process, our LDP offerings directly address this issue, making the entire EV production process more sustainable.
Similarly, our Green Dry Smart Dryers cater to the Plastics industry, providing waterless Plastic Drying solutions. This innovative technology significantly reduces the need for water during manufacturing, leading to leaner and highly energy-efficient systems. This solution finds wide applications across various industries, including automobile, medical plastics, white goods, packaging, mobile accessories, sports/toy industry, offering sustainable solutions to a diverse market segment. Recognising the demand for advanced technology, we have developed the BrySmart® Series (BBS) Dehumidifiers. We continuously optimise energy consumption through cutting-edge technology, further reinforcing our commitment to eco-friendly practices and energy conservation.
How do Industry 4.0 and 5.0 help drive the transformation towards smart manufacturing?
The rise of Industry 4.0 and Industry 5.0 is ushering in the era of smart manufacturing, where digital technology seamlessly merges with traditional manufacturing processes, creating a flexible and adaptable production landscape. This revolution allows for real-time energy optimisation and efficient control of equipment and systems through intelligent solutions like the Internet of Things (IoT). Utilising IoT-powered cloud services, interactive interfaces are established to streamline communication and collaboration among different stakeholders.
Moreover, these transformative technologies are crucial in producing efficient and sustainable products. AI and machine learning empowers manufacturers to optimise production processes, enhance quality control, and minimise waste. Digital twins, acting as virtual replicas of physical assets or processes, enable real-time monitoring, predictive maintenance, and resource allocation. Robotics and automation bolster productivity and precision while reducing labour-intensive tasks and ensuring worker safety. Augmented reality finds applications in training, remote assistance, and visualisation, ultimately leading to improved operational efficiency.
By integrating these advanced technologies, factories can make informed, data-driven decisions throughout the product cycle, enhancing efficiency and automating engineering processes to oversee overall business operations.
Please talk about how your range of solutions is impacting the transformation.
Environment control and dehumidification solutions are crucial in the smooth functioning of various manufacturing sectors, including Automobile (especially in EV battery production), pharmaceuticals, Data Centers, Food & Beverages, and Plastics. The specific requirements and specifications vary across industries and use cases, so our products and services are meticulously engineered and customised to meet these diverse needs.
For example, in the context of Electric Vehicle manufacturing, where battery production holds utmost importance, our patented product, LDP, effectively addresses this critical aspect. Notably, the rapidly transforming EV industry demands agility, and our LDP boasts an impressively short lead time of 14-16 weeks compared to the industry standard of 40-52 weeks. This efficiency contributes to the larger EV ecosystem, fostering a more sustainable approach to fuel consumption.
Additionally, we are driving transformation through our technology-based solutions. Our BBS series, equipped with targeted algorithms like BFD (Bidirectional Forwarding Detection) and VFD (Variable Frequency Drive), enables users to adjust parameters through real-time feedback. It also ensures superior energy efficiency, further aligning with our commitment to sustainability and innovation.
What are the major challenges you see in modernising Indian manufacturing facilities?
Implementing any change, especially when modernising an entire manufacturing base of a country, presents significant challenges. However, having a company and leadership with a clear long-term vision can help minimise these obstacles. Being an early adopter and staying ahead of industry changes can facilitate a smoother transition. It allows for more flexibility to experiment and find the most suitable approaches, positioning the company as a frontrunner in the market.
One of the critical challenges lies in acclimatising every employee on the shop floor to the new technologies. Pahwa Group has actively invested in training its employees to embrace current and future technologies, aiming to maximise productivity and efficiency. This proactive effort ensures the workforce is well-prepared to adapt to the changes and contribute effectively to the company's growth.
Which verticals do you see adopting these transformations as front runners?
Sustainability is undeniably the future, and all market sectors will eventually adopt sustainable practices in their daily operations. Among these sectors, the automotive industry is witnessing rapid and widespread adoption, particularly with Electric Vehicles (EVs) gaining significant traction due to consumer demand and governmental support. EVs inherently offer a much more sustainable alternative to traditional fossil fuel-driven vehicles.
In addition to the automotive and data centre industries, other sectors, such as pharmaceuticals, plastics, and food packaging, actively embrace sustainable transformations.
Please talk about your initiatives and plans in this line of thought.
Undoubtedly, as the world moves towards a more sustainable future, Pahwa Group remains committed to innovation and constant evolution, aiming to be at the forefront of this transformative shift. Several plans are in the pipeline to drive growth in this direction.
While already offering innovative dehumidification and environment control solutions, the Group is taking a step further by incorporating Air Water Generator (AWG) technology into its offerings. This revolutionary technology generates water from the moisture present in the air, reducing reliance on depleting water resources and mitigating global water scarcity in the long run.
Excitement surrounds exploring Carbon Capture technology, building upon existing work with VOC concentrators and NMP recovery solutions. The concept of capturing Carbon from large point sources presents a natural extension and a new frontier for the Group to explore, signalling their dedication to sustainable solutions.