CPCB IV+ Compliant gensets are incredible engineering achievement
October 17, 2023 6:38 pm
According to Manoj Nair, Power Generation Business Leader, Cummins India, CPCB IV+ compliant gensets in India herald a new era in emissions reduction. These eco-friendly generators slash PM and NOx emissions by 90 percent, offering superior performance and reduced environmental impact.
What are the primary objectives of the CPCB IV+ emission standards?
The CPCB IV+ emission norms mandated by the Ministry of Environment, Forest, and Climate Change are a part of the Indian government's efforts to prevent, control, and abate air pollution across the country. These updated emission standards aim to simplify the regulatory framework by introducing a unified standard that applies to portable and stationary generators, regardless of their fuel type, with a capacity of up to 800 KW. This streamlines matters for manufacturers by reducing complexity. Furthermore, these standards usher in a technological transformation in the industry, advocating for adopting cleaner emissions technologies. Complying with the CPCB IV+ emission standards results in lower greenhouse gas (GHG) emissions and reduced fuel consumption by generators, aligning with our nation's broader environmental objectives.
How is CPCB IV+ compliant gensets from Cummins India making a positive environmental impact?
The introduction of Cummins India's CPCBIV+ compliant generators on July 5, 2023, marks a remarkable engineering achievement. These machines have evolved from basic mechanical devices into advanced electronic technologies incorporating intelligent control systems, advanced exhaust treatment mechanisms, remote monitoring, and predictive maintenance capabilities. This transformation has yielded a substantial 90 percent reduction in particulate matter (PM) and harmful nitrogen oxide (NOx) emissions from generator exhaust compared to the previous CPCB II standards. This achievement enables our customers to fulfill their diverse backup power requirements and empowers them to contribute to environmental sustainability. This strategic shift in our product range ensures our compliance with regulations. It aligns with our commitment to being a responsible organization dedicated to delivering innovative and environmentally conscious power generation solutions.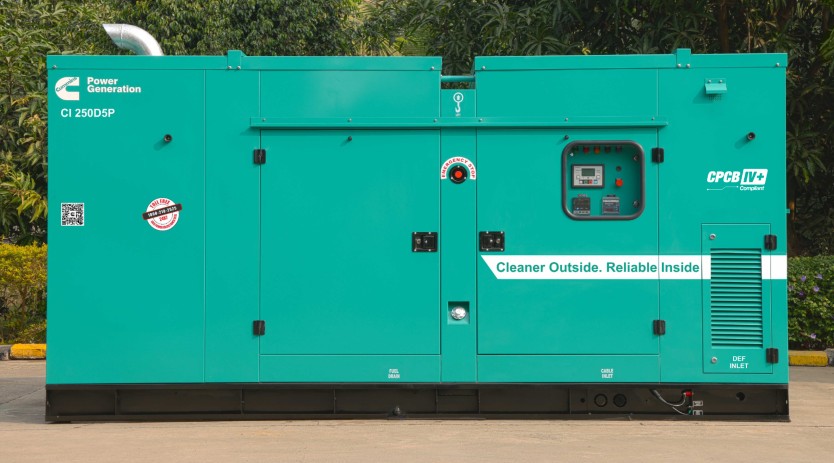 How does the closed-loop system with real-time monitoring enhance the performance of gensets?
The closed-loop system, equipped with real-time monitoring, greatly improves the efficiency and dependability of these generators. This system continually evaluates the generator's operational performance and adherence to emission standards, guaranteeing that it remains within the ideal parameters. The system triggers an alert if any deviations occur, facilitating prompt corrective measures. Additionally, customers are notified of these alerts via SMS and email, allowing them to respond promptly to any irregularities. This minimizes downtime and ensures that the generators consistently operate at their highest performance levels, ultimately enhancing their longevity and lifespan.
Discuss the advanced after-treatment systems in gensets and their role in enhancing fuel efficiency.
The advanced after-treatment systems used in Cummins gensets are carefully designed to improve fuel efficiency and ensure adherence to stringent emission norms. These advanced systems consist of a combination of Diesel Oxidation Catalyst (DOC), Selective Catalytic Reduction (SCR), and Diesel Particulate Filter (DPF) / Partial Flow Filter (PFF) based on the engine architecture. They are either a single module or a combination of multiple modules, depending on the size and capacity of the after-treatment system.
These advancements ensure more efficient fuel combustion, improved pollutant control, and enhanced fuel efficiency.
What benefits do users experience from remote monitoring and control in genset operation?
Remote monitoring allows users to manage generator operations from any location, eliminating the necessity for physical presence. This improves efficiency and responsiveness. Moreover, the capability to quickly initiate and halt operations via remote control is a valuable asset, especially in urgent situations, guaranteeing the swift deployment of generators to fulfill power needs.
It also enables users to inspect the system's status, detect faults, and promptly access essential notifications, lowering operational and maintenance expenses.
Please explain fuel and DEF sensors' significance in ensuring optimal efficiency of gensets.
Fuel and Diesel Exhaust Fluid (DEF) sensors ensure peak efficiency. Fuel sensors monitor real-time diesel consumption, allowing immediate corrective measures if excessive fuel is used. Beyond performance improvements, they cut operational costs and emissions, contributing to environmental sustainability.
Furthermore, Diesel Exhaust Fluid (DEF) sensors ensure compliance with emissions standards by precisely controlling the injection of DEF, which reduces harmful nitrogen oxide emissions. Together, these sensors significantly boost generator efficiency, lower operational costs, and help meet rigorous environmental regulations.
How do you employ innovation and advanced digital tools to address environmental challenges and climate change?
Cummins is deeply committed to innovation and creating a positive environmental footprint. Our core values include promoting clean air and water, prosperous communities, and a healthier planet. Our mission is to enhance people's lives by powering a more prosperous world, and we actively seek solutions to mitigate the effects of climate change.
Leveraging our rich legacy of over six decades in India and more than a century of global experience, we are confident in our ability to leverage advanced digital tools, adhere to strict emission standards, and tailor our products to meet the specific demands of the market and our customers. Our CPCBIV+-compliant generators exemplify this dedication, offering clean and efficient power solutions that cater to our customers' evolving requirements while remaining committed to environmental sustainability.
What advantages do these gensets offer in emissions compliance?
CPCB IV+ compliant generators bring significant advantages regarding emissions adherence and reduced environmental impact. The primary benefit of these generators lies in their eco-friendliness, as they effectively slash particulate matter (PM) and harmful nitrogen oxide (NOx) emissions from generator exhaust by an impressive 90%. Moreover, these generators do not require the addition of any retrofit devices or dual fuel kits throughout their product lifecycle to manage emissions in the field, thus reducing the total cost of ownership. Integrating advanced engine technologies and after-treatment systems enhances system durability, providing superior performance, improved fuel efficiency, and equipment reliability.