The shift log goes digital
October 17, 2023 6:48 pm
Schuler's latest innovation, Shopfloor Operations Management (SOM), is revolutionizing the way operators deal with equipment downtime. With real-time data extraction and precise reporting, it offers a game-changing solution for optimizing production processes.
During unforeseen periods of equipment downtime, it's common for operators to be preoccupied with tasks other than meticulously documenting the exact cause in the shift log. However, this step holds paramount importance in averting recurrent incidents down the line. The most recent addition to Schuler's Digital Suite, known as "Shopfloor Operations Management" (SOM), offers users a convenient solution. SOM automatically extracts pertinent data from the system controller and, in conjunction with other performance metrics, transforms it into a readily understandable format.
"SOM shows at a glance the current situation in production and reveals any potential problems early," according to Product Manager Andreas Gebele. "The performance indicators can be compared with past shifts and orders to optimize processes in future." The reporting provides an ideal basis for the daily shopfloor meeting: "An increase in the availability of a system by 30 percent is entirely realistic."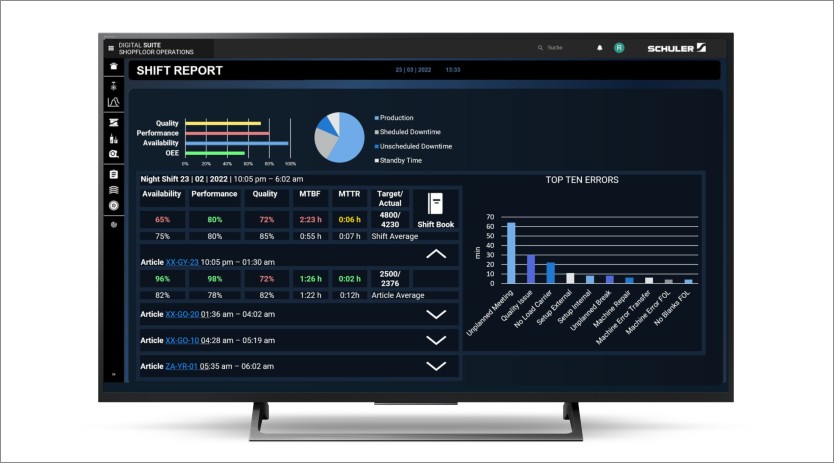 Since SOM is directly integrated into the coordinating control, best possible data quality including precise time stamps is assured. Moreover, the accurate production data also ensure a more realistic cost calculation. Full connectivity to customer ERP/MES systems as well as open data interfaces to AI solutions are also guaranteed.
Via a user-friendly terminal for entering machine data, external causes of system downtimes – for example the forklift that delivers the blanks too late – can be quickly and easily recorded. Custom notes are supported, as well as addressing specific issues to the relevant responsible person using a ticketing system.
For more info, www.schulergroup.com