MOTOTECH23 underscores the need for advanced, sustainable auto manufacturing
October 3, 2023 11:51 am
MOTOTECH23, the inaugural automotive event held in Pune on September 22, 2023, was a game-changing gathering of industry leaders, academics, and key players. It focused on the theme of "Adopting Advanced Manufacturing Technologies for the Automotive Industry" and aimed to drive innovation and advanced manufacturing in the automotive sector.
On September 22, 2023, Pune hosted the inaugural edition of MOTOTECH23, a groundbreaking automotive event that left an indelible mark on the industry landscape. The event, held at the prestigious Hotel Sheraton Grand, brought together key players in the automotive sector, academics, and industry leaders to explore the theme of "Adopting Advanced Manufacturing Technologies for the Automotive Industry."
MOTOTECH23 was a collaborative effort by prominent names in the industry, including Markforged-Phillips, Omron Automation, Atlas Copco, DataM Intelligence, DassaultSystemes – Solize, Blue Star Engineering & Electronics, Husky, Storopack, and Beckhoff Automation. IACE – International Automotive Center of Excellence played the role of Academic Partner.
The event was designed to provide a platform for intellectual discourse and the exchange of innovative ideas, recognising the pivotal role of the automotive sector in India's ambitious goal of achieving a five trillion-dollar GDP. Over the past decade, the automotive industry has undergone significant transformations, adapting to technological advancements, changing market conditions, evolving customer demands, and globalisation—however, the future promises even more changes and challenges.
The event commenced with a traditional lamp lighting ceremony, graced by distinguished individuals, including Mr. Nasir Deshmukh, Mr. Uday Narang, Mr. E. Rajiv, Mr. Prasad Nair, Ms. Radha Poptani, and Mr. Sagar Tamhane.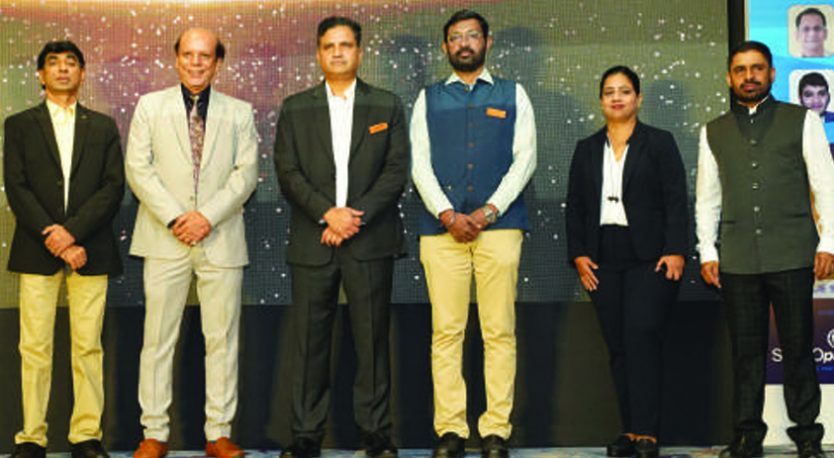 Mr. Nasir Deshmukh, the Conference Chairman, and Senior Vice President of Manufacturing Operations & Plant Head at Mahindra & Mahindra, set the tone with a compelling keynote address. He emphasised, "The primary motivation for adopting advanced automotive technology is safety. Technologies like adaptive driver assist systems such as adaptive cruise control, automatic emergency braking, and lane keeping assist are not merely convenient features; they are essential lifesavers capable of preventing
accidents and preserving lives.
Additionally, Mr. Deshmukh highlighted the urgent need for change on our planet. He pointed out that advanced technology provides the solution. Electric vehicles, hybrid vehicles, CNG vehicles, and hydrogen vehicles, combined with innovations like regenerative braking, contribute to reducing our carbon footprint. In times of rising fuel costs, advanced technology enhances efficiency, offering benefits beyond cost savings at the fuel pumps, including conserving precious resources and the ability to cover more distances without increased consumption.
Mr. Deshmukh concluded the Keynote Address by adding, "Adopting advanced automotive technology isn't merely a choice; it's an imperative. It is a commitment to safety, a dedication to our environment, an investment in efficiency and a promise of convenience. It's about driving into the future of our eyes with our eyes wide open to all the possibilities."
The event's Guest of Honour, Mr. Uday Narang, Chairman of Omega Seiki Mobility, delved into the economics of electric vehicles. He stressed the importance of comparing the total cost of ownership between conventional internal combustion engine vehicles and commercial electric vehicles. While electric vehicles may have a higher initial price, their reduced operating and maintenance costs over their lifespan make them a more economically appealing choice.
The Academic Partner, IACE, was represented by Mr. E. Rajiv, the Executive Director of the International Automotive Center of Excellence. Mr E. Rajiv emphasised the pressing need for a substantial workforce transformation. He remarks, "We require a huge upheaval in reskilling and upskilling, creating a robust workforce pipeline. These include traditional skills like CAD/CAM, material handling, machining, and vital soft skills such as teamwork. Furthermore, a specific demand exists for augmenting existing skills with new enhancements. Currently, the manufacturing sector contributes 17% to our economy, but we anticipate it reaching 25% as we strive to achieve a $5 trillion economy. This underscores the critical role of manufacturing in our GDP's overall representation."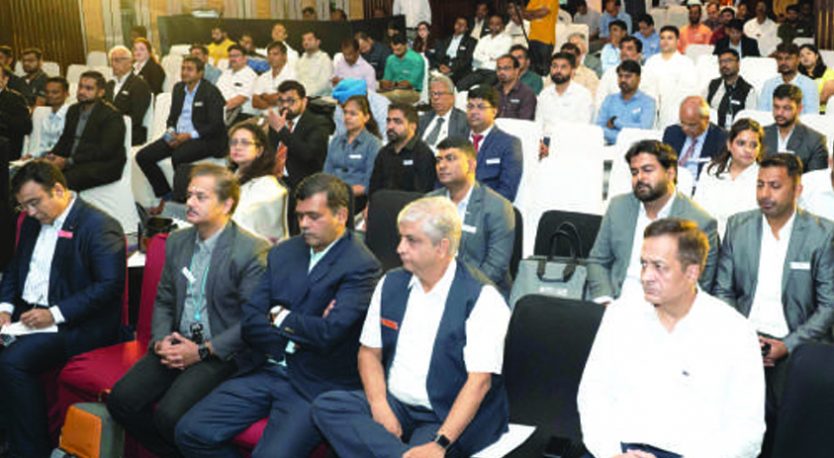 Technology submissions
The event progressed with captivating individual presentations, each offering a deep dive into various facets of the automotive industry. Bhavesh Mehta, Head of Sales at Omron Automation, enlightened attendees with his insights on "Smart Manufacturing: Fueling the Automotive Growth Trajectory." In this step, Sunil Pawar of DassaultSystemes explored "Seamless Manufacturing Execution Across the Value Chain." Google Cloud's Sachin Sanghi offered an intricate look at the world of "Software-Driven Vehicles." K. Arunagiri from Atlas Copco unfolded revelations in "Battery Assembly Innovations." The narrative was enriched with Pranjal Mathur's examination of "The Aftermarket Opportunities in EV: Fuel to Volts." Rajesh Kumathekar profoundly understood "Alternative Fuels," while Ravindra Gugale from TACO demystified "Digitisation." Naveeth Menon of BAXY Mobility steered the conversation towards "Understanding and Meeting Customer Demands for Three-Wheelers." The series culminated with Prem Aruliah John from Blue Star Engineering & Electronics, who meticulously dissected "Quality Control & Process Optimisation in the Automotive Industry with Automated Metrology Solutions," wrapping up a symphony of expert insights that resonated with profundity and innovation.
Fire-Side Chat : Role of AI in Autonomous Vehicles
A captivating fireside conversation between Shatyabrata Das, Senior General Manager at IAC-International Automotive Components, and Shirish Joshi, an Automotive Industry Expert, EX ŠKODA VW, Tata Motors, and General Motors delved into the profound impact of artificial intelligence in the realm of autonomous vehicles, shedding light on its transformative potential.
The centrepiece of MOTOTECH23 was the engaging panel discussions that delved deep into crucial aspects of the automotive industry's future:
Future of Green Mobility Panel Discussion:
The intricacies of green mobility were meticulously unravelled in a panel moderated by Ravindra Utgikar, Vice President of Corporate Strategy at Praj Industries, featuring a constellation of industry giants. Shirish Kulkarni, the Founder & MD of Strota ConsulTech; Neelam Pandey Pathak, an esteemed veteran in the Automotive Industry; and Ajay Kavade, Senior General Manager at Skoda Auto Volkswagen, constituted the esteemed panel. They dove deeply into an extensive discourse on aiding OEMs in attaining Net Zero targets. Recognizing the transport sector's significant role as a substantial emitter of greenhouse gases, the panellists underscored the urgent need for decarbonisation to propel India towards its ambitious Net Zero objectives. The discourse unfurled a tapestry of innovative insights, particularly accentuating the transformative potential of clean and green fuels to redefine the contours of the
transportation industry.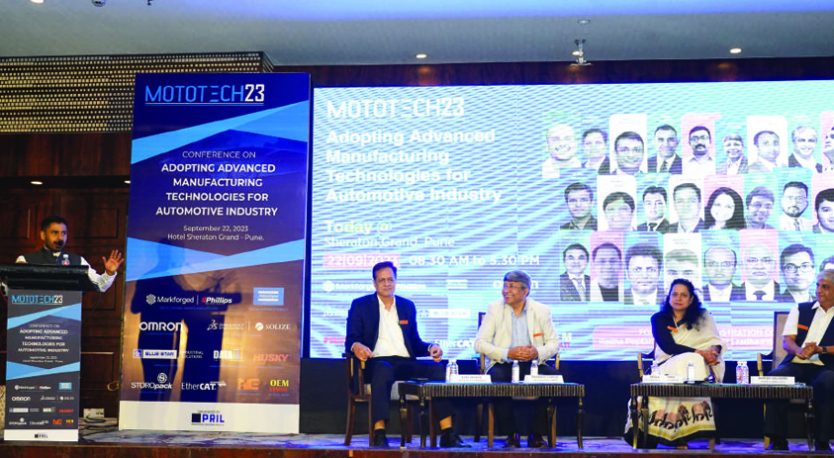 Challenges in EV Battery Swapping. Battery Prices, RE-based Charging and EV Charging Panel Discussion:
In a panel moderated by Shikhar Gupta, the Director of Energy and mobility at PwC, expert insights into the evolving landscape of electric mobility were profoundly unveiled. The distinguished panel featured Shashank Sathe, CTO at Magenta Mobility; Akshay Sasikumar, CEO of 82Volt Technology; and Prathamesh Patki, Chief Engineer at Altigreen. These esteemed professionals delved into intricate aspects of battery swapping, articulating insights on battery pricing dynamics, the integration of renewable energy in charging, and the progressive evolution of EV charging infrastructure. A focal point of their discussion
was the comparative analysis between home charging and public charging, offering a comprehensive exploration of the imminent challenges and unfolding opportunities that characterise the electric mobility revolution. Each contribution illuminated the pathway to understanding and navigating the complexities that mark this transformative journey into a future powered by electric mobility.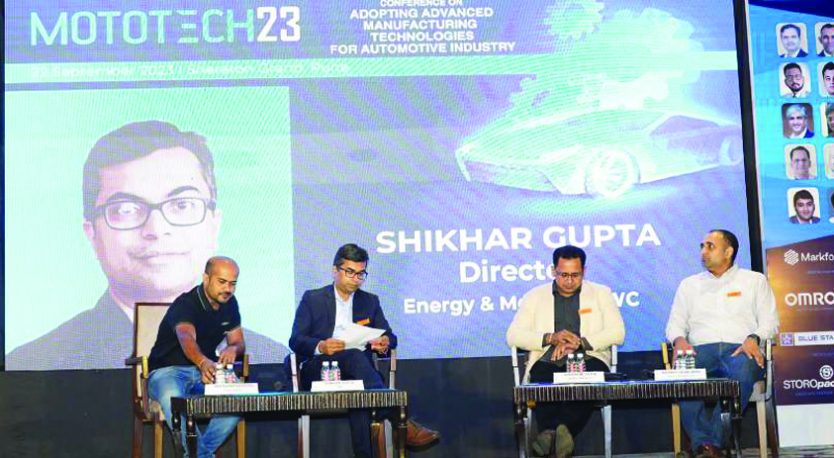 MOTOTECH23 was not just an event but a convergence of visionary ideas, practical insights, and collaborative endeavours. It illuminated the path forward for the automotive industry, emphasising safety, sustainability, efficiency, and innovation as the cornerstones of its future.

Mr. Nasir Deshmukh, Senior Vice President, Manufacturing Operations & Plant Head, Mahindra & Mahindra, Chakan Plant
"Electric vehicles, hybrid vehicles, CNG vehicles, and hydrogen vehicles, combined with innovations like regenerative braking, contribute to reducing our carbon footprint."
Mr. Uday Narang, Chairman, Omega Seiki Mobility Design & Development of EVs in Emerging Markets
"While electric vehicles may have a higher initial price, their reduced operating and maintenance costs over their lifespan make them a more economically appealing choice."
E. Rajiv, Executive Director, IACE International Automotive Center of Excellence
"We require a huge upheaval in reskilling and upskilling, creating a robust workforce pipeline. These include traditional skills like CAD/CAM, material handling, machining, and vital soft skills such as teamwork."
Bhavesh Mehta, Head of Sales, Omron Automation
"In automotive manufacturing, where technology, innovation, artificial intelligence, and digital transformation converge, automation stands tall as the foundational pillar driving progress."
Ravindra Utgikar, Vice President, Corporate Strategy, Praj Industries
"In embracing the EV revolution, the initial and most crucial step is cultivating in-house capabilities for producing essential technologies like batteries and infrastructure. It's imperative to prioritise adopting renewable energy sources to power this transformative journey."
Ajay Kavade, Senior General Manager, Skoda Auto Volkswagen
"For India, the road to an all-electric future is a journey marked by intermediate steps and strategic stop-gap arrangements, particularly in the form of a phased transition from traditional ICE engines to EVs. Biofuels will be pivotal in bridging this transition, making a substantial difference in our pursuit of a sustainable automotive ecosystem."
Sachin Sanghi, Principal Architect – Manufacturing, Google Cloud
"In the manufacturing of EVs, Industry 4.0 offers transformative solutions. Focusing on lightweight design and innovative joining technologies enables us to optimise energy usage and create a more sustainable future."
Pranjal Mathur, Research Manager, DataM Intelligence 4Market Research LLP
"As the demand for EVs continues to surge in India, with over 4 lakh units of two-wheelers and three-wheelers sold last year, our major challenge lies in ensuring widespread power supply and charging infrastructure. The solution lies in transitioning from 'fuels to volts' on a large scale, and the key to this transformation is capitalising on our evolving power generation system, where solar panels are already playing a pivotal role."
Shikhar Gupta, Director, Energy & Mobility, PwC
"Digitilisation has emerged as a feasible solution for automotive companies, offering enhanced visibility and predictive analysis capabilities in their supply chain operations."
Shatyabrata Das, Sr General Manager, IAC-International Automotive Components
"Injection molding machines, both vertical and horizontal, are crucial in automotive manufacturing, producing a wide range of plastic components. This process includes CAD modeling, CAM programming, mold creation, injection molding, inspection, and integration into vehicles."
Naveeth Menon, Vice President, Sales & Mktg, BAXY Mobility
"Connected mobility allows us to monitor battery health, state of charging, and more through kinematics. While the end customers might not fully grasp its potential, it's highly beneficial for fleet management and other applications. Innovations are ongoing in this field."
Akshay Sasikumar, CEO, 82Volt Technology
"Charging behavior needs to change. Instead of going to refuel your vehicle, you can now charge it wherever you are, even while working."
Shashank Sathe, CTO, Magenta Mobility
"Car and truck batteries are extremely heavy, making it humanly impossible to lift and shift them, and that's the challenge we currently face."
Prathamesh Patki, Chief Engineer, Altigreen
"Our primary focus remains on fast charging solutions for our three-wheelers, complemented by overnight slow charging options. Single battery pack control is crucial for optimal performance and efficient use of space."
Neelam Pandey Pathak, Veteran in Automotive Industry
"Identifying skill gaps, upskilling existing workers, and incentivizing learning are crucial for preparing the automotive workforce for the future of EVs and advanced technologies."
Shirish Kulkarni, Founder & MD, Strota ConsulTech
"In Industry 4.0, automation makes processes more efficient, reducing energy and carbon footprints, driving the journey to carbon neutrality."
K. Arunagiri, Head Business Development, eMobility (Motor Vehicle Industry) Atlas Copco
"With a strong commitment to sustainability, we are actively pushing ourselves to ensure that the innovative solutions we offer contribute significantly to reducing CO2 emissions."
Sunil Pawar, Industry Business Consultant, Dassault Systemes
"Industry 4.0 primarily focuses on cyber-physical systems, but Industry 5.0 represents a revolutionary shift where we emphasise the reintegration of humans into the equation. The synergy between cyber-physical systems and human collaboration will drive this revolution, highlighted by the emergence of collaborative robots."
Rajesh Kumathekar, President, Advantek Fuel Systems
"Alternative fuels are set to play a pivotal role and have the potential to be transformative. It is more fitting to refer to them as future fuels, rather than labeling them as alternatives."
Ravindra Gugale, Sr. GM, Purchase, TACO
"If we take care of our customer, whether big or small, our business will thrive. The day we forget our customer, a downward trend will start very fast."
Shirish Joshi, Automotive Industry Expert. Ex-ŠKODA VW, Tata Motors, General Motors
"Technology empowers us to streamline decision-making with software, hardware, and cameras."

Prem Aruliah John, Business Head – Metrology Solutions, Blue Star Engineering & Electronics
"In the automotive industry, quality control is paramount. Automated solutions are revolutionizing our approach, ensuring precision and efficiency in manufacturing."
For more information about MOTOTECH23 and to stay updated on future events, please visit mototechindia.in