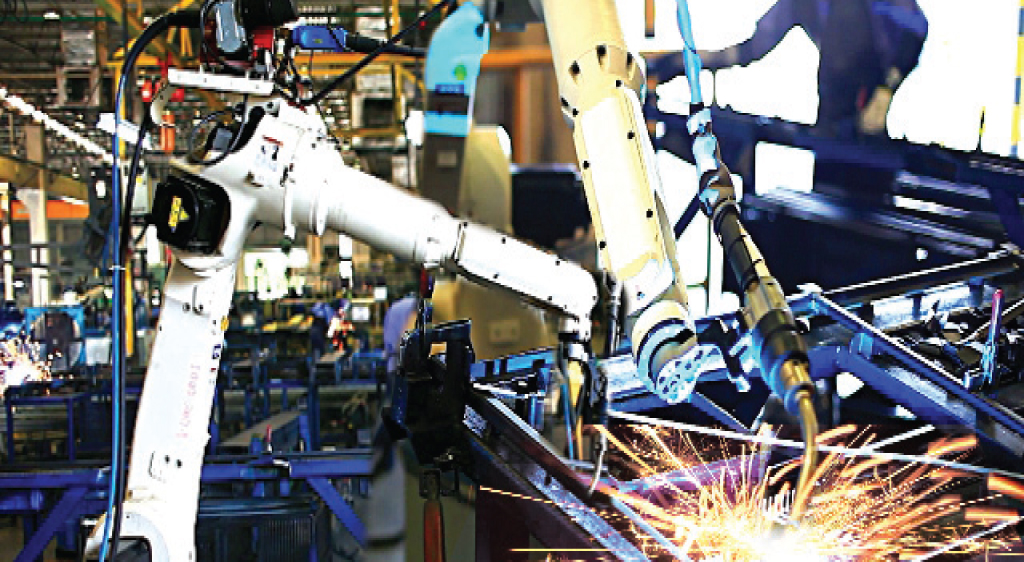 Laser welding has numerous advantages and benefits over traditional welding methods and can greatly reduce costs while improving production efficiency and quality. Let's take a look at how it is changing the automoive industry.
Laser welding when first invented, was projected as a solution in search of a problem. However, as the industry matured, lasers became a part of regular welding applications. In today's world, laser welding has become an inseparable part of the metal industry where there is a routine production of day to day necessary items like batteries, fuel injector nozzles, razor blades, medical tools, aircraft engines, and even car bodies!
Even though widely used in various industries, there are many engineers who have kept the idea of employing lasers in their applications at bay. Unfamiliarity with the operation along with the lack of knowledge about the capabilities of laser, the relatively high initial cost add up to the lack of usage of laser welding.
Laser welding can replace the traditional conventional welding processes like TIG, MIG, resistance and electron beam to name a few. The traditional techniques have established a niche in the manufacturing world. However, the high tech laser welding process will operate efficiently and economically in many different applications. Some laser welding systems can even be configured to do additional functions such as cutting, drilling, and serialising.
Currently, there are numerous lasers that are used in the industry for applications like cutting, welding, drilling, marking etc. The number will rise exponentially as more and more manufacturers become familiarised with the technology. While most laser applications are dedicated to one product or process that involves high-volume, long-run manufacturing, the versatility of the laser to supply energy to hard-to-reach spots, vary the output energy over a wide range, operate under the control of computers and robots, and put minimal heat into the part makes it ideal for flexible manufacturing operations.
Advantages of laser welding
Discussing the advantages of laser welding in automotive industry, Milan Supanekar, Owner, Welding Technologies India says, "Laser welding is a welding technique used to join multiple pieces of metal through the use of a laser beam. The laser welding system provides a concentrated heat source, allowing for narrow, deep welds and high welding rates. This process is used frequently in high volume welding applications, such as in the Automotive Industry."
He further adds, "Laser welding in the automotive industry has applications that enable manufacturers to weld component engine parts, transmission parts, alternators, solenoids, fuel injectors, fuel filters, air conditioning equipment and air bags as well as many other applications. Laser welding is a great tool due to its ability to weld pre-machined components with restricted heat and minimal distortion."
In his views, the laser welding process exhibits good repeatability and is easy to automate. These features make the process an excellent choice for high-productivity processes such as some of those used in the automotive industry. Also, laser welding processes can be used in highly sophisticated systems using CNC machines, robots and other highly automated systems for large batch productions. Supanekar adds, "Laser welding has numerous advantages and benefits over traditional welding methods and can greatly reduce costs while improving production efficiency and quality."
Latest advantages in laser welding
Speaking about the latest advantages in the laser welding section, Supanekar said, "The heat required for laser welding is supplied by a tightly focused light beam with a diameter as small as two-thousandths of an inch. Welding is conducted by firing a series of short pulses that melt the metal to create a high-quality weld. Depending upon the particular welding task, filler material may be required as with TIG welding. Because the laser beam is tightly focused, heat input is minimised and parts can be handled almost immediately."
Precise control of the laser beam offers users several benefits over TIG, MIG and spot-welding. Supanekar illustratesthe following advantages of laser welding:
• The laser weld is narrow with an excellent depth-to-width ratio and higher strength.
• The heat affected zone is limited, and due to rapid cooling, the surrounding material is not annealed.
• Lasers successfully weld carbon steel, high strength steel, stainless steel, titanium, aluminum, and precious metals as well as dissimilar materials.
• The small, tightly controlled laser beam permits accurate micro-welding of miniature components.
• Parts have minimal deformity or shrink.
• No physical contact between the material and laser head.
• Laser welding can replace spot welding requiring access from one side only.
• Laser welding is controllable and generates low volumes of scrap.
Welding Technologies India is in discussions with some German and Japanese suppliers of Laser welding equipments to introduce their technology and provide services to the Indian customers.
Hypertherm, a U.S. based manufacturer of plasma, laser, and waterjet cutting systems, has come up with Rotary Tube Pro, a software that makes it easier to design and cut tube and pipe parts with no 3D CAD experience required.
The software features a parametric design interface that allows main tubes and side-wall cutouts to be added from a list of pre-defined shapes. Alternatively, users can add tubes and cutouts directly from a CAD program. This flexibility means that the fabricators and manufacturers can enjoy greater productivity by increasing programming speed, and improving cut quality for improved fit-up with fewer secondary operations.
The software also includes an optional rotary bevel interface provided with bevel cut charts based on True Bevel technology, which greatly reduce bevel setup time.
Rotary Tube Pro software includes more embedded cut process expertise in the NC code than other tube and pipe software. The company has made the most of the feedbacks that it received during the testing of the current version. The enhancements include:
• New 3D geometric modeling engine that delivers a faster, more responsive 3D model when entering dimensions and other properties
• Ability to import STEP file formats (*.step), for the quick exchange of 3D objects from one platform to another
• Cut sequence enhancements that allow for the cutting of interior parts first and improved sequencing flexibility
• Simplified bevel material selection in which only materials and classes that can be beveled are displayed
• New setups, spreadsheets and machine files that enhance cut quality and accuracy on beveled tubes.
Speaking about the new software version, Derek Weston, Product Marketing Manager for Hypertherm's CAD/CAM software team said, "It takes programming of pipe and tube jobs to a whole new level. Not only is it incredibly easy to use, it delivers outstanding results that translate into tangible outcomes impacting our customers; such as improved on-time delivery, and increased profitability."
_________________
The laser welding system provides a concentrated heat source, allowing for narrow, deep welds and high welding rates.
Milan Supanekar, Owner, Welding Technologies India