Klüber's contributions to energy efficiency and cost savings in the heavy industry
June 9, 2023 3:11 pm
Klüber Lubrication stands out as a market leader in speciality lubricants, catering to diverse sectors in India. As a valuable member of the renowned Freudenberg Group, Klüber collaborates with customers to develop innovative lubricant solutions that enhance reliability, productivity, and sustainability. By prioritising sustainability and reducing its environmental impact, Klüber actively empowers its customers to achieve their sustainability goals.
How has Klüber's commitment to excellence and dedicated market-focused approach contributed to its success in the Indian speciality lubricant industry?
Klüber Lubrication, founded in 1929 is an esteemed member of the Freudenberg Group. We take immense pride in our position as the market leader in the speciality lubricant industry. For nearly 25 years, we have remained dedicated to serving the Indian market, catering to a wide range of sectors, including steel, cement, power, mining, automotive, and more. Our cutting-edge plant and research and development centre in Mysore exemplify our commitment to excellence. Our Indian corporate headquarters are situated in Bangalore.
To ensure seamless nationwide coverage, we have established a robust distribution network comprising over 70 distributors who efficiently deliver our top-notch products and services nationwide. Furthermore, we have dedicated teams specialising in various market segments, such as steel, enabling us to provide tailored support and expertise. This is how we have structured and operated in India.
How do Klüber's adoption of the "lubrication pharmacy" concept and provision of tailored lubricant solutions contribute to customer satisfaction and success in the market?
At Klüber, we believe in lubrication pharmacy within speciality lubricants. Similar to how a doctor diagnoses and prescribes personalised solutions for patients, we adopt a similar approach with our lubricant offerings. Instead of simply selling generic lubricants, we engage with our customers, thoroughly understand their specific challenges, and provide tailored solutions that address their unique needs. Our extensive range of products includes oils, greases, and bonded coatings, featuring a comprehensive selection of new-generation options. From mineral oil to semi-synthetic and synthetic variants, including innovative greases with advanced thickness technology, we offer diverse lubricants to meet various requirements.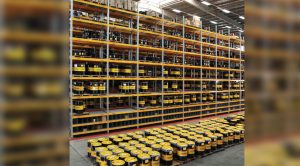 What is the market potential for speciality lubricants in India?
When considering the market growth of speciality lubricants in India, it is important to note that, unlike commodity lubricants, this particular type of lubricant is experiencing rapid expansion. The ever-evolving pace of technological advancements contributes significantly to this growth. I foresee a substantial increase in the demand for speciality lubricants in India, aligning with the current upward trend. The market is estimated to grow at an annual rate of 5.4%.
What is the range of products offered by Klüber for the steel industry?
For the steel industry, we provide comprehensive end-to-end solutions that cover the entire process, from iron ore production to transportation, iron making, steel making, and the final production of finished products. Our product range caters to every step of this process. Within this range, we offer speciality products specifically designed to enhance the reliability of lubricants, improve productivity, and support our steel customers in achieving their sustainability objectives.
How has Freudenberg Group's focus on investing in people, products, and processes, particularly in the steel sector, contributed to its ability to develop industry-specific solutions and cutting-edge digital services that cater to customer needs and enhance operational efficiency?
At Freudenberg Group, we prioritise investing in our people, products, and processes to drive success and innovation. We have assembled a dedicated team in the steel sector that understands in-depth customer needs and the unique challenges steel plants face. Additionally, our distributor team has acquired specialised knowledge of this market, allowing us to cater to steel customers' requirements effectively.
Regarding our products, our R&D centre in Mysore is a beacon of innovation. Within this centre, India plays a pivotal role as a leading hub for research in steel, cement, power, and mining for the Klüber world. Our R&D efforts in India have particularly excelled in steelmaking, developing industry-specific products that effectively address the challenges encountered by the steel and heavy industries. Furthermore, we have introduced digital services that empower our customers to minimise downtime and enhance efficiency. These state-of-the-art services enable customers to monitor and analyse their operations using mobile devices, providing data-driven solutions.
Please talk about collaborations and projects undertaken by Klüber Lubrication.
In the continuous casting process, where molten steel is poured into casters to create billets, slabs, and blooms, we encountered an issue with grease getting clogged in the pipes due to high temperatures at one instance. This caused frequent bearing failures and significant customer losses regarding production and maintenance costs. Our team and the R&D center visited the customer, understood their process, and developed a solution. We invited the customer to our R&D centre to explain our proposed solution. Together, we tested the product and successfully resolved the bearing starvation issue. This innovation has been implemented across multiple plants in the country, demonstrating our commitment to collaborative problem-solving with our customers.
What are the challenges faced by the manufacturing industry to attain Sustainable Development?
Considering India's carbon neutrality goals, the target is to achieve carbon neutrality by 2070. To reach this goal, the manufacturing industry must take immediate action to reduce their carbon emissions. While top management and sustainable managers in major steel companies are already working on identifying areas for sustainability improvements, a mindset shift may be required among customers who perceive sustainability as costly. However, it's important to recognise that sustainability initiatives can also be cost-effective in the long run when considering the overall cost of operations. Klüber offers a range of products to help customers achieve sustainable growth targets while reducing costs and improving operational reliability.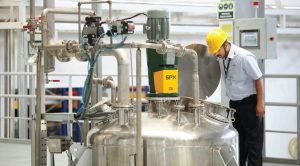 What measures have been taken by Klüber to adapt to the changing regulatory landscape in the steel industry?
India's National Steel Policy 2017 targets producing 300 million tonnes of steel by 2030 in the evolving steel industry. Steel plants must operate continuously without interruptions or breakdowns to meet this goal. In such a scenario, it becomes crucial for these plants to align themselves with companies that can provide reliable lubricants, ensuring operational reliability, increased productivity, and long-term sustainability. Klüber is a trusted company that steel customers can rely on for dependable lubricants, productivity improvements, and achieving sustainable growth.
What are Klüber's initiatives to promote sustainability?
Sustainability holds great significance for us. In 2023, Klüber received the prestigious EcoVadis gold rating. EcoVadis evaluated approximately 100,000 companies on their sustainability efforts, and Klüber ranked among the top 4%. As our ongoing sustainability initiatives, we have adopted a two-pronged approach: reducing our environmental impact and empowering our customers to do the same. To reduce our footprint, we focus on minimising waste generation and energy consumption and utilising sustainable materials in our products. Our Mysore plant obtains 55% of our electricity from renewable sources, specifically solar panels. This translates to an annual reduction of 1,100 tonnes of carbon emissions, equivalent to planting around 88,000 trees.
Regarding customer handprints, we actively assist our customers in achieving their sustainability objectives. This involves reducing oil consumption, optimising operations for cost savings, and improving energy efficiency. We strive to help them accomplish these goals through our products and digital services. We have numerous examples in the heavy industry, including steel plants, where we have successfully demonstrated energy savings ranging from 0.5% to 3.5% across various applications and operations through rigorous trials.