Aatmanirbhar Bharat Abhiyan to strengthen the machine tool industry
April 1, 2023 7:07 pm
T.K. Chakrabarti, the Vice President of Sales and Marketing at Lokesh Machines Ltd, mentions that the Indian government is progressing in the right direction. The development of infrastructure, particularly roads, is an essential but challenging area of development. Providing an example of my company's progress, we can now deliver our machines to any part of India within 3-5 days, a significant improvement from the previous 10-day delivery time. Lokesh Machines Ltd. is based in Hyderabad and leading manufacturers of CNC machine tools and SPM machines and serves globally.
How does the defence industry contribute to the economy?
The defence industry will thrive. Having personally visited numerous ordnance factories and being familiar with their product portfolios; the government is also committed to the Make-in-India initiative and exploring the export option. The defence corridor will be instrumental in bolstering the Indian economy. Lokesh Machines Ltd. is well-positioned to contribute to this growth, with its machines being highly suitable for defence component manufacturing.
How will financial schemes help boost businesses?
Startups require adequate financing to get off the ground, particularly when a technician intends to establish a small setup with one CNC machine and 2-3 allied products. The challenge lies ahead of the financial institutions as they will have to support the entrants based on their ability and ground-level technical experience, not their financial strength. The age bar for giving loans should also be discarded. Rather, the criteria can be that the option is available to newcomers in the business.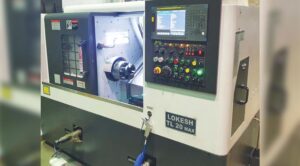 Will skilling opportunities and measures initiated by the government help sustainability?
Skilling is a challenge ahead, but India has enormous potential. The gap between skill development and skilled force requirements is vast. More skill-development centres located close to rural communities and workshops at the school level should be introduced. I recently learned that Japanese agricultural companies now employ our skilled workers.
How will incentives for the machine tools industry accelerate the pace of local manufacturing?
Machine tools are the foundation of all industries. The government should implement policies to encourage more R&D and new advancements in the machine tool sector. This will enable the production of CNC machines on par with the finest in the world and reduce the import of machines, which still accounts for 65 percent of India's overall sales. The government wants to decrease imports by 5 percent annually. This means that within 12 to 14 years, India shall be completely self-sufficient in the machine tool sector and import very few machines or machine parts. Atamanirbharta is a significant task, but it is attainable. Our primary goal is to implement the Aatmanirbhar Bharat Abhiyan and strengthen the machine tool industry and the nation from a technical and engineering standpoint.