Kennametal's approach to addressing machining challenges in the aerospace industry
April 1, 2023 6:55 pm
In an interview with Vijaykrishnan Venkatesan, Managing Director –India and Infrastructure Business APAC, Kennametal India, we discuss the latest industry trends and how they integrate them into their product development process. We also explore a machining challenge in the aerospace industry and how they resolved it while ensuring tooling reliability and precision. Moreover, we discuss a customer collaboration experience where they identified machining challenges and suggested solutions while ensuring maximum productivity and optimal cost per edge.
How do you keep up with industry trends and integrate them into Kennametal's product development process?
The industry is experiencing a surge of interest in IoT-based machines that can multitask, delivering fast and accurate results. This trend is crucial for original equipment manufacturers (OEMs) seeking to create the factories of the future. Additionally, Augmented Reality (AR) and Virtual Reality (VR) technologies are being deployed to improve the efficiency of production lines and enable remote machine commissioning and troubleshooting. Automation is another technology gaining traction, enhancing productivity, efficiency, and quality.
As we operate in sectors that are witnessing the emergence of new technologies, such as the transition to e-mobility, the adoption of sustainable solutions, and the use of alternative materials to enhance performance and productivity, we at Kennametal are continuously developing new and innovative products to meet the evolving needs of our customers.
Can you describe a machining challenge you faced in aerospace and how you resolved it while ensuring tooling reliability and precision and managing thermal and mechanical stress to avoid part damage?
The aerospace market is experiencing growth, with a rising focus on materials with high strength-to-weight ratio, heat-resistant superalloys, and components with complex geometries and tighter machining tolerances. Sustainability has also become an integral part of the industry's performance requirements, necessitating lower fuel consumption to reduce CO2 emissions, using new-age materials to reduce NOx emissions, and optimising the number of components to minimise external noise while ensuring a green product lifecycle.
However, machining aerospace components presents some challenges. For example, Heat Resistant Alloys (HRAs) have a high-chemical reactivity that can cause the chip to weld to the tool, resulting in premature failure. Moreover, the chip-tool contact area is relatively small, causing significant stress concentration due to the higher cutting forces and temperatures that can cause the cutting tool to fail prematurely. Even Carbon Fiber Reinforced Polymers (CFRPs), which are extensively used in aircraft structures, are highly abrasive and can cause flank wear to the tool, which may distort the surface quality of the materials. As a result, machining critical components for aero engines and structures at optimal production rates necessitates reliable, high-precision tooling for roughing and finishing operations. The entire process must be secured to avoid any damage to the part, which requires thermal and mechanical stress management in the machining zone, along with tooling that ensures HP coolant delivery systems and heat-resistant substrate and coating.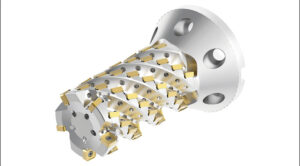 Can you share a customer collaboration experience where you identified their machining challenges in aerospace and suggested a solution that met their requirements while ensuring maximum productivity and optimal cost per edge?
As mentioned, the aerospace industry demands advanced tooling solutions that maximise metal removal rates, cutting speeds, and flexibility while ensuring exceptional tool life. Kennametal is committed to working closely with customers to identify their machining challenges and suggests the optimal solution. For instance, Kennametal's new HARVI Ultra 8X helical milling cutter features attributes that deliver maximum productivity at the lowest possible cost per edge. The cutter can consistently remove up to 20 cubic inches of titanium per minute, with a tool life of one hour or more. The flutes and coolant nozzles ensure the maximum flow of chips, enabling the removal of high quantities of material without jamming. At the same time, double-sided inserts offer a lower cost per edge and the ability to increase speeds and feeds beyond what was previously feasible.
How do the recent policy changes allowing foreign investment in India's aerospace industry impact the MRO sector? What opportunities does this create, and how can companies capitalise on it?
India's aviation market is expected to be among the top three in the world by 2024, driven by increasing income and a preference for air travel. The Indian government's recent decision to allow foreign investment up to 49 percent is expected to boost investment and advanced technologies in the industry and increase private sector participation. These developments are also expected to support the Maintenance, Repair, and Overhaul (MRO) industry, projected to reach $2.4 billion by 2028. Land allocations have already been made for MRO facilities, indicating progress in this sector.
In summary, there is positive momentum in the aerospace industry in India, but success will depend on the speed of execution and support for ease of doing business.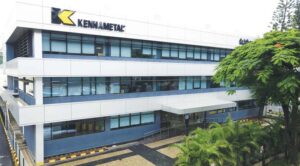 How will 3D printing impact the aerospace industry's future in terms of innovation, manufacturing, and supply chain management?
The global industrial 3D printing market is experiencing significant growth and has great potential for future development. As an early adopter of this technology, the aerospace industry is leading the way regarding its applications and benefits. Kennametal recognises the potential for 3D printing to improve our customer's performance and deliver value through optimised designs, and we are actively exploring opportunities in this area.