Balancing regulations and environmental standards pose a challenge
June 9, 2023 2:43 pm
Meenu Singhal, Regional Managing Director, Socomec India, says that to meet challenges, we aim to meet customers' needs by providing sustainable, safe, cost-effective, and environmentally friendly products. To achieve this, we focus on eco-design and continuously increase the proportion of eco-designed products in our portfolio.
How sustainable manufacturing aligns with Socomec's approach to industrial solutions?
Socomec is driven by a mission towards sustainable manufacturing and at the heart is our Corporate Social Responsibility (CSR), encompassing environmental, social, and ethical practices integrated into our product design and manufacturing processes. Our company has been dedicated to CSR for over two decades and recognises the importance of addressing social and environmental challenges. More recently in 2021, we made CSR as one of our central pillars after we reviewed our company's overall strategy.  
Our employees, customers, and shareholders are all aligned with our commitment to being a part of the ecological transition. Our employees seek a sense of purpose, our customers increasingly demand sustainability efforts, and our shareholders value the principles and values we uphold. Therefore, we aim to achieve sustainable growth while maintaining a strong financial position, preserving jobs, and respecting the environment.
In 2022, the Group updated its environmental policy, summarising our commitment to preserving the environment in our manufacturing and other activities, while defining our targets for 2030.
Please talk about how your range of solutions is impacting this transformation.
Socomec's range of solutions includes Power conversion, Switching, Power monitoring and Energy Storage. We provide cutting-edge solutions, and also solutions that are designed to optimise energy consumption and reduce costs, improve energy efficiency in various applications, including data centres, healthcare, infrastructure, commercial and industrial building and renewable energy. 
To assist customers in making informed decisions, Socomec offers transparent information about the environmental impact of its products on its website. This information is provided through eco-declarations called Product Environmental Profiles (PEP). These eco-declarations adhere to the international standard ISO 14025, and objectively and reliably assess the environmental performance of the products. PEPs integrate various environmental impacts throughout the life cycle of the product: material composition of the products, manufacturing, freight, energy consumption, and end of life.
In 2022, 57 percent of Socomec's turnover from manufactured product lines was covered by PEP. Socomec is committed to increase this each year to achieve 100 percent coverage of our new product ranges by 2030. 
How does Socomec ensure that manufacturing processes are environmentally friendly?
At Socomec, we are committed to reducing our environmental impact by adopting environmentally friendly manufacturing processes. We have implemented various measures to reduce energy consumption and water usage. We have also implemented a waste reduction programme, including segregation, recycling, and reuse.
We are pursuing the following targets: certify all our industrial sites with the environmental management system ISO 14001 by 2030, recover 80 percent of our industrial wastes by 2030 and optimise the energy performance of our buildings. Through ISO 14001 certification, SOCOMEC aims to maintain strong environmental governance and processes at its industrial sites, improve their environmental performance, and reduce environmental risks. 
The certified sites are audited annually; they must assess their environmental risks and implement a strategy to address them. The following themes include energy consumption optimisation, waste management, CO2 emissions reduction, etc.
How do you manage waste in the manufacturing process, and what measures have been taken to reduce the waste footprint?
 Socomec aims to control its waste and energy consumption:
The manufacturing sites do not discharge any liquid effluents except for sanitary wastewater.

Atmospheric emissions are minimal and do not exceed the regulatory limit values.

When purchasing new equipment, the technical services team analyses its environmental footprint (energy consumption, waste, etc.).
Concerning more specifically waste management, Socomec supports the circular economy and is therefore committed to:
Collecting and sorting waste and increasing its recovery rate.

Monitoring the waste from all the production sites, aiming to reduce them as much as possible.
Promoting the recovery of bio-waste from some of our company restaurants into energy and fertiliser with the help of local service providers.
Waste is sorted as soon as it is produced and is stored in specific containers before being removed. Specialised companies handle its transportation and treatment. Employees at the production sites have been aware of the need to sort waste and the associated storage rules for many years.  
Our target for 2030 is to recover 80 percent of industrial waste. 
Can you provide an example of a project where Socomec implemented sustainable manufacturing practices?
Socomec developed its eco-design policy to help our engineers design products that respect environmental regulations and are energy efficient.
One of Socomec's most successful sustainable manufacturing projects has been the development of our Green Power 2.0 solution, a UPS system that minimises energy consumption and cooling costs in VFI (Voltage and frequency independent) mode while providing the best Rupee/kW ratio through the Unity power factor. This UPS system excels in efficiency, flexibility and capacity management and employs an exclusive concept called 'Forever Young'. This concept, developed by Socomec, extends the life-cycle of the UPS, thus minimising electronic waste.
The development of the Green Power 2.0 solution is an example of our commitment to sustainable manufacturing practices. Our engineers and designers worked to develop a solution that is efficient and sustainable. By minimising energy consumption and cooling costs, the Green Power 2.0 solution reduces our customers' energy costs and improves their energy efficiency.
We take pride in the fact that the Green Power 2.0 solution has received recognition from industry experts for its exceptional performance and sustainability benefits. The solution has been recognised by industry publications and awards, such as the Frost & Sullivan for Industry-leading Innovation Award at the time of its introduction in the market. The success of the Green Power 2.0 solution is a result of our commitment to sustainable manufacturing practices. 
Power monitoring solutions are another key element in our portfolio. These solutions enable our customers to track energy usage in real time and identify areas where energy consumption is optimised. By identifying areas of inefficiency, customers can optimise their energy usage and reduce waste, resulting in significant cost savings over time.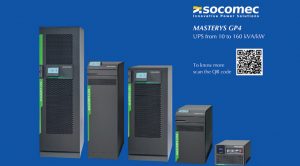 How does Socomec incorporate sustainable manufacturing into its product development process?
Our environmental policy encompasses our comprehensive approach to eco-design. We firmly uphold our commitment to minimising the environmental impact of our products through the implementation of the following measures:
Emphasising design and development projects that continuously enhance the energy efficiency of our products.

Extending the lifespan of our products by incorporating robustness and preventive maintenance practices, thereby reducing failures and prolonging the lifespan of critical components.

Integrating the principles of the circular economy into the design of our new products and services, ensuring resource efficiency and waste reduction throughout their life cycle.

Prioritising utilization of sustainable materials that align with our applications' required safety and performance standards.
Also, the Group designs its new products in compliance with international regulations on limiting hazardous substances. Socomec prioritises materials and components that do not contain substances of profound concern, particularly under the REACH regulations (Registration, Evaluation, Authorisation and Restriction of Chemicals).
Our approach to sustainable manufacturing is a core part of our commitment to being a responsible business.
How were the challenges addressed by Socomec while implementing sustainable manufacturing practices?
One of the biggest challenges is balancing regulatory requirements and environmental standards with the primary needs of our customers. We aim to anticipate our customers' needs by providing safe, cost-effective, and environmentally friendly products. To achieve this, we focus on eco-design and continuously increase the proportion of eco-designed products in our portfolio.
We are also preparing for the inclusion of eco-design in the framework of our ISO 14001 certification. This will ensure that we maintain the highest environmental management standards and continue improving our products' sustainability performance. Another challenge we face is ensuring that our products limit the use of hazardous substances and are recyclable with minimal environmental impact. We conduct life cycle assessments to address this challenge to identify opportunities to improve our products' environmental performance.
As highlighted previously, we also provide our customers with reliable information regarding the environmental performance of our products through Product Environmental Profiles (PEPs). These profiles describe the characteristics and environmental impacts of our products, assuring our customers that our products adhere to the highest environmental standards.
How does Socomec plan to improve sustainable manufacturing practices further?
In 2023, Socomec was awarded the EcoVadis gold certificate, which recognises the company's commitment to sustainability and responsible business practices. The EcoVadis certification is one of the most respected ratings in terms of CSR. It evaluates companies' performance in four key areas: environment, labour practices, ethical business practices, and sustainable procurement.
Our primary focus is innovation, eco-design, and minimising greenhouse gas emissions. In 2022, Socomec conducted a comprehensive analysis of the carbon footprint across the entire Group, using data from 2021 and encompassing scopes 1 to 3 emissions. As we progress into 2023, we are actively developing our low-carbon strategy. The findings from our carbon footprint analysis play a crucial role in identifying specific actions and targets to reduce our emissions and align with the goals of the Paris Agreement. By the end of 2023, we aim to establish a well-defined low-carbon strategy with clear targets and action plans. Our focus will be on addressing the most significant emission sources, ultimately leading to a reduction in the gas emissions associated with our manufacturing processes. Our ongoing efforts aim to contribute to a more sustainable future for all.