Automate for global competitiveness
July 31, 2023 2:44 pm
Sangeet Kumar, CEO and Co-Founder of Addverb, highlights that incorporating advanced technologies like AI, ML, and IIoT enables manufacturers to collect real-time data, make data-driven decisions, and optimise their production processes.
How have smart automation technologies influenced industries and the nature of jobs for employees?
Smart automation technologies have indeed brought about a transformative shift in industrial operations. The smooth integration of state-of-the-art technologies like Artificial Intelligence (AI), Machine Learning (ML), Industrial Internet of Things (IIoT), and 5G has promoted efficiency, accuracy, and profitability across diverse industries. Additionally, these advancements have played a pivotal role in transforming the nature of jobs for employees. 
Here are some ways in which these smart automation technologies help improve production efficiencies:
· Increased efficiency and productivity: Automated systems offer quicker and more precise task execution than manual labour. This increases efficiency for picking, packing, sorting, and managing inventory. By minimising the requirement for human involvement in repetitive tasks, these systems enable workers to concentrate on more intricate and strategic aspects of warehouse operations, ultimately leading to increased overall productivity.
· Higher accuracy: Incorporating automation into operations decreases the likelihood of errors in tasks such as order picking and inventory tracking, resulting in enhanced accuracy and fewer order fulfilment mistakes. 
· Optimal space utilisation: Automated storage and retrieval systems (AS/RS) and robotic systems efficiently utilise warehouse space by optimising vertical storage, thereby maximising the storage capacity and enhancing space utilisation.
· Faster order fulfilment: Implementing automation accelerates order processing and fulfilment, leading to faster delivery times and heightened customer satisfaction.
· Real-time tracking and monitoring: Automation systems provide up-to-date data on inventory levels, order statuses, and operational performance, facilitating well-informed decision-making and proactive management practices.
How are advanced technologies like AI, IoT, Robotics, and Big Data Analytics contributing to the transformation of the manufacturing landscape in India?
The manufacturing landscape in India is experiencing a notable shift with the emergence of smart automation trends. Indian manufacturers are adopting advanced technologies like AI, IoT, Robotics, and Big Data Analytics, significantly enhancing productivity and operational efficiency.
By integrating AI and IoT, manufacturers can gather and analyse real-time data. This empowers them to make data-driven decisions and optimise production processes. Smart automation systems with predictive maintenance help minimise downtime and improve equipment health monitoring.
The implementation of these technologies has brought about increased efficiency and accuracy in the warehousing process. Material handling processes are streamlined through AS/RS, Autonomous Mobile Robots (AMRs), and smart conveyors. AI-powered algorithms optimise inventory management and order fulfilment, reducing operational costs and improving efficiencies.
The supply chain has also seen considerable development, focusing on smart factories characterised by interconnected machines and systems. This transformation has made the manufacturing sector in India more agile and competitive on the global stage. Embracing these smart automation advancements, the Indian manufacturing sector is set to enhance its competitiveness, productivity, and overall growth in the industry 4.0 and 5.0 era.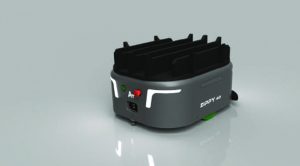 What are the key technologies driving digital transformation and smart automation in manufacturing?
In the realm of smart automation for production processes, several key technologies are pivotal in driving digital transformation within the manufacturing industry. These technologies intertwine to enhance efficiency, productivity, and overall operational excellence. For instance, IoT forms the foundation of smart automation, enabling the interconnection of devices, sensors, and machinery along the production line. Manufacturers can gain valuable insights into equipment performance, predictive maintenance needs, and opportunities to optimise resource allocation through real-time data collection and analysis.
Manufacturers can harness the power of Artificial Intelligence to utilise advanced analytics and machine learning algorithms. Integrating AI into production processes can improve predictive maintenance, quality control, and demand forecasting, thus reducing downtime and waste.
The manufacturing industry generates vast amounts of data daily. Big data analytics enables organisations to process and analyse this data, leading to data-driven decision-making, continuous improvement, and identifying areas for process optimisation. Integrating robotics and automation optimises repetitive tasks, guaranteeing precision and efficiency in manufacturing processes. As a result, the potential for errors is minimised, while human workers can dedicate their attention to more intricate and innovative tasks.
Furthermore, cloud-based solutions enable smooth data storage, collaboration, and accessibility. Manufacturers can remotely monitor and control production processes, facilitating real-time adjustments and enhancing flexibility.
How has implementing AI-powered algorithms transformed defect detection in manufacturing, and what are its advantages?
Implementing AI-powered algorithms has brought about a transformative impact on defect detection in manufacturing, leading to significant improvements in production facility efficiency. These algorithms can swiftly and accurately identify defects by utilising artificial intelligence and advanced image processing techniques, providing various advantages that enhance overall productivity.
One key advantage of AI-powered defect detection lies in its unparalleled precision during the inspection process. Unlike traditional human-based methods prone to errors and subjectivity, AI algorithms can analyse vast amounts of data and detect even the most subtle defects precisely. This leads to a remarkable reduction in defective products reaching consumers, resulting in high customer satisfaction and reduced waste.
Additionally, the speed at which AI-powered algorithms can inspect products is a game-changer for manufacturing facilities. With real-time or near-real-time defect detection, swift action can be taken in response to any anomalies detected during production. Early detection and addressing defects help manufacturers avoid costly rework, minimise downtime, and maintain seamless production flows.
In manufacturing facilities, AI-powered algorithms have become crucial for efficient defect detection. Their accuracy, speed, and capacity to drive data-driven improvements make them indispensable tools for optimising productivity, reducing costs, and delivering high-quality products.
Can you provide examples of the implementation of smart automation in improving production efficiencies?
Addverb has implemented automated warehouses for numerous internationally recognised companies in different sectors, including retail, FMCG, automotive, oil and gas, petroleum, healthcare, and more. They have successfully transformed these companies' warehousing operations through their inventive intralogistics solutions. Here are some cases where Addverb has revolutionised companies' warehousing processes with innovative intralogistics solutions.
AIIMS case study – Healthcare Industry: Technology has permeated all levels, leaving no area untouched. Despite the challenges brought about by Covid-19, researchers from IIT Delhi collaborated with Addverb to create a telerobotic ultrasound system over 7-8 months. This innovative technology allows radiologists to control the ultrasound probe from a safe distance, reducing the risk of virus exposure. Patient images are transmitted via WiFi to the doctor's monitors, enabling remote diagnosis. The telerobotic ultrasound prioritises medical professionals' safety while enhancing efficiency and offering potential applications beyond the pandemic. This smart automation solution in the medical industry is revolutionising processes.
Marico case study – FMCG Industry: Marico Limited, a prominent consumer goods company in India, successfully implemented an intralogistics automation solution to manage a production increase of 60,000KL pa in their warehouse. This innovative approach resulted in an impressive 80 percent reduction in space utilisation compared to conventional block storage methods. By adopting a Goods-to-Person automation system, incorporating crane-based ASRS and mother-child warehouse shuttle, they achieved an outstanding overall throughput of 144 pallets per hour. The integration with SAP EWM was seamless, streamlining maintenance and troubleshooting procedures. Addverb's dedicated customer support ensured smooth operations and provided the flexibility to scale up the system for future enhancements, establishing it as Marico's most advanced automated facility in India.
Ajio case study – Retail Industry: Ajio, a prominent online fashion retailer, achieved streamlined returns processing and improved operational efficiency by successfully implementing Addverb's automated sorting and material handling system. The innovative two-level Zippy sortation system, comprising 40 Zippy robots and four infeed stations, enabled a throughput of 2,000 parcels per hour, with the potential to scale up to 3,000 parcels per hour. The integration of Rapido and Pick-to-Light systems further boosted accuracy and productivity. This automated solution brought about significant enhancements in returns management, optimising space utilisation, and ensuring high customer satisfaction.