We have an edge in special-purpose machines for tailored components
July 31, 2023 2:41 pm
T.K. Chakrabarti, Vice President of Lokesh Machines Ltd., Emphasises that their mission is centred around excelling in manufacturing and providing machining services to deliver high-quality and highly reliable products.
How can Indian machine tool builders achieve self-sufficiency and reduce reliance on imported tools and components?
The machine tool industry's potential can be assessed through various means, such as studying consumption patterns, export and import turnovers. This information can be gathered from electronic media, seminars, and events like MTB exhibitions. With over 40 years of experience in machine tool sales and service, we are proud to be associated with and supply machines to multiple industries, fostering mutually beneficial relationships.
A major concern is the consistent reliance of Indian industries on imported machine tools. However, Now our CNC machines can manufacture critical components for sectors like automobiles, aerospace, medical, defence, and general engineering. There is not much of a technology gap between 2-axis and 3+2-axis machines of Indian and imported manufacturers. To become self-sufficient under the 'Atmanirbhar Bharat' campaign, Indian machine tool builders should prioritise bridging this gap by reducing dependence on imported CNC systems and vital parts and taking the initiative to produce them domestically to bridge the gap from 3+2 to 5 axis and more control which is now days challenge.   Indian machine tool builders must focus on bridging this gap and becoming self-sufficient with the 'Atmanirbhar Bharat' campaign. This can be achieved by reducing dependence on imported items, mainly  CNC systems and vital parts for CNC machines and taking the initiative to produce them domestically.
Another main points is reliable automation and robotics applications which is important in overall technology upgradation.
What are the core business divisions of Lokesh Machines?
Founded in 1985 by Managing Director Lokeshwar Rao, Lokesh Machines Ltd (LML) operates with three core business divisions: Auto Components Division, General Purpose Machining Division, and Special Purpose Machines Division. The latter two divisions play a significant role in the machine tool industry, serving clients worldwide in the automotive OEM, auto ancillary, and general engineering sectors.
LML has established itself as a standout machine tool company, earning a prestigious reputation as one of the leading brands in the global market. Being associated with this group fills me with pride, and it offers an excellent opportunity to share knowledge with the board of directors Mr MSri Krishna oversees the Machine Tools division, while Mr M.Srinivas, as the Director, manages totally other divisions, including those focused on small arms and aerospace. Each division contributes to society's betterment and enhances India's reputation on the global stage.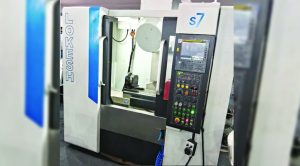 What strategies does it employ to ensure high-quality production and sturdiness in CNC lathe machines?
As a machine tool company with four decades of experience, it has earned a reputation for excellence and are users of our machines. Our expertise in research and development allows us to continuously improve machines, ensuring maintenance-free production even in small job shops without compromising quality. We prefer to focus on one model for each size, whether a turning or machining centre.
Our main goal is to use the highest quality parts sourced from the best suppliers, ranging from spindle bearings and ball screws to LM guides, hydraulic systems, and built-in AC and electrical components. We prioritise rigidity in designs and machine beds, contributing to the overall sturdiness of our CNC lathe machines.
Throughout the 40-year journey, the company has consistently invested in new state-of-the-art machines from the world's best manufacturers. This approach enables producing exact special-purpose machines tailored to specific components. Moreover, the dedication to quality has positively impacted our General Purpose Machines division, which now manufactures world-class machines that are supplied globally.
How do Lokesh Special Purpose Machines (SPMs) cater to the automotive industry's specific needs?
Lokesh Special Purpose Machines (SPMs) primarily serve the automotive industry and are custom-built to meet the specific requirements of our clients. Each machine undergoes rigorous testing, with a process capability of >1.67, demonstrating the commitment to building machines that adhere to international standards.
Our range of SPMs includes various types, such as simplex and duplex milling machines, multi-drilling machines, gun drilling machines, fine boring machines, and mini transfer lines. Machines have become the preferred choice for cam and crank borers, as well as piston cylinder boring machines. Notably, we are the only Indian company among a select few global companies that have manufactured machines for a Euro 6 engine platform.
Which markets and industries have shown a notable increase in demand for your machine tools and special-purpose machines?
Mr M. Sri Krishna, the Director, is solely responsible for overseeing export sales. The company has experienced significant growth, particularly in markets like Japan, Germany, Netherlands, Italy, Turkey, China, and the Middle East. Notably, we have supplied Horizontal Ram Type Boring Machines to FPT Italy, and our exports to Italy now include a wide range of CNC lathes with Y-axis capability. Additionally, we have supplied VMCs to Howa Machinery in Japan, Satno in Russia, and various SPMs to the Middle East and China.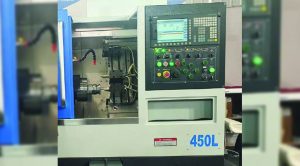 What is your commitment to sustainability and initiatives to minimise environmental impact?
We aim to be the foremost manufacturer of top-quality, component-specific machines, benefitting from the expertise of R&D and SPM divisions. To ensure swift deliveries, substantial investments have been made in established new plants, thus enabling it to provide any GPM within 2-3 months.
Our commitment to the environment is equally significant. Operator safety is paramount, particularly concerning gas and coolant emissions from our machines. With extensive experience in addressing various shop floor issues across industries, we have observed that the machine's interior environment, with its larger space during machining, can impact operator safety. Our engineers consistently focus on enhancing operator safety by addressing this aspect.
To bolster operator safety, our machines are equipped with bulletproof glass and extra iron cages. Additionally, all machines come with features like coolant and lubrication separators. Many machines are dispatched with the CE mark, signifying compliance with stringent safety standards. The preventive measures taken, such as using grease pack lubricants and covering belts and movable parts, avoid any dangerous component seepage that may pose risks to operators. Our hydraulics power pack with a chiller unit further ensures safety and reliability.
How do you prioritise innovation and cost-effective solutions in manufacturing and machining services?
Our mission is centred around excelling in manufacturing and providing machining services to deliver high-quality and highly reliable products. Through innovation, the aim is to understand the specific requirements of components and offer cost-effective solutions to customers.
For instance, a customer previously used expensive machines for critical auto component finishing. However, they were replaced with more affordable LML machines, reducing the price by half. This led to repeat orders and zero rejections, significantly improving their shop floor operations.
Furthermore, we continuously innovate to meet unique challenges, like handling a job with a 1200 mm swing over and accomplishing a small bore. The commitment to innovation resulted in supplying many machines to Europe, earning the trust of customers who recognise our capabilities and rely on us repeatedly.