Know more about Cloos robotics welding solutions
October 31, 2022 5:05 pm
Modern welding technologies increase the quality, productivity and efficiency of the complete production process.
Modern welding processes developed by CLOOS
CLOOS presented innovative welding technology for manual and automated welding. As a pioneer of welding technology and with an extensive range of proven and innovative processes for manual and automated welding applications, we at Cloos can offer solutions for the future, providing excellent quality, maximum efficiency and productivity– and thus fit for future production. The selection of the proper welding process is essential for a successful production. Cloos has developed its sensor called 'laser sensor technology for adaptive welding'. This sensor (Offline & Online) system can automatically adjust the weld parameters to changes in the joint geometry.
Robotic welding: best for industrial and manufacturing industries 
The demands on productivity, repeatability and quality are continuously increasing in industrial production. Cloos QIROX comprises all solutions for automated welding. Due to its modular design, the QIROX system allows scalable solutions that perfectly match your production requirements. The QIROX system for automatic welding includes the robot technology, positioners, safety technology, software, sensors and the interface to the process technology. It is completed by an extensive range of options and complementary services.
Increased Productivity
Cloos robotic welding solution can operate continuously, maintaining the same speed, rate, and weld paths over and over. Yields can increase as you batch the welding process. Instead of having welders work 8 or 12 hours, have the automated welding setup with a robotic welder work through the later hours for a batch of welds. This can be achieved when a system is in place to move parts through with repeatable part placements and routines set for the robotic welder. This streamlines your production process, allowing for increased production. Automating some processes will reduce product delivery time and become more competitive.
High-Quality Welds Many industries are moving toward automation to focus on more technical or complex tasks. Cloos provided them with a customised solution through its All from a single source facility. Superior quality and technological know-how "Made in Germany" can be relied on. 
Using a robot to automate your welds allows them to be consistent. It can take a project with many repetitive welds and batch them into a whole automated weld process through a welding cell. A robotic welding cell, also called the robotic welding unit, comprises several components that work together to complete a welded structure. Such control and repetition can be done on pre planned programming that operates the robotic welding system.
Efficiency and flexibility
 Reprogram the robot to do different welds each time a project is completed so that you don't have to continue reprogramming. Once you complete a batch process, replan, set up your system, and modify the program to weld for a different project. The welding team can focus on higher-level challenges while robotic welders work on the more dangerous and/or repetitive tasks. Cloos also developed Roboscan; if you wish to weld the most petite batch sizes efficiently and automated? Efficient welding of small batch sizes – without programming effort. Thanks to the CLOOS innovation enables efficient welding automatically today.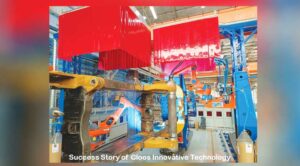 Cloos robotics welding solutions for accuracy, durability and high-quality production 
As a pioneer in welding technology, CLOOS is continually rethinking what we can do better in terms of welding technology and automation and have aligned these thoughts to the needs of our customers. Our success has proven us valid. CLOOS India completed welding 10mtr long and 20T Mainframes of Mining trucks with 103 years of experience in welding Technology. Cloos innovative technologies, like the 7th axis Qirox robot, tandem weld, laser sensor technology for adaptive welding, and automatic tool changer, have been used to achieve this success.
Decreasing operating costs by reducing waste and rework 
Filler material and weld wire are used more economically and wastefully, with robotic welding reducing the overall cost of producing a product. Over-welding will be a thing of the past. Robots will use precisely what it is programmed to operate in terms of fill rate and welding speed. It will stay within specifications, prevent over-welding, and, therefore, waste resources.
Safety
 The capital expenses include the equipment, testing, and training of your welding team to operate the robotic system. You'll need to plan out how you will automate the welding process. Consider analysing the current welding production operating costs and whether your existing equipment is compatible with the robotic system. This all ties into safety, and not having safety measures has a significant expense. Cloos, based in Haiger (Hesse), is a leading welding technology company. In its large, automated robot welding systems, CLOOS uses ROBA®-topstop® safety brakes by mayr® power transmission to safeguard its gravity loaded axes. These brakes are designed for application in all installation positions and provide reliable protection for people and materials.