Privatisation in the defence sector opened immense opportunities for SMEs
October 31, 2022 5:03 pm
Digitisation and automation to be more focussed as that is the world's future. Technology like AI, ANN, and IoT have been adopted to make the aerospace and defence industry future-ready.
The latest metal forming and cutting solutions market is gradually attempting to accept technologies like industry 4.0 and IoT. Software being the brain in a machine, companies are switching to the most advanced solutions to ensure that productivity increases multi-fold. Without requiring human intervention while processing the material or laser, the intuitive nesting software of these machines enables easy nesting. The most intriguing aspect of our machines is material engineering since it informs us in advance about the material's qualities and the steps to process it. To ensure everything is at safest distance, tip touch disables the machine if anything is sensed near the laser. Even though laser cutting is a very productive method, adding automated software though laser cutting makes it even more effective. You can acquire operational and performance insights using AI and the automation-enabled system, which assists in enhancing productivity while converting industries into smart factories.
Reforms initiative to promote self reliance in defence manufacturing 
Today, the Indian Defence and aerospace industry are ahead of where it was, and many more transformations are on the way. The initiative to make India self-reliant; has uplifted the Indian industries manifold. To inspire and enhance productivity in terms of outbreaking innovations and reformative systems, initiating and encouraging corporate and institutional tie-ups will help develop new solutions at the same time increasing the skills of the younger generation. To implement the necessary reforms, the government is currently focusing on building infrastructure and industrial facilities for the defence and aerospace sectors. In addition, young companies, startups, and emerging generations must be inspired to move forward for the fascinating future.
The government's projects for making defence manufacturing corridors and implementing guidelines to uplift the manufacturing industries are helping a lot. One such initiative is to build the necessary equipment in India. If imports are required, the companies must ensure that the investments are in India. Introducing privatisation in the defence sector is one of the emerging trends we have witnessed in recent times that will help gain more efficiency and manufacture autonomous systems. This has enabled us as a nation to take a new stand and strengthen our armed forces with the best solutions to their daily need for protecting everyone.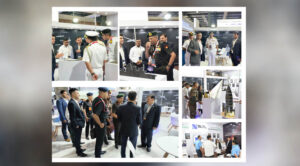 Mass production using digital sheet metal forming technology 
As businesses spend to fulfil rising capacity demands for an expanding economy, a noticeable trend is the large percentage of new lasers that are automated. With the digitisation and integration of the most cutting edge technologies, laser technology is revolutionising and making the aerospace and automotive sectors future-ready. A lighter, more fuel efficient automobile with fewer emissions is created using lasers. 
Flight vehicles are being produced quickly and at a low-cost owing to laser-based manufacturing techniques. Our team works round the clock to be ahead of time with futureready solutions. Laser experts have developed new laser systems that produce safer and better equipment domestically. We have used Fiber Laser Cutting Technology to create a futuristic system with the multiple-axis movement for precise cutting and welding of the complex forms and angles of aeronautical vehicles and automotive components. Additionally, the technocrats have created domestic EMI/EMC shielding and testing methods for aerospace and automotive equipment.
SLTL- the world's first manufacturer of Fiber Laser Cutting systems- has developed a technologically advanced system with an all-new upgraded software integrated with IoT tailored to the industry's unique demands. IoT-integrated software ensures that the production of aircraft, UAVs, EVs, cars, and all other vehicles is constantly monitored. It can provide detailed reports of the manufacturing process about the machine's working stage, functioning status, idle time, and all other specifications. Then, a cloud server saves these reports by digitally archiving them to be accessible whenever needed.
Developments in laser machines
The propensity to automate is influenced by a complex matrix of circumstances rather than a single cause. Modern laser-cutting equipment is highly automated and minimally human-intensive. Robotics and automation are the most recent developments in laser machine technology because of their notable effects on boosting production. With the development of laser technologies, factories are getting smarter, and automation is assisting in this by lowering working hours and eliminating access stages. Lasers are responsible for the accuracy of metal processing, and their integration with automation is bringing in the much needed revolution. Technological advancements in software and overall machine integration with advanced technologies are also evolving. SLTL Group has equipped innovative laser cutting machines with industry 4.0 and IoT, and these systems are mostly automated to meet customer needs. By leveraging advanced technologies, we ensure that human errors are nullified, wastage is minimised, and efficiency & top quality become synonymous with SLTL solutions. We also developed an automated loading-unloading solution for 2D and Tube Cutting processes to enhance productivity while focusing on the finest cut quality. Equipping super-fast laser cutting machines with robotics allows them to work on 3D cutting applications with faster speed and more efficient quality in less time and at a reasonable cost.
Automation impact metal forming and cutting processes 
The Indian manufacturing industry is developing over time and realising the importance of integrating cutting edge technology into systems. The procedures for forming and cutting metal are currently on the verge of adopting robots and automation as the new normal. Robotisation and automation aid in advancing the manufacturing sector and creating solutions that are prepared for the future – thanks to possibilities like pick-and-place, loading-and unloading, multi-axes processing, and other automation. By providing the highest quality output in less time and human intervention, these advancements increase reliability of laser equipment in terms of material processing. 
With the in-house R&D efforts, our laser experts understand the role of technology in the business landscape, and smart manufacturing is the next normal. Keeping it in mind, we have made this Robotic system with feasibility to 3, 5, and 7-axis movement laser head for precise and accurate processing. And also supplied a robotic automation solution with the feasibility to perform laser cutting and laser welding applications in a single system. We have created and developed robotic systems for various applications with a primary focus on lowering application time and achieving higher-quality output with less gas consumption. The speciality of this system gives the flexibility to process any simple to complex components with precision for accurate cut quality and seamlessly strong welding joints.
Laser-based manufacturing processes in aerospace sector 
Since 1947, India has been way ahead in its journey, and we have come a long way in Aerospace and Defence sector. The commendable efforts by everyone are taking the nation to a superpower. Being upfront in terms of building an ecosystem for the aerospace and defence industries by collaborating on unique products and technologies will help improvise the Indian markets. More focus must be given to digitisation and automation as that is the world's future. Technology like AI, ANN, and IoT have been adopted to make the industry future-ready. Lasers are already working wonders for sectors, and using laser technology helps achieve the desired quality and, at the same time, eliminates material wastage with proper nesting before processing. These solutions can process the materials most finely, meeting the strict norms levied for security purposes. Currently, our lasers are being used in industries for creating various navy, army, and airforce solutions, and not just this, laser-directed energy weapons are also being acknowledged more owing to their precision and unmatched processing. We have developed a solution that can cut parts up to 360 degrees and nonstandard materials and angles, resulting in a Laser System that is versatile enough to work on various sizes and forms for applications such as Automobile sheet metal components. Its 3D processing and robotic design also ensure the cutting head's flexibility, allowing for a greater processing area.
SLTL penetration in defence sector 
SLTL Group is a technology-driven company dedicated to providing indigenous solutions for Aerospace and Defence companies around the globe. For years, we successfully introduced ground-breaking Make in India products and advancements in response complex needs of the industry.The teams of experts at SLTL have been working on empowering electromagnetic since 1989 with complete solutions from Acoustic to Photonics to Stealth for Defence and Aerospace. The DSIR-approved, in-house R&D facility helps SLTL Group run ahead of time with futuristic solutions meeting the strict parameters of Defence & Space. SLTL meets the demands of many sectors by utilising a diverse spectrum of lasers for various applications. Our Laser and RF & Microwave products for varied applications for the aerospace and defence sector, including systems for Electromagnetic warfare (EW), surface treatment, laser applications, radar, frequency guiding applications, etc., have been a mainstay of the industry. We are working on providing solutions from Photonics to optomechanical components to solutions for defending, security, and attack for creating an ecosystem for the defence and aerospace industry. Today we offer solutions to various applications in the aerospace & defence industries with products involving; Directed Energy Deposition, Radome, Shield, Absorbers, Stealth, Camouflage, Direct energy weapons, Anechoic Structure, etc.; covering the RF & Microwave Industries. SLTL Group also provides laser cutting, marking, welding, hardening, annealing and cleaning solutions as per requirements of the aerospace and defence industry.
For more information, visit : http://www.sltl.com/