Technology integration for absolute human-machine harmony
December 2, 2022 11:28 am
Vision-guided robots, autonomous intelligent vehicles, mobile robots and cobots have been gaining acceptance and helping create an intelligent manufacturing environment.
Smart factories in the current scenario
A smart factory is a connected set-up showcasing harmony between people and machines. This is realised through various industrial automation elements based on technologies like artificial intelligence, industry 4.0 etc. These all strive to meet the ever-increasing demand for products with better quality, cost and delivery produced with higher energy efficiency. This includes high-speed, high-precision industrial robots to increase productivity in the designated tasks. The autonomous robots bring flexibility on the same shop floor via moving material in and out of the factory with natural feature-based navigation. In the resulting scenario, cobots are working with humans, sensors facilitating zero breakdown & predictive maintenance and safety sensors enabling safe human-machine interactions. AI controllers, vision systems, scanners and tagging devices are all connected through the IoT platform. They collectively get data and send it back to the cloud, thus making this whole manufacturing facility smart.
Industry 5.0 in the context of human and machine harmony
The current manufacturing world is dynamic, diversified, and complex. Considering the current adoption levels of Industry 4.0-based solutions, the transition to Industry 5.0 might take longer than expected. OMRON believes in its unique automation capabilities based on human-machine harmony. And with such ability, it will contribute towards creating sustainable and innovative factories coexisting with the environment and well-being of people over the next ten years.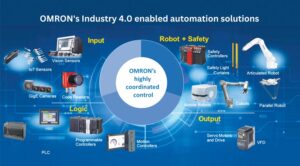 Digitisation and robotics for efficient manufacturing
With the rapid advent of digitisation as a part of Industry 4.0, the sector has been showing advancements around varied applications. This facilitates the manufacturers to achieve the best out of design & energy optimisation highest asset utilisation. Industry 4.0 also helps to achieve big data & analytics (connected supply chains and shop floors), worker and machine safety and zero-defect production. One of the notable applications that digitisation has brought in is the Total Traceability solution. It renders the ability to trace & verify the history, location, or application of an item using documented recorded identification. With a close interface with IIoT, this solution holds a lot of significance for industries where assembling multiple complex components needs constant checking at every step, and product recalls are often encountered.
Talking about robotics, there has been a shift from 'hard-tooled robotic cell' to 'flexible integrated cell' and from 'Hard-Coded conventional AGV with limited Flexibility' to 'Flexible AIV Autonomous Navigation' owing to digitisation. Vision-guided robots, autonomous intelligent vehicles, mobile robots and cobots have been gaining acceptance. They have been helping create an intelligent manufacturing environment where humans and machines work in perfect tandem. Using digital twins to optimise production continuously can be very useful for simulating exigencies and thus acting as test beds for implementing new ideas. Here, data holds immeasurable potential for simulating exigencies in a digital twin environment.
Evaluating the integration of AI and machine learning in manufacturing
Integration is needed to bring in the best of human-machine harmony. The last few years have been manifesting many notable things that indicate the manufacturing world's transformation. With glocalisation replacing globalisation, mass customisation is getting side-tracked with personalised manufacturing mandates. With climate changes and an unprecedented situation like Covid, consumption orientation is getting replaced with sustenance orientation. Also, post-pandemic, the makers are now pondering over social needs, more than ever, rather than only industry and production-based needs. All this demands the I4.0-based data-driven systems to do more and fetch more sustainable results by transitioning to knowledge-driven systems. Hence, there is a need to do more, which can be achieved when we integrate AI and machine learning to achieve harmony at all levels: human-human, human-machine, machine-machine and vice versa.