Skill development leads to better efficiency and sustainability
June 12, 2023 10:59 am
Sangeet Kumar, CEO and Co-founder, Addverb emphasises the skilled personnel can effectively identify and address quality issues, thereby mitigating waste associated with returned or faulty products.
What automation solutions and advanced technologies are available for factories and warehouses?
Addverb offers many automation solutions and has created a unique value with its extensive product portfolio, including mobile robots, ASRS, picking technologies and warehouse management software. Addverb offers a comprehensive range of solutions and products tailored for factories and warehouses. Cruiser, our state-of-the-art pallet shuttle robot, is equipped with electronic components that enable vertical space utilisation and facilitate First-In-First-Out (FIFO) and Last-In-First-Out (LIFO) functions to ensure safe and faster movement of pallet loads. Dynamo, a robust autonomous mobile robot powered by natural navigation, enables efficient and smooth material movement of loads up to 1500 kgs. Quadron, is a versatile carton shuttle robot with a load capacity of 30 kg that enables fast picking, assists in sorting, order fulfilment and drives storage through the roof. Zippy, performs 100-order SKU-level sorting with a speed of 30,000 sorts per hour; our high-speed sorting robot, 
Rapido: Enabled with our proprietary electronic hardware and internal software, Pick-To-Light, Rapido enables fast ordering, best-in-class picking speed and excellent productivity. Based on voice-activated picking technology powered by indigenously developed electronic hardware, Zesty provides smart warehouses with paperless and hands-free order picking and fulfilment solutions, improving accuracy and productivity. And our shuttle-based ASRS system for multi-depth pallet storage, Multi-Pro, can handle the increased inventory demands associated with intensive storage and material handling. It can efficiently handle a load capacity of up to 1000 kg.
Addverb specialises in offering customised robotic and automation solutions designed for factories and warehouses. The company's primary focus is on automating labor-intensive activities associated with the storage and movement of goods within controlled environments. To accomplish this goal, Addverb incorporates advanced technologies such as artificial intelligence, machine learning, automatic storage and retrieval systems (ASRS), shuttles, and IoT. Additionally, they develop their own software solutions to enhance the efficiency and precision of warehousing and manufacturing operations.
How have automation, IIoT and other enhanced to enhancing manufacturers' performance?
In modern times, the advent of groundbreaking technologies like Automation, the Industrial Internet of Things (IIoT), Augmented Reality (AR), and Virtual Reality (VR) has brought about substantial enhancements in manufacturers' operations. These cutting-edge technologies have continued to revolutionise the manufacturing industry, offering a range of benefits and impacts in the following areas: These advanced technologies continue to impact manufacturers in the following areas-
Increased efficiency and productivity: Utilising Automation technologies such as robots, robotic process automation (RPA) and machine learning algorithms capable of performing tedious and complex tasks faster and accurately, manufacturers can expedite their production. This reduces the time and costs associated with the production process and increases efficiency and productivity.
Real-time monitoring and analytics: IIoT devices and sensors enable manufacturers to monitor and collect information on various manufacturing processes, such as temperature, humidity, and pressure. Real-time analysis of the data generated by IoT systems can identify the inefficiencies in production processes, leading to better-informed decision-making and optimisation of those processes. IIoT devices can monitor the health of devices and machines in real time and identify potential problems before they escalate into critical issues. This precautionary maintenance enables preventive measures, reduces downtime, and extends the life of the equipment.
Improved quality control: AR and VR technologies can also provide real-time information and guidance to workers, reducing errors and improving quality control. For instance, AR can provide workers step-by-step instructions for assembling a product. At the same time, VR can simulate production environments allowing workers to practice procedures before carrying them out in the real world, thereby reducing errors and enhancing quality. AR and VR technologies can train workers on safety measures and simulate potentially hazardous situations, reducing the risk of accidents. Additionally, automated technologies can perform dangerous tasks that would otherwise pose a risk to human workers.
The emergence of Automation, IIoT, AR, VR and other technologies have significantly boosted manufacturers' performance by increasing efficiency, productivity, quality control, predictive maintenance, and safety. These technologies are expected to evolve and improve further, improving manufacturers' performance in the years to come.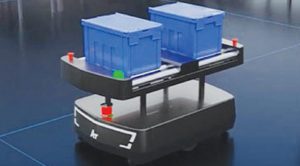 How do the latest advancements and your innovative solutions impact productivity and profitability?
The collaborative robots are designed to work safely with humans, sharing the same workspace. They are equipped with sensors and advanced algorithms to detect human presence and avoid collisions. Cobots enhance efficiency and safety in warehouse environments.
Artificial intelligence and machine learning are integrated into robotics and warehouse automation systems to improve efficiency and decision-making. These technologies can analyse large amounts of data to optimise inventory levels, predict demand, and enhance operational processes.
Vision systems, including cameras and sensors, are becoming increasingly crucial in warehouse automation. They are used for object recognition, tracking, and quality control. Machine vision algorithms enable robots to identify and handle objects accurately. Further, one key advancement is the integration of different automation technologies and systems within a warehouse. This integration allows for seamless communication and coordination between robots, conveyor systems, software, and other automated components.
What specific technologies have helped manufacturing units reduce waste and energy consumption?
Several technologies have helped manufacturing units curtail waste and energy consumption, including – 
Energy-efficient equipment

: Using energy-saving devices such as efficient motors and frequency converters can significantly reduce the energy consumption of production units.

Predictive maintenance: 

Preventive maintenance, with the aid of sensors and data analytics, can proactively identify potential equipment issues ahead of time, reducing downtime and preventing wasted energy.

Automation and robotics: 

The integration of automation and robotics in manufacturing processes can lead to reduced waste through improved quality control and optimised production processes. This can be achieved by minimising errors and eliminating unnecessary movements, resulting in energy conservation and reduced idle time.

Industrial Internet of Things (IIoT)

: Energy consumption and manufacturing process data can be gathered by IIoT devices and sensors. This information can be utilised to pinpoint locations where energy waste can be minimised.

Cloud computing

: Manufacturing companies can store and analyse voluminous data, enabling them to see trends and chances for energy savings.

Sustainable materials:

 Waste generation in industrial facilities can be considerably diminished using sustainable materials, such as recycled materials.

Green building practices:

 Adopting sustainable practices and green building techniques in manufacturing facilities can significantly reduce energy consumption. This can be achieved by using energy-efficient insulation and roofing materials and implementing other sustainable measures, such as installing renewable energy sources and integrating smart building technologies that optimise energy usage.
These progressive technologies could help manufacturing facilities use less energy and waste, leading to a more sustainable and effective manufacturing sector.
How can technology aid in optimising resource utilisation and reducing environmental impact?
Technology can aid in optimising resource utilisation and reducing environmental impact in several ways. Machine learning algorithms and Internet of Things (IoT) sensors can monitor resource use and pinpoint production areas where consumption might improve. Organisations can make data-driven informed decisions by using data analytics to find trends and patterns in resource utilisation. Robotic and automation technologies have the potential to optimise production processes, resulting in reduced waste and a lower environmental impact from manufacturing operations.
Energy use and greenhouse gas emissions can be significantly decreased using energy-efficient equipment, such as LED lighting and high-efficiency HVAC systems. Utilising renewable energy, such as solar and wind power, can dwindle the reliance on fossil fuels and reduce greenhouse gas emissions. Also, with sustainable materials, such as recycled and biodegradable materials, organisations can reduce waste and facilitate the negative impact production processes have on the ecosystem. 
Supply chain optimisation: The implementation of technology can lead to the streamlining of production processes, reduction of waste generation, and mitigation of transportation-related emissions. Water is a precious resource frequently squandered during production. Technology, including systems for recycling and reusing water, can lower water use and reduce the adverse effects of production on the environment.
The vigilant implementation of sustainable and advanced technology can help organisations monitor and analyse resource usage, adopt energy-efficient equipment, reduce waste, adopt renewable energy sources, use sustainable materials, improve supply chain management, and manage water usage. Organisations may diminish the adverse footprint they leave behind and build towards a lasting greener presence.
Do training and skill development contribute to sustainable manufacturing?
Upskilling and training can contribute significantly to a sustainable manufacturing process. Skilled people are bound to be more productive and spend less time and money manufacturing goods. Skilled people are also more likely to be cognizant of generating lesser waste and mindful of the industry's environmental impact. They can analyse issues and perform maintenance more effectively, reducing the downtime and waste brought on by equipment malfunctions. A skilled workforce is better equipped to run and maintain energy-efficient machinery, which lowers energy use and greenhouse gas emissions.
The skilled personnel can effectively identify and address quality issues, mitigating waste from returned or faulty products. They can spur innovation and spot new opportunities for environmentally friendly production techniques, being better equipped to recognise and control safety concerns and threats, which lowers the likelihood of accidents and waste generated as collateral damage. They play a crucial role in ensuring the longevity and effectiveness of industrial processes by exhibiting greater adaptability to changes in technology and procedures.
Training and skill development play a vital role in achieving sustainable manufacturing. Investing in employee skills can enhance productivity, reduce waste, improve quality control, foster innovation, ensure safety, and maintain adaptability over time. This increases efficiency and sustainability in the industrial sector, benefiting businesses and the environment.
How does Addverb practice sustainable operations and environmental protection? 
Addverb, a trailblazer providing robotics and automation solutions, has implemented several measures to promote sustainability and reduce its environmental imprint. The company's Bot-Valley facility in Noida has a water harvesting capacity of 235 kl and has collected 19,29,032 litres of rainwater in the recent financial year. Owing to such positive numbers in water harvesting, the water-positive percentage of the plant has reached a 54.74 percent. This facility also aims to maintain a cleaning capacity of 10,000kl. Addverb has implemented several initiatives to mitigate its carbon footprint and measures aimed at conserving water. The plant uses solar energy to produce 29,981 kWh of electricity per month, which prevents the emission of 32 tons of carbon dioxide per month. 
The company's facilities adhere to environmentally responsible practices for disposing of electrical and biomedical waste, and certified vendors dispose of all waste. The company has also achieved carbon neutrality by offsetting its emissions with renewable energy sources. Addverb's use of lithium-ion phosphate and lithium titanate batteries in its products has also contributed to sustainability efforts. The batteries have a longer service life, require less maintenance, and have a higher energy density than traditional lead-acid batteries. They also do not produce hydrogen gas, making them safer to use and transport. 
Addverb demonstrates its commitment to sustainable operations and environmental protection with these initiatives. The company's efforts show how imperative it is to take proactive steps to promote the sustainable development of the manufacturing industry.