Phillips Education partnerships and CoE setups extend beyond India
September 7, 2023 5:59 pm
In response to the significant demand for Skill Development in Advanced Manufacturing, Phillips Education introduced its Centers of Excellence (CoE) program to offer a comprehensive solution to its partners.
Throughout history, the manufacturing industry has been crucial in driving progress, fostering innovation, and creating wealth for societies, starting from the iron-age era. However, the modern global manufacturing sector faces a significant challenge in the form of a severe shortage of skilled workers, which hampers its capacity to meet growing demands. Despite its vast population of 1.4 billion people, India needs help to secure a stable and well-trained workforce for its manufacturing sector. The issue arises as more individuals migrate to Tier 1 cities and prefer more lucrative fields such as Finance, back office functions, and IT supposedly.
With a GDP of $3.75 trillion, India has become the world's 5th largest economy, and its technological expertise has been steadily growing for over two decades. However, India needs to catch up to countries like Japan, Germany, China, and Vietnam in modern-day manufacturing. The primary reasons for this lag are the need for a skilled workforce in advanced manufacturing and inadequate supporting infrastructure. Despite ambitious initiatives such as Make in India and Atmanirbhar Bharat by the government, achieving success in this sector will only be possible with swift systemic changes.
Phillips Education has emerged as a catalytic force to address these challenges, aiming to empower learners with the knowledge and skills required to boost India's manufacturing sector. This becomes especially crucial as India aims to export goods worth $1 trillion by 2030, with manufacturing projected to contribute a quarter of the economy's output by 2025. Phillips Education's efforts can play a vital role in driving the growth of India's manufacturing industry and fulfilling its ambitious economic goals.
Phillips Education is a bold undertaking by Phillips Corporation, a 6-decade-old advanced manufacturing solution provider in several countries, including the U.S., India, Bangladesh, Middle East & Africa, Malaysia, and Sri Lanka. Phillips Education is dedicated to collaborating with India's thought leaders and decision-makers through its India office. The primary objective is to offer accessible and transformative resources, machinery, training & certifications, and global opportunities. This partnership aims to unleash the complete potential of advanced manufacturing in the country.
In response to the significant demand for Skill Development in Advanced Manufacturing, Phillips Education introduced its Centers of Excellence (CoE) program to offer a comprehensive solution to its partners. The Phillips Advanced Manufacturing CoE typically collaborates with State Governments in India, prominent Universities, or Government Agencies representing the State to establish a CoE that serves their specific objectives. These purposes may vary from providing skills training to the youth in the region to enhance their employability, fostering Research & Development initiatives, or aligning the curriculum with industry requirements.
This is achieved through practical training sessions, workshops, and access to cutting-edge equipment, empowering the local industry with advanced manufacturing technologies, processes, and best practices. The curriculum covers essential Industry 4.0 technologies like robotics, additive manufacturing, and digital manufacturing. These skills are crucial for India to reduce dependence on China for products and parts, thus gaining a geopolitical advantage in the region. India possesses a unique opportunity to lead the world economy by excelling in the service economy through its IT workforce and in the product economy through its advanced manufacturing workforce. It is vital to expedite the establishment of CoEs at a rapid pace to capitalise on this potential.
Phillips Education has successfully established a CoE in Bhubaneshwar, Odisha, in just one year. Another CoE is scheduled to be inaugurated on August 15th, 2023, India's 76th Independence Day, in Haridwar, Uttarakhand. These milestones signify significant progress in India's journey towards self-reliance. Through strategic partnerships and CoE setups across the country, Phillips Education effectively bridges the skill gap and equips individuals with the expertise required by the Indian manufacturing sector. By doing so, CoEs enhance India's competitiveness in the global manufacturing landscape, fill the need for skilled labour, and empower the nation to emerge as a strong contender in international trade.
Phillips Education is active beyond India and has partnered with Malaysian government agencies to develop a CoEin to drive Industry 4.0. Phillips is also collaborating with Factory One – a model factory by Qatar Development Bank, to develop Qatar's first advanced manufacturing CoE, led by Mckinsey. As more countries and states within India join the CoE revolution initiated by Phillips Education, a network will be created where student exchange programs will help the exchange of ideas and technology transfer can improve the overall competitiveness of the entire region.
In recent times, the manufacturing industry has greatly advanced with the advent of Industry 4.0 and the introduction of machines that were non-existent a decade ago. Nevertheless, the industry faces significant challenges from pandemics, wars, and supply-chain disruptions, as demonstrated during events like the Covid pandemic and conflicts like the Russia-Ukraine wars. As a result, the imperative to manufacture domestically has become crucial, leading countries like Saudi Arabia, Qatar, UAE, Malaysia, and India to strive to reduce their dependence on China for products and parts.
Phillips carefully designs and develops each Center of Excellence with the needs of the local industry in mind, managing everything from creating the curriculum to training CoE instructors extensively through its rigorous Train the Trainer program. With long-standing strategic partnerships with world-renowned manufacturing technology providers such as Haas, EOS, Markforged, and Universal Robots, the Phillips team even provides state-of-the-art, industry-grade equipment so learners are trained in leading technologies. Upon completing a program, individuals can also receive industry-recognised certification, which immediately boosts their employability.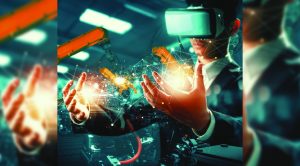 Democratising manufacturing resources
 Taking the Education division's efforts further, the Phillips Machinist app is a unique mobile application designed for the manufacturing industry. This app offers professionals in the sector the opportunity to enhance their skills through various online modules, connect with Phillips' global machinist community, access valuable resources for better machine understanding, and seek assistance from Phillips experts through inquiry submissions. Additionally, the app features a Job Connect platform that enables businesses in the industry to post job vacancies without any charges, allowing professionals to apply for these positions.
In a country like India, where the number of smartphone users is estimated to exceed 600 million, the Machinist app presents a distinctive chance for industry experts to enhance their skills and access valuable resources conveniently, regardless of location. With ongoing updates and the incorporation of innovative features, the platform is already a valuable tool that Indian businesses and professionals can utilise. It continually empowers machinists to acquire much-needed knowledge in the sector and provides manufacturers access to a talented pool of industry-ready professionals.
The road ahead
The Indian manufacturing sector is facing critical challenges that require immediate attention, and this is not a new development. The scarcity of skilled labour, changing market dynamics, and the pressing requirement to adopt advanced technologies are crucial issues that must be tackled to ensure the sector's growth and prosperity. Education plays a pivotal role in overcoming these obstacles and achieving the vision of a self-reliant India.
Through its targeted focus on essential aspects such as robotics, additive manufacturing, and digital manufacturing technologies, Phillips Education endeavours to provide diverse offerings that can be customised to meet the specific requirements of different regions. In doing so, Phillips Education aims to contribute to a brighter future for India, where the manufacturing industry thrives on the global platform, fueling economic growth, fostering unmatched innovation, and establishing itself as a manufacturing power force to be reckoned with.
Rakshit Kejriwal, President of Phillips Education, often echoes the words of Alan Mulally, former President & CEO of Ford Motor Co., stating, "No country can achieve long-term success without a robust and thriving manufacturing base." This quote reflects the vital importance of a strong manufacturing sector for sustained growth and prosperity in any nation.