Wastewater treatment is cost-efficient for green manufacturing
June 9, 2023 3:22 pm
Mr. Shardul Apte discusses how evaporator solutions can be deployed for sustainable wastewater treatment in manufacturing units. These solutions enable Zero Liquid Discharge, compliance with regulations, and reduced shutdowns.
How do your evaporator solutions empower sustainability in the manufacturing unit?
Evaporators are utilised to evaporate the wastewater produced from manufacturing activities that cannot be effectively treated using traditional biological methods. The wastewater undergoes pretreatment and is then stripped of its volatile components in the stripper column. Subsequently, the wastewater is evaporated, and the resulting vapour is condensed into the condenser. The condensed water can be reused for manufacturing or other purposes. The concentrated salts can be disposed of or recycled back into manufacturing. By implementing evaporator projects, customers can achieve Zero Liquid Discharge, allowing their manufacturing facilities to operate by regulatory guidelines and minimising shutdowns or closures. The expenses associated with environmentally friendly manufacturing should be seen as investments rather than costs, as they yield valuable but often overlooked returns. Moreover, in the long term, green manufacturing costs are more economical.
What factors should be considered when selecting a technology for implementation to minimise operating costs?
When selecting a technology for implementation, the user and the implementer must collaborate to find a solution with the lowest operating cost. Several factors should be taken into account, such as the presence of the original equipment manufacturer (OEM) or channel partner in the local area, the availability of spare parts within a reasonable lead time, the flexibility and reliability of the technology, and the ease of training the operating staff. By adopting sustainable solutions, reliance on external infrastructure, such as water supply and electricity, can be reduced.
What are the focuses of current technological advancements regarding operational expenses, system footprint, maintenance, and repair?
Current technological advancements primarily focus on reducing operational expenses (OPEX) and minimising the system's footprint. Furthermore, there is a growing emphasis on ensuring ease of local maintenance and repair. The design and implementation of systems aim to minimise reliance on external suppliers or channel partners. In case of any issues, online troubleshooting should be sufficient to address them.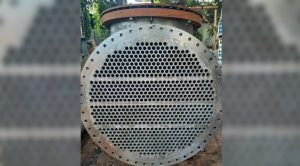 What are some features and benefits of low-temperature evaporators?
We have begun providing low-temperature evaporators, also known as Mechanical Vapour Recompressor Evaporators (MVRE), which have significantly reduced steam requirements and lowered the reliance on boiler fuels. Additionally, these evaporators require less space, reducing capital expenditure for structures. We are also offering systems that utilise waste steam as the heating medium, aiming to maximise the utilisation of available heat without relying on external heating sources.
What are some challenges faced by manufacturing facilities?
Many manufacturing facilities have experienced gradual expansion and have been established within the confines of available space. As a result, space limitations exist. Additionally, it is crucial to have access to local support workforce and expertise. Local products must be improved and brought up to accepted industrial standards.
What are your company's future initiatives to promote business and meet market demands?
Our ongoing focus remains on creating products with reduced operational expenses and a smaller physical footprint. We also prioritise maximising manufacturing processes at the shop level rather than relying heavily on on-site work. This approach reduces project lead times and costs and enables us to optimise the utilisation of our manufacturing assets and enhance competitiveness.