Technologies allow domestic manufacturers to improve efficiency
June 9, 2023 3:17 pm
Shailesh Sharma, Director – Operations, SKF India and Southeast Asia, states we are utilising advanced technologies to improve our manufacturing processes and facilitate the transition towards 'factories of the future' that is efficient, sustainable, and digitally connected. 
How are your solutions empowering decarbonisation goals in a manufacturing unit?
As we progress into the future, it is crucial to create intelligent and environmentally friendly sustainable solutions that assist our customers in achieving their decarbonisation objectives. We focus on enabling cleaner factories, quieter and more reliable machines with extended life spans and less maintenance and replacement. Our products and solutions aim to minimise friction, noise, energy usage, and carbon emissions. For instance, we provide condition monitoring and predictive maintenance solutions that actively monitor equipment health, minimising unforeseen downtime and optimising resource utilisation.
Our lubrication systems and sealing solutions help reduce failure. Through our remanufacturing capabilities, we help customers refurbish end-of-life bearings, thereby reducing consumption, industrial waste, and total cost of ownership. Our revolutionary RecondOil box helps customers reuse industrial oil, bringing significant financial, environmental and performance benefits. Our CO2e emissions dashboard helps customers understand carbon emissions during bearing manufacturing and life cycle and plan their decarbonisation roadmap accordingly.
What current practices at your facility offer you a cutting edge, especially from a manufacturing perspective?
Our primary focus is executing our strategic, intelligent and clean growth framework. We're utilising advanced technologies to improve our manufacturing processes and facilitate the transition towards 'factories of the future' that are efficient, sustainable, and digitally connected. 
In SKF India, we started the Future Factory initiative two years hence and included it in our manufacturing strategy based on LGD – Lean, Green, Digital factories. Today, our digitalisation initiatives are aligned with our intelligent and clean growth strategy to accelerate world-class manufacturing. Given that speed, reliability, and low cost are critical, as is the need to support vital production systems, this focus on digitalisation has allowed us to innovate with the insight and speed necessary to remain competitive. To eliminate waste in our supply chain, we have implemented the SKF production system, which prioritises safety, quality, material flow, and productivity. We're also committed to reducing our environmental footprint by adopting renewable energy to power our factories.
Moving forward, we will continue utilising our engineering and technological expertise to collaborate closely with our customers, identify their focus areas, and create products and solutions that support their pursuit of sustainable growth objectives.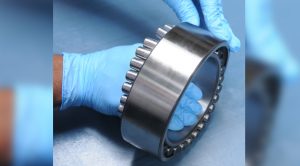 How are Industry 4.0 trends fuelling the manufacturing transformation in India?
The Industry 4.0 trends are revolutionising manufacturing globally.I4.0 technologies are bringing automation and robotics to manufacturing processes, improving the quality, reliability, safety, and efficiency of plants, equipment, and finished products and solutions.
Implementing technologies like the Industrial Internet of Things (IIOT), AI/ML, robotics, and 3D printing, among others, allow domestic manufacturers to increase the efficiency of manufacturing processes, detect critical failures early using sensors, and reduce downtime. These technologies have also improved the quality and reliability of products and solutions by more accurately predicting maintenance and replacement cycles and optimising resource utilisation. Manufacturers can quickly assess changing market demand using big data and optimise their production lines accordingly. With reduced human interaction, manufacturers have also been able to boost operational safety. These benefits have also allowed the manufacturing sector to become more efficient with its capital utilisation.
Moreover, integrating these technologies improves supply chain processes, inventory management, lead times, and customer satisfaction. Industry 4.0 technologies offer immense opportunities for the Indian manufacturing sector, helping it position itself as a global hub for manufacturing across industries and segments.
Please talk about how your range of solutions is impacting this transformation.
The solutions we offer are playing a crucial role in leading the transformation of the local manufacturing sector. Our cutting-edge products and solutions empower manufacturers to elevate their operations, boost productivity, and accomplish sustainability objectives. By utilising our condition monitoring solutions, manufacturers can transition from reactive to proactive maintenance approaches, decreasing downtime and enhancing overall equipment efficiency. Our data-driven digitalisation solutions and analytical capabilities offer valuable insights that enable manufacturers to make informed decisions, streamline processes, and improve overall efficiency.
Recently, ABB and SKF Group have agreed to explore the possibilities for collaboration in the automation of manufacturing processes. Through the partnership, ABB and SKF will identify and evaluate solutions to improve manufacturing capabilities and support clients' increased production efficiency. As a first step, SKF's investments in automation and clean manufacturing processes will act as a testbed, focused on decreasing CO2 emissions from SKF's operations. Longer-term, the parties intend to explore new business opportunities in both traditional and new market segments, where both companies bring experiences within a wide range of industries.
We also emphasise the importance of sustainability throughout the lifecycle of products, promoting a circular economy and enabling customers to reduce their environmental impact. Through collaborative partnerships, industry and product know-how, diverse product and solution portfolio, and innovative spirit, we are helping domestic manufacturers adopt transformative technologies and remain competitive in a rapidly changing market.
What challenges do you see in modernising Indian manufacturing facilities?
In today's dynamic and fast-paced market, companies must adapt and embrace digital transformation to maintain their competitiveness. Nonetheless, this shift presents its unique challenges. A smart factory goes beyond implementing a single software solution on the shop floor; it entails the seamless integration of diverse Industry 4.0 technologies to maximise manufacturing efficiency.
One of the challenges is developing a workforce with 'Digital dexterity,' where employees understand both the manufacturing processes and the digital tools supporting them. Another hurdle is aligning digitalisation with business goals and establishing clear Key Performance Indicators (KPIs) to measure success. With a well-defined strategy, companies may be able to optimise their operations through digitalisation. Additionally, embracing smart manufacturing requires a cultural transformation, preparing the workforce for the digital landscape of the future. Furthermore, businesses must address data and privacy concerns, ownership, and management. By addressing these challenges, companies can ensure a smooth transition towards a digital future and realise the benefits of modernised manufacturing.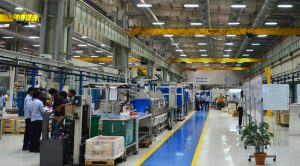 Which verticals do you see as crucial growth enablers for SKF India?
We have identified several high-growth segments aligned with our strategy of intelligent and clean growth that drive sustainable development and quickly adopt emerging technologies. The automotive industry actively embraces innovations to develop electric and autonomous vehicles, effectively reducing carbon emissions and transforming transportation. The renewable energy sector also stands out, where digital technologies enhance power generation, improve grid stability, and enable smart energy consumption. With the government's increased focus on infrastructure development, we expect the cement and construction equipment industry to quickly modernise and adopt sustainable solutions to remain competitive and transition to a cleaner future. Railways is another critical industry where we see a lot of demand for intelligent and clean solutions to monitor asset health, improve operations, and reduce the total cost of ownership. Other industries like food & beverages, agriculture, and logistics are fast transitioning to a cleaner future. These industries will need solutions to help them achieve their objective of sustainable growth.
While we concentrate on specific market segments, our dedication extends to customers from various sectors who rely on our products and solutions to achieve smooth and effortless rotation. We will persist in our commitment to innovation, consistently developing new offerings that align with the evolving requirements of our industries.