CLOOS – Individual solutions from a single source
June 28, 2023 6:50 pm
Everything for automated welding and cutting: QINEO welding robots by CLOOS provide the necessary flexibility to cater to diverse welding needs, necessary flexibility to cater to diverse welding needs.
The QIROX solution package places the robot as the central element, offering significant advantages through its modular design. The entire mechanics of the robot, including components from the base to the wrist, are meticulously designed to integrate seamlessly. This modular approach allows for the creation of customised welding robots tailored to specific production needs. With a range of four robot series designed for different applications, optimal solutions can be achieved for diverse welding processes and production environments. Users can select a robot with either a classic or a hollow shaft wrist depending on requirements. Additionally, the robot's capabilities are further enhanced with various positioners, expanding its working area and facilitating the positioning of workpieces for optimal processing.
QINEO welding power sources
The QINEO welding power sources offered by CLOOS are renowned for their versatility, wide range of applications and exceptional welding outcomes. Whether it is manual or automated welding, working with thin or thick-walled materials, or operating in a production hall or construction site, the configuration options of QINEO welding power sources provide the necessary flexibility to cater to diverse welding needs. CLOOS' modular platform concept ensures that individual solutions can be tailored to meet specific production conditions and objectives, allowing for adaptable and customised welding setups. "From the power level to the operating module to the special equipment, each QINEO is a customised product tailored to the customer's needs."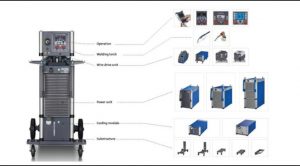 CLOOS Welding technology: Robot and welding technology from a single source
Carl Cloos Schweisstechnik GmbH has established itself as a prominent force in welding technology for over a century. With a workforce exceeding 800 employees globally, the company is dedicated to delivering innovative welding and robot technology solutions for various industries, including construction machinery, railway vehicles, automotive, and agricultural sectors. The modern CLOOS welding power sources of the QINEO series are available for many welding processes. CLOOS specialises in designing and producing automated welding systems that cater to the unique needs of its customers using QIROX robots, positioners, and special-purpose machines. One of CLOOS' key strengths lies in its comprehensive expertise, covering various aspects such as welding technology, robot mechanics, controllers, positioners, software, and sensors. This all-inclusive approach allows CLOOS to provide a complete solution, offering everything required from a single reliable source.
C-Gate IoT Platform-Industry 4.0 enable a modular digitisation platform for individually networked welding production.
We have linked our industry 4.0 software, C-gate, which can provide you with the required signal for industry 4.0; with the C-Gate IoT platform, users can access information from their welding production in real-time. All information is entered and processed centrally in an integrated information and communication tool. This allows users to monitor and control their production processes to the smallest detail. It consists of several modules which users can activate depending on their digitalisation strategy.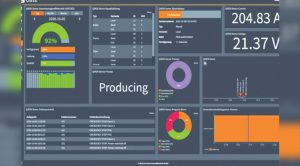 Achieving efficiency through a diverse range of modern processes with precision
The efficiency of modern processes is crucial for achieving perfection in welding operations. Selecting the appropriate welding process plays a vital role in ensuring successful production outcomes. At CLOOS, we offer a comprehensive range of proven and innovative processes for both manual and automated welding applications. To continuously enhance our welding processes, we conduct extensive research and development in our technology center, replicating practical conditions. Drawing from our century-long tradition in welding and cutting, we combine the right combination of processes, equipment, parameters, and expertise to provide you with the perfect solution for your production requirements.
One of our notable welding processes is Control Weld, which encompasses controlled MIG/MAG welding for various applications. This classic process ensures a stable metal transfer from short arc to spray arc. It is particularly advantageous for joining thin components and performing out-of-position welds. Control Weld provides optimal energy distribution. For specialised applications such as root welding or thin plate welding, we offer Root Weld. This energy-reduced, controlled MIG/MAG short arc process offers a quieter operation with reduced spatter formation. Root Weld delivers exceptional stability and precise control, even in lower capacity ranges. By minimising heat input, it reduces workpiece distortion.
Rapid Weld is our focused high-capacity MIG/MAG spray arc process, ideal for applications requiring deep penetration and secure root fusion. This process generates a highly focused stable arc with a significant arc pressure. With its versatile penetration profile adjustment, it minimises filler material and shielded gas consumption while achieving complete fusion and reducing welding time. Speed Weld, based on voltage-controlled MIG/MAG pulsed arc technology, is widely applicable in metal machining sectors. It delivers a powerful arc, enabling high welding speeds. With its deep penetration capability, Speed Weld ensures excellent weld quality, while minimising spatter and undercuts. Vari Weld, a current-controlled MIG/MAG pulsed arc process, offers versatility across a wide range of applications. This process allows for precise control of the penetration profile in various materials and applications, while preserving their inherent characteristics. Cold Weld is specifically designed for demanding materials, offering optimum heat input control. It combines pulsed arc with AC technology, allowing individual adjustment of heat input into the component. Cold Weld also compensates for material tolerances through excellent gap bridging ability.
Motion Control Weld is an ideal choice for fine plate applications and those with specific surface and appearance requirements. It combines the proven CLOOS Control Weld process with reversing wire, providing exceptional process stability even in the lowest capacity range. Motion Control Weld minimizes spatter and powder residues, reducing the need for extensive rework. This process finds particular relevance in additive production applications. Motion Vari Weld, similar to Motion Control Weld, is designed for fine plate applications and low capacity ranges. It combines the proven CLOOS Vari Weld process with reversing wire, delivering outstanding process stability. By minimising spatter formation and powder residues, Motion Vari Weld ensures high-quality welding results, making it suitable for various applications, including additive production.
Tandem Weld offers versatility for welding thin and thick plates. This process involves two electrically separated arcs burning in a common molten pool. Moreover, this process aids in minimising component distortion and mitigating the need for extensive rework due to its low heat input. If you aspire to optimise the efficiency of your welding production, placing your trust in Tandem Weld by CLOOS is the way to go!
CLOOS INDIA WELDING TECHNOLOGY PRIVATE LIMITED
GROUND & 1ST FLOOR, PLOT NO. 114/1/3, GENERAL BLOCK, MIDC BHOSARI, PUNE, MAHARASHTRA 411026 INDIA
Website: www.cloos.de
Email : contact@cloos.in Mobile: 7003545907 / 9168383939