Electro-hydraulic dock levellers for challenging loading and unloading
June 28, 2023 6:59 pm
Gandhi Automations' recognition as India's No. 1 Entrance automation and loading bay equipment company have been achieved over years of hard work, innovation, commitment to quality and reliable customer service.
Gandhi Automations has been certified with ISO 9001:2015, ISO 14001:2015, and ISO 45001:2018 since its establishment in 1996. The company specialises in producing, importing, distributing, and installing user-friendly and trouble-free products. It provides comprehensive logistics solutions, including Dock Levellers, Dock Shelters, Sectional Overhead Doors, and Dock Houses.
Gandhi Automations provides Electro-hydraulic Dock Levellers as a "bridge for connecting a vehicle". These dock levellers ensure a swift, seamless, and secure transition by compensating for height differences. This minimises energy consumption and helps save costs related to heating and cooling, thus preserving the quality of transported goods. The Dock Levellers offered by Gandhi Automations are meticulously designed according to the stringent EN 1398 standard to cater to the most challenging loading and unloading tasks.
Efficient loading & unloading
Efficient loading of goods has always been crucial, and its significance has grown due to two main reasons: scarcity and increased cost of labour. As a result, there is a tendency to utilise less qualified labour, leading to potential damage to the goods.
The cost associated with loading and unloading can be accurately calculated and precisely defined, allowing for a systematic evaluation of the investments involved. Gandhi Automations has consistently developed solutions based on this scientific and systematic approach and valuable client feedback. The Dock Levellers provided by the company enable effortless and cost-effective loading and unloading processes.
By utilising the products offered by Gandhi Automations, it is possible to achieve secure loading and unloading processes while enjoying significant energy savings. The Dock Leveller and the closed Sectional Overhead Door remain in a resting position until the vehicle is properly positioned. The driver aligns the vehicle by reversing it towards the Dock Shelter and halts it as soon as it contacts the bumpers.
When the vehicle is correctly positioned, brakes are applied, and the engine is turned off, the Sectional Overhead Door is opened. This eliminates the escape of hot air, the intake of cold air (or vice versa in hot environments or conditioned spaces), and the intake of exhaust gases into the warehouse. Once the Sectional Overhead Door is open, the Dock Leveller's lip connects to the truck bed, allowing loading or unloading to commence.
After the loading or unloading process is completed, the Dock Leveller is resting, and the Sectional Overhead Door is closed without requiring the vehicle to move. Subsequently, the vehicle can depart at the end of the process. The following are the types of Dock Levellers available.
Radius Lip Dock Levellers
Radius Lip Dock Levellers are available in multiple sizes and capacities. It allows the dock to connect with the truck bed, thus making it convenient to drive directly on and off with forklift trucks etc. Also, the Self-Cleaning Lip-Hinge System does not retain dust and dirt, allowing smooth operation.
Telescopic Lip Dock Levellers
Telescopic Lip Dock Levellers are ideal for connecting vehicles unable to drive near the dock, i.e. sea containers, side loading railway wagons etc. These Dock Levellers can be supplied with a lip extending up to 1 m.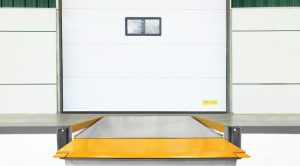 Edge-of-Dock Levellers
Edge-of-Dock Leveller is developed in compliance with the latest European safety standard, EN 1398. It has a capacity of 6000 kg and is suitable for use with all types of material handling equipment.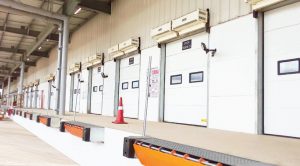 Forklift Roll-off Barrier Lip Dock Levellers
The newly introduced product Forklift Roll-Off Barrier Lip Dock Leveller adds run-off protection, preventing accidental forklift rolloff when the Overhead door is open, and no trailer is stationed at the dock. These dock levellers are designed and built to provide all the benefits of the hydraulic dock leveller and the additional benefit of providing a formidable barrier.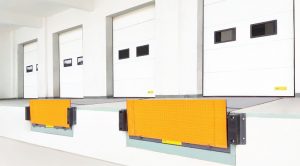 Gandhi Automation's Dock Levellers have the most secure safety devices and accessories.
For further details, visit: www.geapl.co.in