Welding processes must adapt to advanced materials and coatings
November 1, 2023 12:53 pm
According to Dr. T.J. Prasadarao, Executive Director, D&H Sécheron, welding technology is pivotal in pharmaceutical manufacturing, embracing advanced materials, sustainability measures, and automation for contaminant-free connections. As the pharmaceutical sector continues to expand, the demand for specialized welding consumables is set to witness substantial growth.
What are the latest trends in welding technologies that are revolutionising the pharma manufacturing industry?
Welding technologies have a substantial impact on pharmaceutical manufacturing, with current developments focusing on using advanced welding materials to achieve precise, contamination-free connections. Specialised consumables designed for pharmaceutical applications help reduce the potential for product contamination. This is crucial in ensuring product quality and adherence to stringent regulations.
Please provide insights into the role of advanced materials and techniques in modern welding processes.
Utilising state-of-the-art materials and methods in welding is crucial for upholding the highest quality standards in contemporary manufacturing. Specialized consumables featuring characteristics like minimal carbon and exceptionally low sulfur content are used to minimise the likelihood of contamination. Approaches such as orbital welding and laser welding are becoming increasingly prominent due to their accuracy and the absence of impurities.
How are you addressing environmental and sustainability considerations associated with welding technologies?
D&H Sécheron Electrode is committed to sustainability. We offer consumables with reduced emissions, low spatter, and minimal waste. Sustainable welding techniques and consumables help reduce the environmental footprint of modern manufacturing while maintaining high production standards.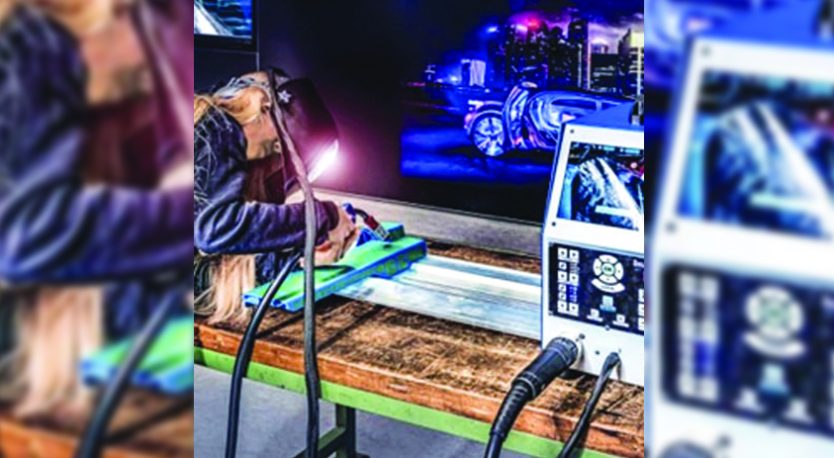 With the rise of Industry 4.0, how is welding technology evolving to integrate with digitalisation and data-driven processes?
The advent of Industry 4.0 has resulted in the fusion of welding technology with digitalisation and data-driven procedures. D&H Sécheron Electrode is investing in intelligent welding consumables and data monitoring solutions. These technologies allow for the real-time tracking of welding parameters, thus ensuring uniform quality and traceability to meet regulatory requirements.
Please discuss implementing automation in welding to improve productivity and product quality.
Automation is increasingly being integrated into welding processes. D&H Sécheron Electrode is at the forefront of this trend, offering consumables optimised for robotic and automated welding. Automation enhances productivity and ensures consistent weld quality, which is crucial for industrial applications.
What emerging welding technologies and applications should we watch for shortly?
Shortly, there are several emerging welding technologies and applications. These developments promise innovation and efficiency to various industries, including pharmaceutical equipment manufacturing.
One of these developments is the growing role of Additive Manufacturing, or 3D printing, in metal fabrication. This technology is being increasingly utilised to create customised pharmaceutical equipment, offering a high level of flexibility and precision. Friction Stir Welding (FSW) is another notable advancement. Its exceptional strength and precision make it an excellent choice for welding pharmaceutical machinery, ensuring durability and reliability in the equipment.
Hybrid welding is an innovative approach that combines different welding methods with laser technology. This integration improves the speed of welding and enhances the overall quality of the welds, which is crucial in pharmaceutical manufacturing.
Remote Robotic welding is becoming increasingly important, especially in hazardous or sterile environments within the pharmaceutical sector. Robots can work with precision and without risks to human workers.
High-purity welding is a critical technology to watch for in pharmaceutical manufacturing. It's all about using advanced techniques to ensure that welding processes remain free from contamination, which is of utmost importance in pharmaceutical production.
Welding Data Analytics plays a significant role, offering real-time monitoring and analytical tools. These tools help maintain the quality of welds and provide traceability in the manufacturing process, which is essential for quality control and compliance.
For welding small pharmaceutical components and devices, Microjoining with Laser Welding is gaining importance due to its precision and suitability for these specialised applications.
Adapting welding processes to extreme conditions, such as space exploration, is also an exciting prospect. Space and Extreme Environment Welding will be essential for enabling human missions for space and the manufacturing of equipment designed for harsh conditions. Sustainable welding practices are in alignment with the pharmaceutical industry's sustainability goals. These practices focus on reducing emissions and minimising waste in welding processes, contributing to a greener and more environmentally friendly approach.
Lastly, the evolution of welding methods to accommodate Advanced Materials and Coatings is crucial. As the pharmaceutical industry embraces high-tech materials, welding processes must adapt to ensure the reliability and integrity of the final products.
What are the applications of welding technology in the Pharma manufacturing sector, and what potential market do you see shortly?
Welding technology is used in the pharma industry to fabricate equipment such as tanks, vessels, and pipelines. High-purity welding is essential to prevent contaminating pharmaceutical components from the outside environment. As the pharma sector continues to expand, the market for specialised welding consumables is expected to grow significantly.