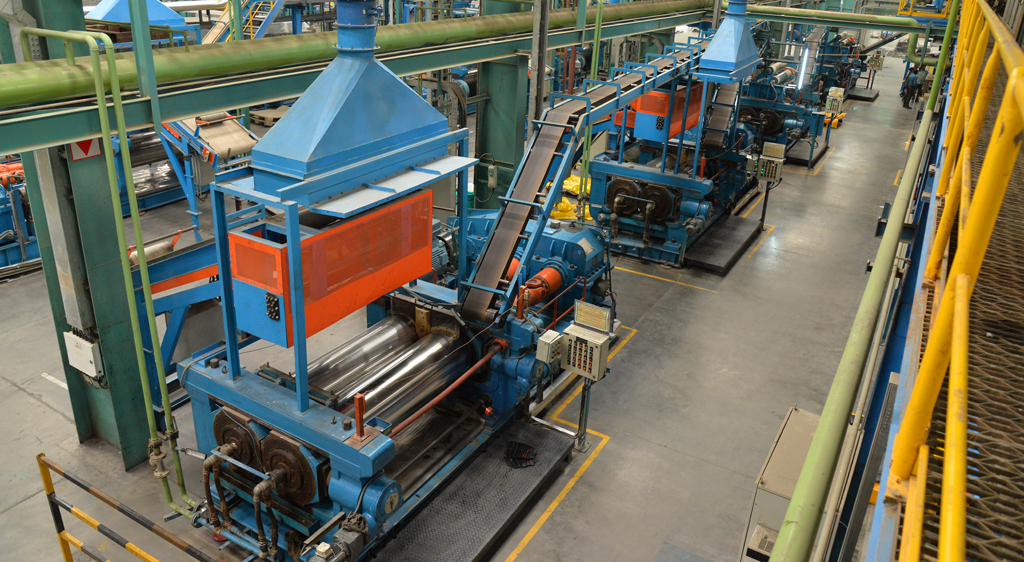 If the off-highway tyre market were a chess game, BKT would be preparing to declare checkmate and claim its place as a global leader.
Balkrishna Industries Ltd, popularly known as BKT, is one of the global majors in the off-highway tyre business. With over 92 per cent of its products exported to more than 130 countries across the world, BKT has emerged as a true campaigner of 'Make in India'. And now, with the setting up of a world-class facility in Bhuj, BKT aims to claim the global leadership position.
Inaugurated at the beginning of December 2015, the Bhuj plant is designed to produce tyres of unmatchable quality which can meet the future market demand while matching with all the norms of environmental, economic and technological sustainability.
If the off-highway tyre market were a chess game, BKT would be preparing to declare checkmate and claim its place as a global leader, said Rajiv Poddar, Joint Managing Director, BKT. He adds, "Bhuj has enabled us to play a completely new game from the perspective of exponential growth and aiming at global leadership."
Manufacturing competence
From an initial production of 10 tonnes per day, BKT is currently producing 600 tonnes per day, which would eventually reach 800 tonnes per day by 2017. From 200 SKUs, the tyre maker currently offers a complete product portfolio consisting of over 2,400 SKUs. From 100 moulds a year, it is currently making over 300 moulds to ensure final product quality and design, along with a very short time to market.
Now the company plans to capture more market share in the domestic market especially in the construction and mining segment. BKT is looking for creating strategic partnership with major construction and mining equipment OEMs.
Bhuj becomes the 'game changer' for BKT
Thanks to a 500-million-US-dollar investment, BKT's Bhuj plant is transpired as a state-of-the-art, world-class tyre making facility. Presently, about 175 tonnes are rolling off the production lines in Bhuj every day even though the plant has a capacity of 350 tonnes per day.
The main plant area of 72 acres is armed with internationally sourced highly efficient, state-of-the-art equipment including 9 Marangoni machines from Italy, 13 mixers, 177 presses, and 65 tyre building machines.
Today Bhuj plant is capable of making tyres of a diverse range – from 5-inch lawn tyres to 49-inch giant OTR tyres. The tyres currently produced in Bhuj plant include various sizes of Maglift solid tyre and Liftmax LM 81 tyre, both for forklifts, in addition to Portmax PM 93 in size 280/75 R 22.5 for straddle carriers, Radial multipurpose truck tyre Multimax MP 540, and the giant OTR Radial tyre 27.00 R49 Earthmax for mining applications.
The Maglift range is currently available in 22 sizes both in standard and LIP versions. A non-marking compound is being developed for which BKT has a dedicated mixer. Additional compound with antistatic properties is also under development. BKT is also in the process of developing deep tread solid tyres.
Strategically located
The Bhuj site stretches over an area of 300 acres (121 hectares) in a geographically strategic location near well-developed roadways and about 60-km from the Port of Mundra on the Arabian Sea.
R&D initiatives
Today, BKT's researchers, engineers and technicians can boast of having the most advanced equipment for chemical, physical and mechanical testing. The company spends more than 3 per cent of its turnover in R&D. The state-of-the-art R&D centre, which is expected to be completed by early 2017, will empower Bhuj plant by facilitating research on new polymers and development of new tread compounds.
"In view of the cutting-edge machinery and technologies available at the new Bhuj production site, the R&D department had to face a great challenge in redesigning the highly technological manufacturing processes taking full advantage of the new generation equipment," acknowledged DM Vaidya, President and Director – Technology, BKT.
"On the other hand," he adds, "state-of-the-art technology and processes were an essential prerequisite for the realisation of new products such as giant OTR and radial forklift tyres."
Advanced testing to enhance tyre performance
Thanks to a large variety of tests, many relevant features such as traction, handling, comfort, noise, fuel consumption, braking, rolling resistance, soil compaction and many more can be measured by means of high-precision devices and instruments. A 776-metre long outdoor tyre testing track is designed for testing tyre performance and driving comfort on various surfaces from uniform road conditions to bumpy terrain.
As a result of this unique source of information, BKT is able to further enhance tyre performance and optimise user-specific solutions.
User-friendly website for mobile devices
BKT recently migrated to a new website for mobile devices, including smartphones and tablets. The website (m.bkt-tires.com) offers immediate access to the manifold and specially selected contents thanks to a tailored layout that makes mobile browsing easy. The selection of specific contents presented in an optimal layout for smartphones and tablets enhances the users' browsing experience making it even more captivating and intuitive.
Now the users from any part of the globe including in the mobile version have the option to choose between two measurement standards as far as technical data and tire features are concerned. They can actually choose between the international metric system, and the US standard.
The new version is immediately available in six languages: English, Italian, French, Spanish, German, and Portuguese.
Ready to face the challenges
"BKT aims to achieve the leadership in the off-highway tyre market worldwide," Rajiv reveals. However, he said, "Though it is an ambitious vision, we are sure that it is the right goal to pursue. Of course, we operate in a highly competitive and rapidly changing market. With fast-running evolution, the world has no boundaries and both market and customer needs are constantly growing, in terms of quality and quantity. But we are never worried and are ever ready to face all the challenges."