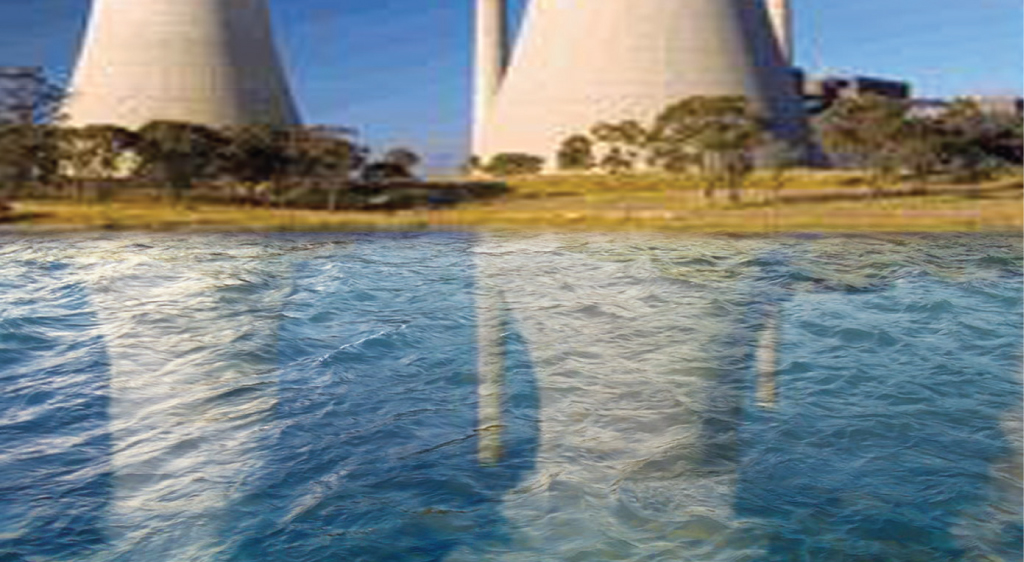 India is a water stressed nation with a burgeoning population. The rapid population increase and economic development of the nation is increasing the demand for water from finite sources which are already falling woefully short. Added to this is the increased influx of untreated waste water – both domestic and industrial into the same sources of fresh water, thereby compounding the problem.
It is time people viewed domestic waste water – sewage, as a resource. In order to conserve fresh water for potable and hygienic applications, one needs to recycle and reuse treated waste water for all other applications. Make-up water for cooling towers is one such application.
The US EPA standards for reclaimed water quality for reuse in recirculating cooling towers is very similar to that for irrigation. More specifically, the parameters are:
BOD
TSS
200 Fecal Coliform/100 ml
Residual Chlorine 1 mg/l (minimum).
Further treatment to prevent scaling, corrosion, biological growth, fouling and foaming as would to be done for fresh water. Any premises that has cooling towers usually has people and where there are people, there is sewage. The sewage can be treated by an on-site (decentralised) sewage treatment system to treat the water to the acceptable standard for reuse in the cooling tower. Any excess water can be used for landscaping.
Reliable, Robust and Economical Treatment
Designing or procuring a reliable, robust and economical treatment system is harder than it seems. All too often, the treatment system becomes another plant, a mini factory of sorts, which requires manpower, constant monitoring, repeated maintenance and replacement of key components, making the idea of cycling more of a pain and economic drain on the operations of the company.
What is needed is a treatment system which is simple, uses few mechanical devices, non-operated, low maintenance, uses superior non-corrodible materials, is well-engineered, requires no replacement of components, has a small footprint yet gives consistent treatment quality. To many, this might seem a utopian list of qualities for machinery which is meant to deal with a corrosive and disgusting fluid using a biological process.
Since 1996, Bio-Microbics Inc. has been in the business of decentralised sewage treatment systems. The design philosophy of Bio-Microbics has always been Easy to Install, Easy to Operate, Easy to Maintain. Today, Bio-Microbics has installed more than 60,000 systems in over 70 countries around the world.
Amongst the various other treatment products Bio-Microbics manufactures, it offers three sewage treatment technologies – FAST (Fixed Activated Sludge Treatment) System, BioBarrier Membrane Bio-Reactor and the RollsAIR Plug Flow Extended Aeration System. Of these, the FAST and RollsAIR give treated water suitable for reuse in re-circulating cooling towers.
The salient Features of these systems are:
Operator Free: There are no manual operations required or process control. No Bar Screens are used either. Instead, the patented SaniTEE screens are used which are clean-in-place and need cleaning once in 3 months.
Non-Intrusive:
No Odour: There is absolutely no foul odour from the plant.
Below Ground: The systems can be installed below ground to save space and prevent an eye-sore. They can also be installed in above ground tanks if required.
Silent: The systems use super-efficient, silent blowers. These are installed in their own weatherproof housing so no blower room is required.
Low Maintenance: There are several engineering and design characteristics that make these systems low maintenance.
Few Mechanical Devices: The FAST and RollsAIR use only one mechanical device – a blower. There are no pumps for fluid transfer. The system works on gravity flow.
Non corrodible materials: The systems are constructed of engineering plastics with Stainless Steel 304 hardware.
No fine-bubble diffusers: Fine bubble diffusers require replacement every 3 to 5 years. But neither the RollsAIR nor FAST systems use fine bubble diffusers. The FAST uses an airlift for aeration while the RollsAIR uses patented venturi type coarse bubble diffusers called Lixor.
No sludge recirculation:Sludge pumps are often the first point of failure in conventional STPs. The FAST system does not re-circulate sludge hence no sludge pumps are required. The RollsAIR uses an ingenious airlift to transfer sludge.
Self-Cleaning Media (FAST): The FAST system is designed such that the airlift mechanism is continuously cleaning the media so no period manual cleaning is required.
No Replacement of Components: Unlike other systems, neither the media nor any major component (diffusers, etc.) requires period replacement.
Long Life: They have a long service life of at least 25 years. Coupled with the low maintenance it results in a low life-cycle cost to the customer.
Robust and Reliable: The systems are well engineered and constructed yet simple, making them robust and reliable in the most abusive conditions.
Consistent Treatment: The most important aspect of a treatment system is the output. The FAST and RollAIR give consistent treatment quality in any environmental conditions and have been tested and certified as such.
Conclusion
Considering the water situation facing the country and in keeping with the Swaccha Bharat Mission, owners of cooling towers need to consider using reclaimed water from sewage for make-up water. They need a system which would give them value in the long term with ease of operations so they can focus on their core competence. With Bio-Microbics, they are assured of world-class quality and a legacy of reliability.
Authored by-
Shahaveer Jamshedji, Managing Partner
Biowater Treatments Systems LLP.