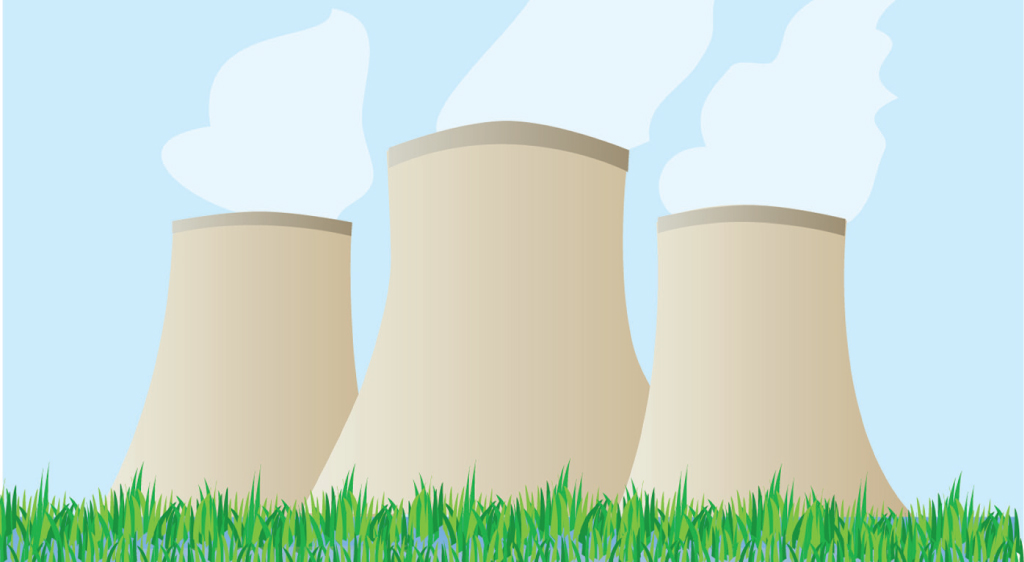 Cooling tower is structure which you can easily find in many industries, power plants, petroleum refineries, petrochemical plants, natural gas processing plants, food processing plants, semi-conductor plants, hospital etc. Cooling towers are used to cool the water used in industrial process. It is a special type of device which uses the air to lower the water temperature. In cooling tower, water and air comes in contact with each other and this process decreases the water temperature. During this process some volume of water evaporates. This remaining low temperature water is being recalculated in the process and used again for treatment.
In easy words, the purpose of a cooling tower is to cool down water that gets heated up by industrial equipment and processes. The water that comes in the cooling tower is hot from the industrial process and goes out of the cooling tower cold. In the recalculated water process, warm water from a system is piped into a cooling tower and dispersed over a larger surface area. This increases evaporation and removes heat. Fans are used to draw air across the fill and assist in evaporation, cooling the water. The cooled water flows back down the system and to the heat source. As water evaporates, more water is needed to keep the system functioning. As water is introduced to the system, so are traces of other elements. These elements and those from air contribute to the build-up of microorganisms.
The disinfection of the water becomes very important. The chemical composition of the water used in cooling towers needs to be closely monitored. Chemicals are added to minimize corrosion, scaling, and growth of unwanted microorganisms. The growth can be in the form of bacteria, algae or fungi. When this growth is deposited on the louvers or clog heat exchangers, the efficiency of transferring the heat to the water is inhibited.
Hanna Instruments offers variety of instruments to monitor and test water quality in cooling tower. The company also supplies photometers, pH meters, and online controllers useful for cooling tower application. Hanna Instruments has meters for silica, chlorine, pH, EC, TDS, Chlorine dioxide and for other water parameter testing. Apart from these products Hanna manufactures and supplies more than 3000 products which is useful for all major industries like water treatment, wine, agriculture, boiler, pharma, chemical, aquaculture, environmental, food, beverages, chemical and for R&D sectors. All these instruments are designed and manufactured in the companies USA and Romanian factory under strict ISO 9001:2008 standards. Every instrument undergoes stringent quality control test at different stages of manufacturing including 100 per cent quality control checks just prior to shipment.
Chlorine is a common oxidiser used to control the microorganism growth. In a cooling tower, free chlorine is maintained at levels less than 0.75 milligram per liter. Hanna Instruments has a solution to monitor and control chlorine used in this process. Hanna Instruments offers online chlorine analyser for monitoring. The PCA uses the same DPD chemistry that is found in chemical test kits and photometers. Unlike the use of ORP in which readings are affected by pH, temperature and other oxidisers or reducers present, the DPD chemistry will yield accurate results as free chlorine. Enclosed in a Nema 4X enclosure, the PCA series is suitable for outdoor use and dosing pumps connected to it can be activated by either on or off or proportional control. Up to 3500 readings are stored within the meter and can be viewed on the display or transferred by the digital RS 485 connection to a PC compatible computer. The PCA also offers two analog outputs that can be connected to a variety of devices. Connectable devices include: a chart recorder, PLC, or a SCADA system to continuously monitor the sanitisation level, ensuring that the optimum levels are maintained to minimise microorganism growth. In PCA Hanna supplies three model one is dedicated only for chlorine and other two models will have pH and ORP measurement.
Authored by-
Kondiba Metkari (Business Manager)
Hanna Equipments (India) Pvt. Ltd.
Office No. 3/4/5/6, First Floor, Aum Sai Building, Plot No. 23 C, Sector 7, Kharghar, Navi Mumbai, Maharashtra – 410 210
Tel: +91-22-27746554 / 55 / 56 | Fax: +91-22-27746557 | www.hannainst.in