LMW displayed its Innovative Product Portfolios at Rajkot Machine Tools Show
September 24, 2022 2:19 pm
LMW, Machine Tool Division- India's finest CNC machine manufacturing company, known for its product quality, state-of-the-art manufacturing facility, and machining solutions with 55 products and thousands of installations in the market- will be exhibiting three machines at the Rajkot Machine Tools Show in Rajkot, Gujarat.
J4 – Vertical Machining Center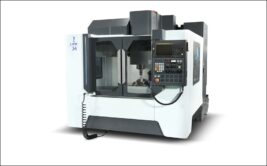 The J4 vertical machining center is a highly reliable and precision machine. The machine has a rigid structure and wide working area with strokes X axis– 600, Y axis- 600 and Z axis-600. J4 vertical machining center comes with a choice of spindle power ranging from 11 to 22 kW and spindle speeds upto 12,000 rpm. The high speed 24 pocket tool magazine with faster tool change reduces the non cutting time, and the machine takes less than 2 secs for tool changing. The ergonomically designed machine supports easy loading and unloading operations. The machine can be easily configured to handle different materials like steel, aluminium, brass, die steel, inconel and titanium. The J4 is highly versatile to cater to major industries like Automobiles, Die and Mould, Pumps & Valves, Agriculture equipment, General Engineering, etc.
Smart Minimaster – Horizontal Turning Center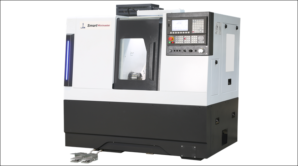 The Smart Minimaster, ultra compact turning center with turret and linear tooling options to address the demands of emerging industries towards accuracy and productivity. It comes with 5" chuck, 6000 rpm spindle speed, 3.7/ 5.5 kW power and 30 m/min rapid rates as standard. It occupies a meagre 1.77 Sqm floor space.  Smart Minimaster is a perfect choice for precision machining requirements for industries such as fittings, connectors, bearings, etc.
LTV 30  – Vertical Turning Center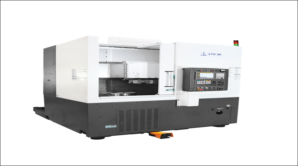 The LTV 30 is a heavy duty, high productivity vertical turning center (VTL) which has a rigid bed to handle heavy cutting requirements with spindle speed of 2500 rpm and 15/18.5 kW spindle power. The 8 station rigid hydraulic turret uses bi-directional shortest path indexing to reduce non-cut time. The machine is built with roller linear motion guideways for high accuracy and rigidity over long periods of use. This machine will address the needs of the industries like Pumps, Valves, Oil & Gas, Railways, Automobiles, etc.
LMW is not only a CNC manufacturer, but offers integrated solutions for metal cutting industry. The integrated solutions are intended to address the industry needs like productivity, precision, reliability with value added solutions like tooling, CNC programming, CAD/CAM, IOT as a single step solution provider. The products are designed in line with the company's commitment to deliver innovation and world class excellence in all its products and services.