WIKA stands firm with India's target to reduce carbon intensity
March 20, 2023 4:25 pm
The globally sustainable machine tools, including a portfolio of high-precision instruments and solutions products, were showcased at Elecrama.
WIKA India, the global instrumentation major, showcased its portfolio of high-precision instruments and solutions products at the Elecrama: the flagship showcase of the Indian Electrical Industry ecosystem. The event supported the sustainability theme of the largest standalone show in the electrical and allied equipment industry.
In keeping with the sustainability focus of the summit, built around efficient products and technologies to minimise carbon footprints, WIKA India stands firm with India's target to reduce the carbon intensity of the economy by 45 percent by 2030 and used the global platform to display its best products for customer review and adaptation.
WIKA brought its advanced technology to meet global sustainability challenges at the stand, including the FSFD flow switch, the in-house skid facility capabilities, and the WIKA "WEgrid Solutions" that enable power transmission and distribution operators to guarantee a safe and reliable energy supply. Gaurav Bawa, Senior Vice President of India Group at WIKA Group, said, "It has been a rewarding experience at Elecrama, where the encouraging response to our innovative product range has provided important customer insights. Engaging in face-to face meetings with professionals in our industry has been a delightful experience as we reunite with old acquaintances and establish new connections. We are eager to continue learning about the businesses and understand the instrumentation application."
One of the major attractions at the WIKA stall has been the instrumentation for detecting SF6 gas used in Power substations. The smart instrument deals with the pressure, temperature, humidity, and sensors in one transmitter. Gas density and dew point conditions are calculated. The new digital transmitter series is characterised by "Advanced technology combined with a robust design". The new series transmitters will guarantee the highest possible operational safety for switchgear. SF6 gas online monitoring maximises equipment availability, enabling a predictive reliability-centred maintenance strategy. This is the cornerstone for utilities to proactively manage their SF6 gas-filled assets' health.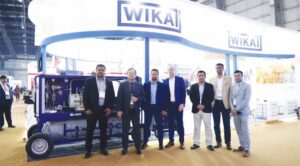 The fire Sprinkler Flow Detector or the FSFD flow Switch is another product that captured attention. The FSFD Switch had an adjustable time delay mechanism to avoid false alarms during water surges, and tamper-proof covers prevent unauthorised access to the switch point setting. The product has IP 56/ NEMA 4 ingress protection, enabling the instrument to be used indoors and outdoors with two sets of micro switches activating the control panel and local audible.
"WIKAs solutions are geared towards excellent project management, ensuring timely delivery. As efficiency and sustainability remain key for our products, we hope to complement every business with sustainability and green focus, along with all those present in Elecrama," Bawa added.