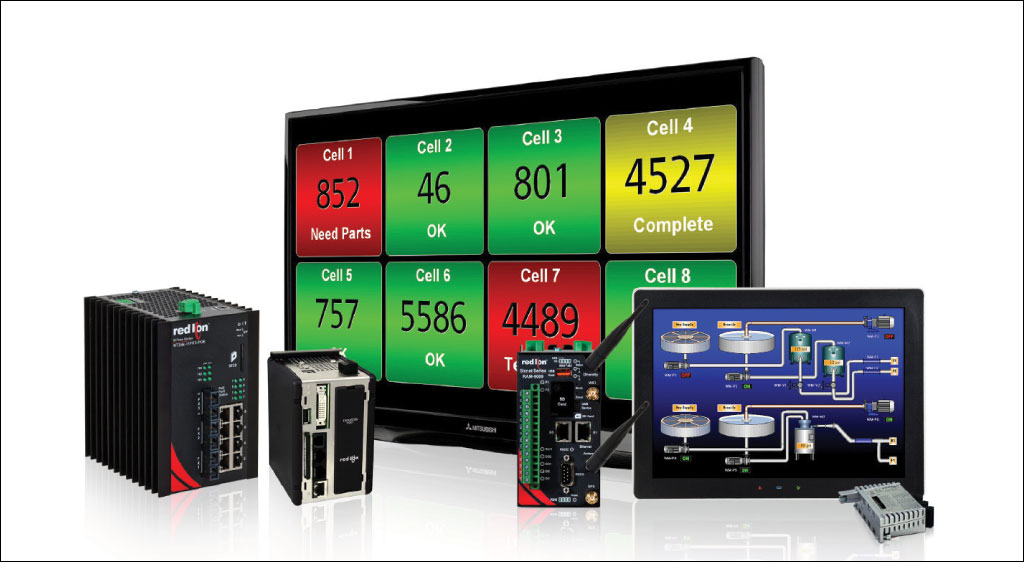 Key considerations for implementing IIoT strategies
There have been numerous articles written about the Industrial Internet of Things (IIoT) and the benefits it can offer industrial organisations such as manufacturers and resource production facilities. Very little, however, has been written about the implementation realities of effectively assembling assorted IIoT technologies and addressing various decision points throughout the process. True IIoT benefits come not from step changes like upgrading equipment to be more efficient, but instead from driving continuous process efficiency by developing a constant feedback loop for data collection and assessment, used to inform IIoT strategy. While there is no one-size fits all approach, this article addresses common questions to help organisations build an effective IIoT framework.
Fortunately, industrial automation and networking solutions that help organisations leverage the IIoT already exist. For instance, protocol conversion capabilities allow a wide range of different machines in heterogeneous environments to talk to each other. Industrial Ethernet switches and cellular M2M RTUs or routers enable the reliable flow of data anytime, anywhere. With these IIoT-ready products, data can be easily monitored by operators and engineers to provide a solid foundation for IIoT deployment. By combining the right equipment and systems with technically-savvy people, organisations can then turn IIoT hype into reality and use real-time data visibility to drive business advantage.
What is the goal?
Many elements of the IIoT can be viewed as an operational toolbox for organisations looking to gain key business insight, regarding when and where portions of their infrastructure can benefit. Several of the tools available to guide this process tie back to common technologies that include protocol conversion, visual management, remote monitoring and industrial Ethernet. The use of these technologies enables organisations to cost-effectively extend equipment lifetime and improve process visibility while pushing control to the edge. But the question for many is where to start?
The first step for effective implementation is goal definition. What is the main reason for deployment? Is the organisation looking to reduce costs and/or improve efficiency? Perhaps is it simply to remotely monitor systems and processes from anywhere at anytime? Once implementation goals are defined, the building blocks can be addressed, starting with existing equipment and where the data originates.
What do I already have?
After establishing goals, it is important to take inventory of the devices and equipment within the organisation. How old are they?
In most cases it is unrealistic and cost-prohibitive to "rip-and-replace" legacy equipment. Businesses are likely better off leveraging existing equipment by integrating industrially-fluent communication devices and protocol conversion software to tie all systems together.
How to connect?
The best data for IIoT investigation sometimes comes from the most challenging places in a facility. To access and assess this information, machines and sensors from all different pedigrees must connect to collect data for an organisation to be able to gain insight. While connecting equipment may sound like a mundane task, consider the fact that legacy operating equipment may have been deployed 50 years ago. How can data be extracted from older equipment without communication capabilities? Perhaps integrating sensors into the equipment or throughout a process can address data collection requirements. Physically connecting equipment via wireless, Ethernet, serial and or or fibre cable is likely a straightforward process if the deployed equipment was designed with communication capabilities. However, a hiccup in this process may arise upon examination of the protocols being used. Are they proprietary protocols, or industry standard? A simple solution is to leverage protocol converters to communicate with IP-friendly protocols. For legacy equipment with limited or no communication capabilities, an organisation should consider strategically overlaying a network of sensors to collect data.
How to send data?
Once equipment is physically connected and communicating locally, how can data be pushed outside an organisation to the "cloud"? Automation and typical layer 2 networking equipment was never designed to send data beyond the local area network. PLCs, RTUS and HMIs are commonly connected via Ethernet for local communication, but that doesn't equate to communicating to a remote data repository in the cloud. One approach is to deploy gateways to aggregate data and negotiate with remote sites. These networking gateways, which were traditionally called routers, are being re-labelled as IIoT gateways. This IIoT aggregation gateway-based architecture minimises implementation time by reducing the amount of configuration required to get an entire system communicating with the cloud. A common challenge at this stage, if required, is how to transmit data to the cloud without an available Internet connection, or where the Ethernet is maintained by IT and cannot be used. An easy-to-deploy solution might be to install a separate Internet connection, like a cellular router. A cellular router can be deployed in-parallel with control networks, and provides a highly secure communication channel directly to cloud portal providers.
Where does the data go?
The real power of the IIoT and cloud computing comes from centralising data and then integrating applications to digest and process this information. Today numerous IoT platform providers exist. These platforms offer repositories with varying capabilities, from data storage and event processing to device provisioning and reporting. While they often can be configured for unique applications, some are purpose built for easier and quicker implementations. Regardless of application-specific features, there are a number of platform components that should be taken into consideration. For example, how is security handled from data encryption to device authentication, third-party application connections to user access? What communication protocols are supported by the cloud platform? Most commonly MQTT, HTTP and AMQP are the primary protocols for transmitting device-level data to a server. Each has its strength, but MQTT seems to be the predominate protocol due to its ability to handle high-latency networks using a publish or subscribe architecture.
How to ensure security?
Privacy and security are often cited as significant barriers to IIoT investment. Sensitive data must be protected when it is collected and transferred. Special security measures may need to be in place for the systems that collect, monitor, process and store IIoT data securely. But, security is a double-edged sword, and finding a balance between implementation costs related to time and resources combined with data protection can be challenging. Regardless, security must be a key consideration for all IIoT deployments because it impacts all layers from actual sensors to the platform itself.
When determining how to ensure security, many questions need to be addressed. For instance, how many locations are connecting to the cloud? Does the implementation require unidirectional or bidirectional communication? What protocols are being used to transmit data between sites and the cloud? Does the solution support end-to-end encryption?
What is the cost?
When evaluating IIoT solutions, reoccurring costs associated with each component need to be considered. The most common IIoT solutions will typically be a combination of capital expenditures and reoccurring charges. Platform costs are typically billed based on a data received or sent model with additional costs for data storage and add-on features such as control or notification capabilities. Reoccurring services may also come into play if satellite or cellular equipment is deployed for connected equipment. Similar to IIoT platforms, data backhaul solutions also require capital expenditures for hardware and on-going operational costs for the data plans.
Conclusion
If the IIoT is still difficult to rationalise, consider the resources and time it would take for a business with thousands of employees continuously running around collecting data on clipboards from legacy equipment and manually feeding information into a data analysis tool. When thinking about how much sensor or process-level data to collect, consider the best output will only come from data that is both strategically and securely gathered. Simply collecting easy-to-access surface data will likely not provide the step-change required for ultimate success.
This is why organisations need easy-to-deploy IIoT-ready solutions and tools that can seamlessly automate data collection and mining from systems and processes to minimise inefficiencies. By more effectively gathering information, businesses are able to better analyse data to gain more insight into operations. This increased visibility helps drive productivity by highlighting improvement opportunities.
In closing, regardless of the goal associated with IIoT implementation, it is important to build a feedback loop for all actionable data. A cyclical process should be established and re-visited periodically to ensure process improvements and cost reductions are continuous.
Authored by__
Colin Geis,
Director of Product Management, IIoT
Red Lion Controls